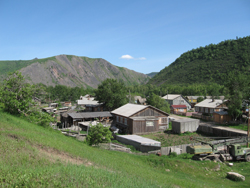 The Bystraja district, which was formed in 1926, is located in the centre of the Kamchatkan Peninsula. Currently it contains only two main settlements, the administrative centre Esso, and Anavgai. The villages can be reached from Petropavlovsk-Kamchatskij, the capital of the Kamchatka Region (Kamchatka Krai), by a daily bus route. Esso is 530 km away from Petropavlovsk, and Anavgai lies 25 km to the northwest of Esso. In 2006, the Bystraja district counted approximately 3,000 inhabitants, of which nearly 900 (~30%) were Ėvens (Gernet 2008). Slightly less than half of the Ėvens live in Anavgai, where they are the majority group. Nowadays, the overall majority in the district is made up of Russians; in addition, there is a sizeable Koryak community that lives mostly in Anavgai.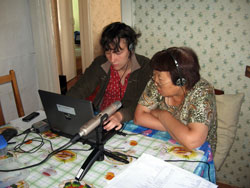 The Ėvens appeared in Kamchatka as late as the mid-19th century, when several Ėven clans immigrated from Eastern Siberia. They led a fully nomadic way of life until the 1920s without settling down. In 1926, the settlements Anavgai, Lauchan, and Kekuk were formed, and in 1932, Esso was declared the administrative centre of the National (Ėven) Bystraja district. From the 1950s, several predominantly Ėven settlements (amongst others, Kekuk, Lauchan, and Bystraja) were closed down in the course of the enlargement policy of the Soviet state, in which smaller collective farms were merged into larger units. The inhabitants of the disbanded settlements were relocated to Twajan (which was in its turn shut down in the mid-1970s), Anavgai and Esso. In the Kamchatka Region, Ėvens are also settled in the Oljutor and Penzhina districts (Burykin 2004).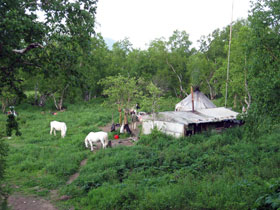 The indigenous inhabitants of the Bystraja district predominantly practise hunting and fishing, in addition to several reindeer herding brigades. A characteristic feature of indigenous life in this area are also the traditional so-called 'fishing camps'. These are autonomous homesteads consisting of a yurt as well as several outbuildings and occasionally even a vegetable patch, which are located on rivers that are visited by the salmonid runs. As a rule, older people live here year-round, while younger family members visit for the summer months.
In the Bystraja district, the Ėven language is currently severely endangered, being replaced by Russian. According to the most optimistic estimates of the speakers themselves, Ėven is only in use amongst people older than 40, and it is not being transmitted to children anymore.
Gernet, Katharina (2008) "Kulturrevolution" in Zentral-Kamtschatka: Die Integration der evenischen Rentiernomaden in die sowjetische Gesellschaft. Harrassowitz Verlag, Wiesbaden.
Burykin, A.A. (2004) Язык малочисленного народа в его письменной форме. Петербургское Востоковедение, Санкт-Петербург [A minority language in its written form]