A comparative study of Word Final Devoicing
The phonetic and phonological status of final devoicing of obstruents has been for a long time a controversial topic. In the last 20 years numerous phonological as well as phonetic accounts of this topic had been made. However, the phonetic evidence relies only on acoustic data. In this project a variety of instrumental techniques, such as aerodyamics and electroglottography, are used for the first time to address the essence of the phenomenon. (Heriberto Avelino, Daniel Voigt, Leonardo Lancia, Bodo Winter)
Aerodynamics of Complex Nasal Segments
Descriptions of complex nasal segments in a number of languages families such Dayak, Otomanguean Dogon and Yuhup, include pre- and pos-nasalized sounds obstruents as well as pre- and post- occluded nasals. The goal of this project is to provide a phonetic account of the aerodynamics and kinematics of the gestures involved in producing these segments. Work in collaboration with Uri Tadmor (Berlin), Ana Maria Ospina(Universidad Nacional de Colombia) and Jeff Heath (University of Michigan). (Heriberto Avelino, Daniel Voigt, Leonardo Lancia)
Areal Typology of glottalization in the languages of the Caucasus and Transcaucasus
The project focuses sound inventories containing sounds with a glottalic airstream mechanism, specifically in the languages of the Caucasus (currently included: Tsez, Bezhta, Ingush, Chechen, Dargwa, Khwarshi, Avar, Karata, Lak, Kumyk, Georgian, Svan, Kabardian, Circassian) and Transcaucasus (e.g. Kurdish, Armenian, Azerbaidjani) with the aim to explore to nature of transitional expressions of features [Sven Grawunder, Don Stilo (MPI EvA Leipzig), Madzhid Khalilov (AcadSc Makhachkala, Daghestan), Adrian Simpson (U Jena)]
Articulatory-Acoustic mapping of Coronals in American languages
Languages of the Americas (e.g. Pima (Uto-Aztecan) and Yalálag Zapotec (Oto-Manguean, Mixe (MIxe-Zoquean) have rich inventories of coronal consonants. This project aims to characterize the fine articulatory and acoustic properties of coronal consonants which reagardless of being compressed in a narrow space show a wide range of articulatory variability. Work in collaboration with Silke Hamman (U Düsseldorf). (Heriberto Avelino, Daniel Voigt, Leonardo Lancia)
Implementation and innovation of methods and techniques for phonetic data acquisition and analysis.
Currently the Phonetics lab is developing the MPI-EVA Data Acquisition System for Phonetic Research. This project aims to create an open platform for phonetic data acquisition and analysis. The final product will be a hardware design and suite of scriptable applications. The full specifications will be open to the community so that scholars from around the world can run, copy, distribute, study, change and improve the system (project in consultation with Prof. Ing. Matthias Laukner and Prof. Ing. Andreas Hebestreit, Hochschule für Technik, Wirtschaft und Kultur School of Engineering). In addition, we are implementing cutting-edge methods such as ultrasound and high speed video in the research of natural languages.The goal of projects using this technology is to investigate in detail the gestures and actions of the vocal folds and laryngeal structures in phenomena such as phonemic phonation and tone contrast, complex segments that involve simultaneous laryngeal settings (e.g. post-/pre-aspirated, breathy voiced, slack stops) or airstream mechanisms (e.g. voiced/voiceless implossives, ejectives). (work in consultation with Dr. Michael Döllinger (Friedrich Alexander Erlangen-Nürnberg University). (Heriberto Avelino, Daniel Voigt, Leonardo Lancia)
Intonational patterns of Topic and Focus constructions in Yucatec Maya
This project looks at the interface between information structure and prosodic cues. Yucate Maya is of particular interest as it is a language that allows a flexible order of major constituent and constrasts pitch and non-modal phonation. Nonetheless, each variation may differ in the pragmatic information it conveys, as well as in their prosodic properties. (Heriberto Avelino, Daniel Voigt, Leonardo Lancia)
Labio-velar stops in Yoruba
Yoruba is a major language of Nigeria and uses double-articulated stop sounds (gb, kp) that are wide spread also among its neighbors. The project aims at fine grained details by means of articulatory (high-speed video, ultra-sound, electro-glottographic), aerodynamic, acoustic and perceptual data in order to understand the particular nature of these sounds and how they are involved in sound change. [Sven Grawunder, Leonardo Lancia, Daniel Voigt]
Language Documentation
Yoloxóchitl, Guerrero knowledge in Tu'un ísaví (Mixtec) of Yolox (in collaboration with a major research funding supported by SOAS and NSF, P.I. Jonathan Amith). The particularity of this project is that the data will come from a massive corpus of natural speech, in addition to data recorded in elicitation sessions for more sophisticated analysis. This documentation project is a synergistic collaboration between an interdisciplinary team of researchers and an indigenous linguist who wrote his master's thesis on the phonology of Yoloxóchitl Mixtec, his native language. It will create the first extensive, archival quality corpus of a Mixtecan language and establish a base for future linguistic studies, particularly in phonetics, phonology. This project will yield a large and diversified corpus of digital recordings; time-coded transcriptions with full, accurate representation of tone in four-line interlinear format (surface form, parse, gloss, free translation). (Heriberto Avelino, Daniel Voigt, Leonardo Lancia)
Pharyngealization in German dialects (Swabian, Thuringian and Saxonian)
Usually such phonetic descriptions like ATR (Advanced Tongue Root) and pharyngealization are associated with languages in Africa (e.g. Aka, Oko, Ewe) or semitic languages. But a closer look at the so called "dark" vowels in some German dialects reveals the universal nature of the underlying articulation strategies ongoing ultrasound data collection, subjects needed! (Sven Grawunder)
Phonetic Documentation of Dogon and Bangime
A series of phonetic analysis will account for the properties of these languages. Topics include complex nasal segments; presence of high front rounded semivowel; possible ATR harmony; tone. Work in collaboration with Jeff Heath (University of Michigan). (Heriberto Avelino, Daniel Voigt, Leonardo Lancia)
Phonetically motivated sound change in onset clusters of German
We investigate the [kl>tl] shift of initial consonant clusters in Saxon and other German dialects. The shift has been observed in other Germanic languages but also languages all over the world. Current research focuses particular on its distribution in German as well as on articulatory and perceptual traits [Sven Grawunder, Leonardo Lancia, Juliette Blevins[CUNY]).

Phonetics and Phonology of South Munda languages
Gta'(Didayi) and Bonda (Remo) belong to the southern group of Munda languages of the Austoasiatic language family spoken in India. The small-scale fieldwork documentation project of Gta' and Bonda texts is a joint cooperation between Sven Grawunder and Arun Gosh from Burdwan University (India).
Phonetics and Tonology of Ket
Ket is a severely endangered language in Western Siberia. It is the last survivor of its group of Yeniseic languages and the only known language of North Asia which has lexical tone. The joint work between Sven Grawunder and Edward Vaijda from Western Washington U focuses the phonology and tonology of Ket which is unique in Northern Eurasia.
'Sound Comparisons':
New Tools and Resources for Exploring Language Family Diversity on the Web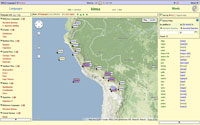 This research project creates 'hover to hear' websites to allow users to hear and compare instantaneously online the precise differences in how specific cognate words are pronounced from one region to the next across an entire language family at a time. The database is that of the related research theme on Language Relatedness and Divergence, which in this accompanying project is turned into an online resource not just for researchers in linguistics, but also for the people who actually speak the language varieties concerned. It already covers many thousands of individual word recordings and phonetic transcriptions from scores of regional accents, dialects and languages across both Europe and the Andes. [more]
Sounds of the Andean Languages
Within the broader framework of the above Sound Comparisons research theme, this is a specific project to document and quantify the degree of divergence in phonetics of the major language families of the Andes, particularly Quechua, Aymara and Mapudungun ('Mapuche'). Our comparative recordings and transcriptions will be made available on the much revised and expanded Sounds of the Andean Languages website, to be relaunched in spring 2013. [more]
Typology of Laryngeal feautures in Languages of the Americas
An orthogonal contrast between two laryngeal features: modal vs. non-modal phonation and tone has been reported in a number of languages from different Amerindian linguistic families. This project investigates the phonetics of laryngeal contrasts observed in four languages: Yalálag Zapotec, Yucatec Maya, Ocotepec Mixe and Yuhup. (Heriberto Avelino, Daniel Voigt, Leonardo Lancia)
Vilela (Lule Vilela) phonetics and phonology
What happens if you would be the last speaker of a language? Vilela is such a moribund language spoken in the Chaco area of Argentina. The scarce records point to interesting phonetic-phonemic variation in Vilela. Detailed phonetic analyses of recordings of the last speaker(s) (Sven Grawunder, Lucia Gallucio (U Buenos Aires) and Juliette Blevins (MPI EVA)).
West !Xoon (Taa) phonetics and phonology
This joint work with Christfried Naumann, MPI EvA, Leipzig [link] sets its main focus on phonation types, glottalization and laryngeal-velar coordination in Western !Xóõ a language of the Taa group (KhoeSan). (Sven Grawunder)