Learn more about our in-house projects and active participation in international networks with the shared aim of helping students and educators engage with the science of evolutionary anthropology and deeper understanding of the human condition.
Evolving an open, networked, and interdisciplinary evolution education research community
Evolution education has only become a significant focus of educational research in the 21st century, with major growth occuring in just the last 10-15 years. Despite much progress in this area, research and development is challenged by systemic issues in educational research as a whole, as well as the specific challenges in teaching students about evolutionary theory in the human domain. This project works to support teacher education students (pre-service teachers), as well as Masters and PhD student researchers through the development of tools and opportunities for advancing open science practices around teaching evolution as the interdisciplinary science that it is.
OpenEvo Network Launch Meeting
We were thrilled to host the network launch meeting for OpenEvo on January 20th, 2021! We invited a highly interdisciplinary range of scientists across the areas of evolution education, cognitive development, cultural evolution, the extended evolutionary synthesis, and more, to discuss new directions in evolving an open, networked, and interdisciplinary evolution education research community. Dustin Eirdosh presented an overview of the key conceptual clarifications required of teaching evolution as an interdisciplinary science, and then summarized the distributed leadership circles for organizing the OpenEvo network concept.
View the slides from the meeting
Get involved with OpenEvo, either as a general Member-at-Large, or as a more active role in one of our Organizing Circles.
Contact Dustin Eirdosh for more information or to discuss collaborations for your teacher education group.
What are the origins of teaching and learning? How can we think about the cultural diversity of schools and how schools influence our socio-cognitive development?
How do human conceptions of school and school improvement develop across cultures and over our lifetimes?
The Evolving Schools project is a collaboration emergent from across the many education networks of which we are a part. We distill the leading edge of evolutionary anthropology in teaching and learning to engage students around the world in reflecting on the big questions about schools and education in the 21st century. Using participatory community science methods, we don't simply study student conceptions of schooling, but work with students as researcher-practioner partners in school improvement research. That is, we work with students in secondary and higher education to develop innovative classroom activitities that make intuitive theories of schooling, explicit and visible. In this way, we are developing a foundational scientific understanding of the cultural and cognitive development of student thinking, while also providing a new platform for empowering student and whole-school community participation in driving educational innovation and improvements.
Contact Dustin Eirdosh for more information and/or to connect your classroom into this project.
Teaching and learning about the evolution of music
For students of all ages, music is a source of relaxation, emotional exploration, social bonding, and cultural identity. For many students, making or consuming music is a vitally important part of their everyday experience, yet they are rarely afforded the opportunity to reflect on the evolutionary origins and psychological or socio-cultural functions of this experience from a scientific context. The eMu project is working to help change this.
For more information:http://music.eva.mpg.de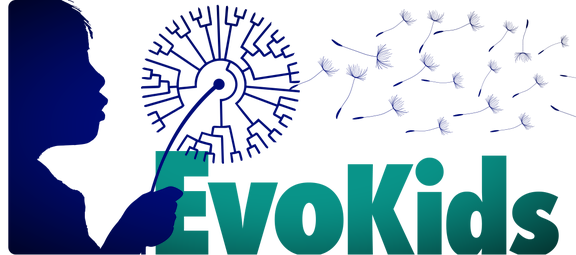 A global initiative for teaching and learning about evolution with young minds
EvoKids.org is a global initiative inspired by the German EvoKids.de project to advance teaching and learning about evolution with students aged 3-12.
Our focus on educational content includes the following themes:
Evolution as a history of life on earth
Evolutionary mechanisms and processes of change in organisms
Cultural evolution as an integrated perspective on the origins of humans and our changing world
The original German EvoKids.de teaching materials include units reflecting these themes, and our global initiative aims to further advance an ecosystem of teaching materials and practical supports for educators in grades K-6, including an open-access database of children's evolution books and videos, many of which are available for research purposes in our Department library.
For more information, visit www.EvoKids.org
Children's books and videos: http://Library.EvoKids.org
External projects and networks
In addition to the three projects that we directly coordinate, we are are actively involved in a diversity of educational development networks through our partnerships.