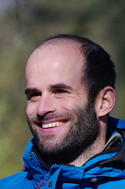 I am a behavioural ecologist interested in the proximate mechanisms that shape wild animal behaviours with a particular focus on non-human primates. My research interests span a broad range of fields including social behaviour, social-cognition, endocrinology and communication. I conduct research in the field using a combination of behavioural observations, ecological measures, non-invasive endocrine sample collection, sound and video recordings and experimental approaches.
Currently, I work as part of two large projects. I investigate the behavioural, physiological and socio-cognitive costs of early life adversity, including maternal loss, in wild chimpanzees as part of Catherine Crockford's ERC grant 'Ape Attachment'. In parallel, and since the beginning of 2021, I took up a new post-doctoral position as part of a Max Planck collaboration, the Evolution of Brain Connectivity Project, which examines the complexity of primate vocal communication and correlates with relevant white matter tract size and projections in the brain. This project is comparative, operating at species, population, individual and ontogenetic levels.
In a previous post-doctoral position, I studied the differences in cooperation structures, social dynamics, and social cognition between our two closest relatives, bonobos and chimpanzees. Our project highlighted novel species-level differences in social (e.g., affiliative exchange patterns and social partner selectivity) and within-group cooperation dynamics (e.g., the motivation to inform conspecifics about a danger).
2013
PhD in Biology, German Primate Centre and Georg August University – Göttingen – Germany
Dissertation: "Costs of mate-guarding in wild male long-tailed macaques (Macaca fascicularis)".
Advisors: Dr. Antje Engelhardt and Prof. Dr. Julia Fischer.
2006

Master's Degree in Biodiversity, Ecology and Evolution – Paul Sabatier University – Toulouse – France.
Dissertation: "Functional links between landscape pattern and community structure on insect and bird communities in rural landscapes".

2004
Bachelor degree in Organic Biology – University Montpellier II – France
Research and field experiences
Nov. 2008 – Jul. 2011
Costs of mate-guarding in wild male long-tailed macaques
Field work for my PhD thesis, Aras Napal and Ketambe, Gunung Leuser National Park, Sumatra, Indonesia
Duties: Focal animal sampling, phenology/demography/GPS data collection, faecal and urine sample collection and processing for hormonal and genetic analysis, assistant training and team management.
Feb. – Dec. 2007
Vocalisations and scent marking behaviour of Milne-Edwards Sifaka (Propithecus edwardsi)
Field research assistant of Erik Patel (Cornell University, USA)
Ranomafana National park, Madagascar.
Duties: Acoustical recording, Spectrographic analysis, Focal animal sampling, GPS data collection and data analysis.
Nov. 2005 - Jun. 2006
Functional links between landscape pattern and community
structure on insect and bird communities in rural landscapes
Master's research trainee with the INRA (National Institute of Research in Agronomy), Toulouse, France (Supervisors: Prof. Dr. Gérard Balent, Dr. Annie Ouin)
Duties: Ecological modelling, GIS analysis, script writing for statistical software.
Aug. – Sept. 2005
Pairbond attachement in titi monkeys (Callicebus brunneus)
Field research assistant for PhD Student (Columbia University,USA)
Rio Los Amigos Reserve, CICRA Research Station, Peru
Duties: Focal animal and scan sampling, playback experiment.
Feb. - May 2005
Habituation of roe deer (Capreolus capreolus) to human presence
Trainee with the INRA, laboratory CEFS (Behaviour and Ecology of Wild Animals), Toulouse, France
Duties: Scan animal sampling, data analysis, multivariate statistical analysis.
Jul. 2004
Olfactory communication of dung beetles (Scarabeus laticollis)
Trainee with CEFE (Centre of Evolutionary and Functional Ecology)
Montpellier, France
Duties: Odour preference experiments, data analysis.
Jul. 2003
Protection of iguanas
Voluntary work with "Iguana station", Utila Island, Honduras
Duties: Animal feeding, tourist conservation information, eco-touristic visit in the primary forest, releasing animals, behavioural data collection.
Aug. 2002
Protection of marine turtles
Voluntary work with "Archelon" Association, Crete, Greece.
Duties: Morning and night surveys on the beach, nest and birth recording, tourist conservation information.
| | | |
| --- | --- | --- |
| 2009 | $13.442 | Research Grant of the Leakey Foundation |
| 2008 | €145.900 | Evolutionary Biology Grant for PhD, VolkswagenStiftung |
| 2008 | $24.992 | Dissertation fieldwork Grant of the Wenner Gren Foundation. |
| | | |
International Journal of Primatology, Plos One, Leakey foundation.
Articles
Kappeler, P. M., Huchard, E., Baniel, A., Canteloup, C., Charpentier, M. J. E., Cheng, L., Davidian, E., Duboscq, J., Fichtel, C., Hemelrijk, C. K., Höner, O. P., Koren, L., Micheletta, J., Prox, L., Saccà, T., Seex, L., Smit, N., Surbeck, M., van de Waal, E., & Girard-Buttoz, C. (2022). Sex and dominance: How to assess and interpret intersexual dominance relationships in mammalian societies. Frontiers in Ecology and Evolution, 10: 918773.
Open Access DOI BibTeX Endnote Downloads

Girard-Buttoz, C., Zaccarella, E., Bortolato, T., Friederici, A. D., Wittig, R. M., & Crockford, C. (2022). Chimpanzees produce diverse vocal sequences with ordered and recombinatorial properties. Communications Biology, 5: 410.
Open Access DOI BibTeX Endnote Downloads

Grawunder, S., Uomini, N., Samuni, L., Bortolato, T., Girard-Buttoz, C., Wittig, R. M., & Crockford, C. (2022). Chimpanzee vowel-like sounds and voice quality suggest formant space expansion through the hominoid lineage. Philosophical Transactions of the Royal Society of London, Series B: Biological Sciences, 377(1841): 20200455.
Open Access BibTeX Endnote Downloads

Surbeck, M., Girard-Buttoz, C., Samuni, L., Boesch, C., Fruth, B., Crockford, C., Wittig, R. M., & Hohmann, G. (2021). Attractiveness of female sexual signaling predicts differences in female grouping patterns between bonobos and chimpanzees. Communications Biology, 4: 1119.
Open Access DOI BibTeX Endnote Downloads

Girard-Buttoz, C., Tkaczynski, P. J., Samuni, L., Fedurekt, P., Gomes, C. M., Löhrich, T., Manin, V., Preis, A., Valé, P. D., Deschner, T., Wittig, R. M., & Crockford, C. (2021). Early maternal loss leads to short but not long-term effects on diurnal cortisol slopes in wild chimpanzees. eLife, 10: e64134.
Open Access DOI BibTeX Endnote Downloads

Sadoughi, B., Girard-Buttoz, C., Engelhardt, A., Heistermann, M., & Ostner, J. (2021). Non-invasive assessment of metabolic responses to food restriction using urinary triiodothyronine and cortisol measurement in macaques. General and Comparative Endocrinology, 306: 113736.
DOI BibTeX Endnote

Girard-Buttoz, C., Tkaczynski, P. J., Samuni, L., Fedurekt, P., Gomes, C., Löhrich, T., Manin, V., Preis, A., Valé, P. D., Deschner, T., Wittig, R. M., & Crockford, C. (2021). Early maternal loss affects diurnal cortisol slopes in immature but not mature wild chimpanzees. eLife, 10: e64134.
Open Access DOI BibTeX Endnote Downloads

Valé, P. D., Béné, J.-C.-K., N'Guessan, A. K., Crockford, C., Deschner, T., Koné, I., Girard-Buttoz, C., & Wittig, R. M. (2021). Energetic management in wild chimpanzees (Pan troglodytes verus) in Taï National Park, Côte d'Ivoire. Behavioral Ecology and Sociobiology, 75: 1.
DOI BibTeX Endnote

Girard-Buttoz, C., Surbeck, M., Samuni, L., Boesch, C., Fruth, B., Crockford, C., Hohmann, G., & Wittig, R. M. (2020). Variable use of polyadic grooming and its effect on access to social partners in wild chimpanzees and bonobos. Animal Behavior, 168, 211-224.
Open Access DOI BibTeX Endnote Downloads

Girard-Buttoz, C., Surbeck, M., Samuni, L., Tkaczynski, P. J., Boesch, C., Fruth, B., Wittig, R. M., Hohmann, G., & Crockford, C. (2020). Information transfer efficiency differs in wild chimpanzees and bonobos, but not social cognition. Proceedings of the Royal Society B: Biological Sciences, 287(1929): 20200877.
Open Access DOI BibTeX Endnote Downloads

Tkaczynski, P. J., Behringer, V., Ackermann, C., Fedrurek, P., Fruht, B., Girard-Buttoz, C., Hobaiter, C., Lee, S., Löhrich, T., Preis, A., Samuni, L., Zommers, Z., Zuberbühler, K., Deschner, T., Wittig, R. M., Hohmann, G., & Crockford, C. (2020). Patterns of urinary cortisol levels during ontogeny appear population- rather than species-specific in wild chimpanzees and bonobos. Journal of Human Evolution, 147: 102869.
DOI BibTeX Endnote Downloads

Surbeck, M., Boesch, C., Girard-Buttoz, C., Crockford, C., Hohmann, G., & Wittig, R. M. (2019). Erratum: Comparison of male conflict behavior in chimpanzees (Pan troglodytes) and bonobos (Pan paniscus), with specific regard to coalition and post-conflict behavior. American Journal of Primatology, 81(13): e23075.
DOI BibTeX Endnote

Surbeck, M., Boesch, C., Girard-Buttoz, C., Crockford, C., Hohmann, G., & Wittig, R. M. (2017). Comparison of male conflict behavior in chimpanzees (Pan troglodytes) and bonobos (Pan paniscus), with specific regard to coalition and post-conflict behavior. American Journal of Primatology, 79(6): e22641.
DOI BibTeX Endnote

Surbeck, M., Girard-Buttoz, C., Boesch, C., Crockford, C., Fruth, B., Hohmann, G., Langergraber, K., Zuberbühler, K., Wittig, R. M., & Mundry, R. (2017). Sex-specific association patterns in bonobos and chimpanzees reflect species differences in cooperation. Royal Society Open Science, 4: 161081.
Open Access DOI BibTeX Endnote Downloads

Girard-Buttoz, C., Heistermann, M., Rahmi, E., Agil, M., Fauzan, P. A., & Engelhardt, A. (2015). Androgen correlates of male reproductive effort in wild male long-tailed macaques (Macaca fascicularis): A multi-level test of the challenge hypothesis. Physiology & Behavior, 141, 143-153.
Open Access DOI BibTeX Endnote Downloads

Girard-Buttoz, C., Heistermann, M., Rahmi, E., Agil, M., Fauzan, P. A., & Engelhardt, A. (2014). Costs of mate-guarding in wild male long-tailed macaques (Macaca fascicularis): Physiological stress and aggression. Hormones and Behavior, 66(4), 637-648.
Open Access DOI BibTeX Endnote Downloads

Girard-Buttoz, C., Heistermann, M., Rahmi, E., Agil, M., Fauzan, P. A., & Engelhardt, A. (2014). Costs of and investment in mate-guarding in wild long-tailed macaques (Macaca fascicularis): Influences of female characteristics and male–female social bonds. International Journal of Primatology, 35(3), 701-724.
Open Access DOI BibTeX Endnote Downloads

Girard-Buttoz, C., Heistermann, M., Rahmi, E., Marzec, A., Agil, M., Fauzan, P. A., & Engelhardt, A. (2014). Mate-guarding constrains feeding activity but not energetic status of wild male long-tailed macaques (Macaca fascicularis). Behavioral Ecology and Sociobiology, 68(4), 583-595.
Open Access DOI BibTeX Endnote Downloads

Higham, J. P., Girard-Buttoz, C., Engelhardt, A., & Heistermann, M. (2011). Urinary c-peptide of insulin as a non-invasive marker of nutritional status: Some practicalities. PLoS One, 6(7): e22398.
Open Access DOI BibTeX Endnote Downloads

Girard-Buttoz, C., Higham, J. P., Heistermann, M., Wedegärtner, S., Maestripieri, D., & Engelhardt, A. (2011). Urinary C-peptide measurement as a marker of nutritional status in macaques. PLoS One, 6(3): e18042.
Open Access DOI BibTeX Endnote Downloads

Girard-Buttoz, C., Heistermann, M., Krummel, S., & Engelhardt, A. (2009). Seasonal and social influences on fecal androgen and glucocorticoid excretion in wild male long-tailed macaques (Macaca fascicularis). Physiology & Behavior, 98(1-2), 168-175.
DOI BibTeX Endnote
Meeting Abstracts
Germani, L., Girard-Buttoz, C., Heistermann, M., Ngakan, P. O., & Carosi, M. (2020). Ecological and reproductive correlates of energy balance in wild moor macaques (Macaca maura) using C-peptide measurements. Folia Primatologica, 91(3), 255.
DOI BibTeX Endnote

Girard-Buttoz, C., Surbeck, M., Samuni, L., Tkaczynski, P. J., Boesch, C., Fruth, B., Wittig, R. M., Hohmann, G., & Crockford, C. (2020). Chimpanzees outperform bonobos at an experimental cooperative task in the wild: Information transfer around a stationary danger. Folia Primatologica, 91(3), 255-256.
DOI BibTeX Endnote
Preprint
Tkaczynski, P. J., Mafessoni, F., Girard-Buttoz, C., Samuni, L., Ackermann, C. Y., Fedurek, P., Gomes, C., Hobaiter, C., Löhrich, T., Manin, V., Preis, A., Valé, P. D., Wessling, E. G., Wittiger, L., Zommers, Z., Zuberbuehler, K., Vigilant, L., Deschner, T., Wittig, R. M., & Crockford, C. (2022). Non-genetic maternal effects shape individual differences in cortisol phenotypes in wild chimpanzees. bioRxiv.
DOI BibTeX Endnote Downloads