Luminescence Dating Laboratory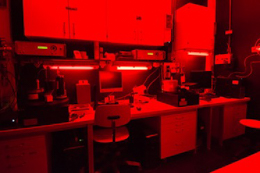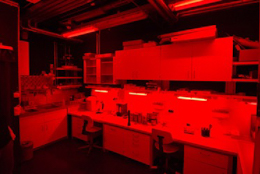 The luminescence dating laboratory undertakes optically stimulated luminescence (OSL/IRSL) and Thermoluminescence (TL) as well as Infrared-Radiofluorescence (IR-RF) on sediment samples.
Our laboratory consists of four rooms with dimmed red (EncapSulite R10 and R20) lighting. One room is dedicated to chemical, and another to the mechanical, sample preparation. The latter houses a manual hydraulic press (Wassermann WW33), a water cooled diamond rock saw (Isomet 1000) and a dry/wet sieving machine (Fritsch Analysette 3). We also have a Hönle UVACUBE400 solar simulator for bleaching experiments. An additional laboratory is shared with the stable isotope group and contains a dual-light system and HF-rated fume cupboard for safe etching of sediment samples for OSL.
The luminescence reader room contains three Risø TL/OSL readers, two of which include single grain attachments for the measurement of individual sand grains and one equipped with a pulsing box. In 2014 we purchased a Lexsyg device equipped with an EMCCD camera, an RF system including a PM-tube sensitive to detect infrared-light emissions and different sources of light stimulation including violet laser diodes (405 nm).
More information on luminescence dating methods and projects can be found here:
link