Evolution and Development of the Skull and Brain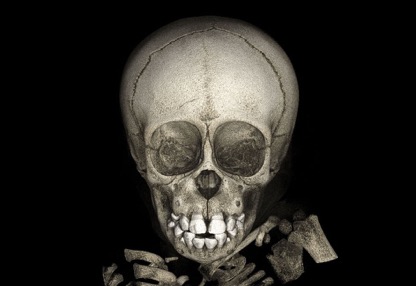 One of the main research themes in our department is the evaluation of adult cranial morphology in extant and fossil primates as the product of evolutionary changes to developmental patterns. Central to this line of research is our growing database of extant and fossil CT scans (currently more than 15000) of adult and subadult individuals.
Read more about:
Cranial Evolution
Dental Development
Evolution of the Brain
Middle and Inner Ear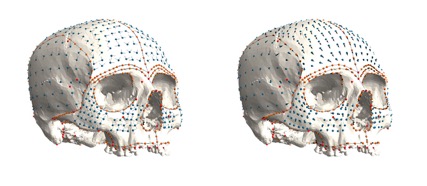 Facial features are frequently used for species recognition and phylogenetic reconstruction in the human fossil record. Using statistical shape analysis (geometric morphometrics) based on landmarks and semilandmarks we quantify cranial development from childhood to adulthood in modern humans as well as our closest relatives and ancestors. Using confocal microscopy we explore how bone modeling patterns at a microstructural level correspond to large-scale morphological shape changes.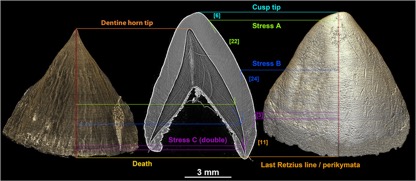 Virtual histology based on high resolution synchrotron µCT data has made it possible to noninvasively extract information about dental development and the exact age at death of juvenile fossil specimens. Collaborating with the European synchrotron facility (ESRF, Grenoble, France) we investigate hominin dental remains to study the evolution of life history.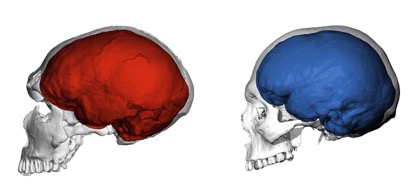 We study the evolutionary processes leading to the human brain by comparing modern human brains to those of our closest living relatives, the African apes, as well as to our fossil relatives and ancestors. We explore the evolutionary changes of prenatal and postnatal brain development that are responsible for increased adult brain size in hominins, and how they affect life history and internal brain organisation. The internal shape of the braincase reflects the complex interplay of tempo and mode of early brain development and the growth of cranial bones. Endocranial shape changes throughout development are thus potentially informative about growth rate and timing of early brain development in extant and fossil groups.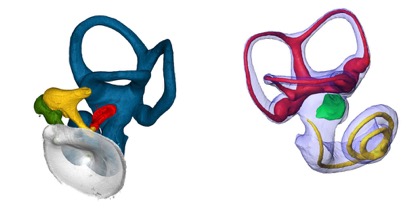 The auditory region of the skull is crucial for collecting, transmitting and sensing the sound information and consists of three parts: the external ear, the middle ear including the auditory ossicles, and the cochlea of the inner ear. The three bones of the middle ear (hammer, anvil, stapes) are dedicated to the transmission of sound waves from the tympanic membrane to the inner ear and helps in amplifying the energy of airborne sound. We study the morphology and functional properties of the middle and inner-ear to better understand the evolution of vocal communication.
The semicircular duct system is located inside the bony labyrinth of the inner ear and is part of the sensory organ of balance, essential for navigation and spatial awareness in vertebrates. We pioneered a novel non-invasive approach to imaging the fragile membranous structures of the semicircular duct system using X-ray micro tomography and tissue staining with phosphotungstic acid. Our freely available software toolbox (Ariadne) provides comprehensive morphological and functional analysis of any visualised duct system.