Symposium: 40 years of research of the Taï Chimpanzee Project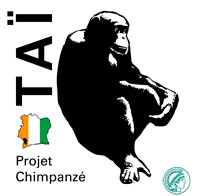 29 – 31 May 2019
Max Planck Institute for Evolutionary Anthropolog
We are pleased to announce the anniversary symposium for the 40 years of the Taï Chimpanzee Project to be held in Leipzig from May 29th to 31st 2019.
The aim of his symposium is to highlight chimpanzee behavioural diversity with a cross-population and a cross-species perspective. We bring principle researchers from chimpanzee and other primate field sites together with evolutionary anthropologists, behavioural ecologists and psychologists to spotlight the breadth of chimpanzee behavioural diversity and some of the selective pressures that have shaped human evolution.
We are honoured to be joined by around 40 top researchers from around the world to share their expertise and newest insights. Additionally, we will commemorate the 40th anniversary of the Taï Chimpanzee Project with a special celebration in the evening of May 31st in honour of Christophe Boesch who retires this year.
If you are interested in attending this symposium, a limited number of seats are available at the cost of 100 € each (including the 40 years anniversary party of TCP). Please contact us under 40TCPsymp2019@~@eva.mpg.de to reserve your ticket.

The program is available here: PROGRAM.
Chimpanzee sites represented:
Taï, Budongo, Fongoli, Gombe, Goualougo, Issa Valley, Kalinzu, Kanyawara, Loango, Mahale, Ngogo, Pan African Project
Project leaders / invited speakers:
Jacinta Beehner (Michigan University, USA)
Christophe Boesch (MPI EVA, Leipzig, GER)
Redouan Bshary (University of Neuchatel, CH)
Catherine Crockford (MPI EVA, Leipzig, GER)
Tobias Deschner (MPI EVA, Leipzig, GER)
Melissa Emery Thompson (University of New Mexico, US)
Julia Fischer (German Primate Center, Göttingen, GER)
Takeshi Furuichi (Kyoto University, Japan)
Cedric Girard-Buttoz (MPI EVA, Leipzig, GER)
Daniel Haun (MPI EVA, Leipzig, GER)
Catherine Hobaiter (St Andrews University, UK)
Hjalmar Kühl (iDiv & MPI EVA, Leipzig, GER)
Kevin Langergraber (Arizona State University, US))
Fabian Leendertz (Robert Koch Institute, Berlin, GER)
Julia Lehmann (University of Roehampton, UK)
Lydia Luncz (Oxford University, UK)
Richard McElreath (MPI EVA, Leipzig, GER)
John Mitani (University of Michigan, US)
David Morgan (Lincoln Park Zoo, Chicago, US)
Martin Muller (University of New Mexico, US)
Michio Nakamura (Kyoto University, JAP)
Alexander Piel (Liverpool John Moores University, UK)
Simone Pika (University of Osnabrück, GER)
Jill Pruetz (Texas State University, US)
Anne Pusey, Anne (Duke University, NC, US)
Liran Samuni (MPI EVA, Leipzig, GER)
Crickette Sanz (Washington University in St. Louis, US)
Carel van Schaik (University of Zürich, CH)
Caroline Schüppli (University of Zürich, CH)
Robert Seyfarth (University of Pennsylvania, US)
Katie Slocombe (University of York, UK)
Ignacio de la Torre (University College London, UK)
Linda Vigilant (MPI EVA, Leipzig, GER)
Erica van de Waal (University of Lausanne, CH)
David Watts (Yale University, US)
Michael Wilson (University of Minnesota, US)
Roman Wittig (MPI EVA, Leipzig, GER)
Richard Wrangham (Harvard University, US)
Klaus Zuberbühler (University of Neuchatel, CH)
Looking forward to seeing you in Leipzig in May 2019!
Roman Wittig & Christophe Boesch