Symposium: 40 years of research of the Taï Chimpanzee Project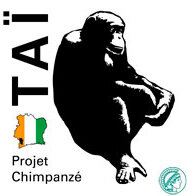 29 – 31 May 2019
Max Planck Institute for Evolutionary Anthropology
https://www.eva.mpg.de/primat/conferences/symposium-2019/
14th Conference of the Gesellschaft für Primatologie
11 – 13 February 2015
University of Leipzig & Max Planck Institute for Evolutionary Anthropology
We are pleased to invite you to Leipzig to participate in the 14th conference of the Gesellschaft für Primatologie. The conference offers a platform for scientific exchange amongst primatologists with a particular emphasis on bringing together scientists of all levels of experience.
The selection of keynote speakers reflects the diverse topics that are investigated by the primatological research community in Germany. We are honored to have attracted the following speakers for plenary lectures.

Keynote speakers

Tim Clutton-Brock (University of Cambridge, UK)
Susan Alberts (Duke University, USA)
Julia Fischer (German Primate Center, GER)
Jacinta Beehner (University of Michigan, USA)
Hjalmar Kühl (German Center for Integrative Biodiversity Research, GER)

Looking forward to seeing you in Leipzig in February 2015.

Roman Wittig, Tobias Deschner and Anja Widdig


Website:
http://www.eva.mpg.de/primat/conferences/gfp-2015/index.html
Die Wissenschaft hinter dem Film - Einladung zu einem außergewöhnlichen Vortragsabend am 03. Mai 2013 am Max-Planck-Institut für evolutionäre Anthropologie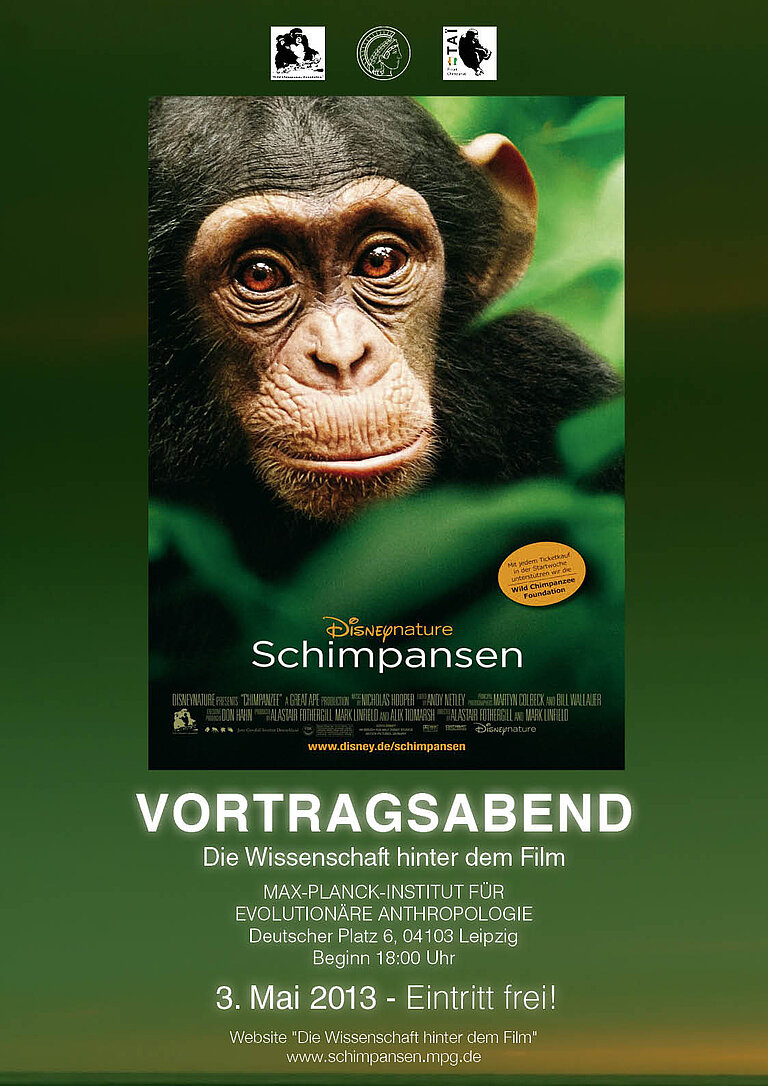 Oskar, Freddy und Isha sind die Stars des neuen Disneynature Films "SCHIMPANSEN", der am 9. Mai 2013 in die deutschen Kinos kommt. Die drei Hauptdarsteller gehören Gruppen von frei lebenden Schimpansen an, die Max-Planck-Direktor Christophe Boesch und sein Team in der Elfenbeinküste im Taï-Nationalpark bereits seit 33 Jahren erforschen. Die Wissenschaftler waren an den Dreharbeiten beteiligt und möchten Ihnen im Rahmen dieser Veranstaltung individuelle Geschichten aus ihrem Forscherleben und vom Filmdreh erzählen. Erfahren Sie mehr über die Hintergründe des Films und lassen Sie sich diese ganz besonderen Hollywoodstars vorstellen. Wir werden Ihnen spektakuläre Filmausschnitte aus dem Disneynature Film "SCHIMPANSEN" zeigen.
Link zur MPG Website SCHIMPANSEN
33 years of the Taï Chimpanzee Project
Workshop: Understanding Tool Use
Date: December 3-5, 2009
Multidisciplinary Perspectives on the Cognition and Ecology of Tool Using Behaviors.
Workshop organized by Christophe Boesch, Josep Call and Crickette Sanz.
Max Planck Institute for Evolutionary Anthropology, Leipzig
Date: September 15-17, 2005
For the past 40 years or so, there has been a debate as to whether nonhuman animals exhibit culture/social traditions. In recent years, this aspect of the culture debate has been fairly clearly resolved, as many species have been demonstrated to engage in social learning. Now scientists are more interested in understanding the variation in each species' cultural capacities, the social learning mechanisms involved in creating traditions, and the circumstances that select for these differences in cultural processes in nature.
Workshop on Controlling the Impact of Ebola on African Apes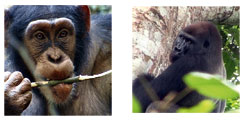 Date: March 10-11, 2005

Over the last twenty years a burgeoning commercial poaching industry and the deadly Ebola virus have caused sharp declines in world gorilla and chimpanzee populations. On March 10-11 an international group of experts met in Washington to assess the magnitude of threat posed by Ebola and evaluate options for protecting apes from it.
Feeding Ecology Conference
Date: August 17-19, 2004
The conference will be held at the Max Planck Institute for Evolutionary Anthropology in Leipzig, Germany from the 17th till the 20th of August, 2004. The conference will host about twenty-five invited speakers for oral presentations. In addition, the conference invites poster presentations on related topics.
Diseases - the third major threat for wild Great Apes? 2004
Date: May 6-9, 2004
Organized by Max Planck Institute Leipzig and Robert Koch Institute Berlin.

Place of the conference: Max Planck Institute for Evolutionary Anthropology, Leipzig


Western Lowland Gorilla Conference
Date: May 2002
Will our children live in a world without gorillas?
The vast majority of the world's gorillas live in the forests of central Africa, not in the mountains of east Africa. Results reported in Leipzig, Germany, at the recent gathering of world's gorilla experts show that western gorillas are much more diverse then previously recognized. The very survival of these western gorillas is now threatened by a wave of commercial poaching, the experts warn. With immediate investment in law enforcement this decline could be reversed.