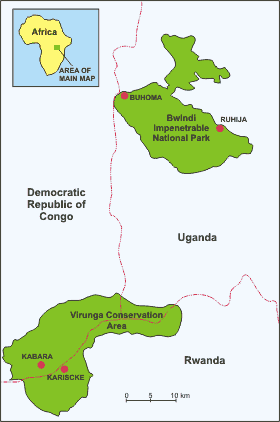 We currently have projects at several different field sites in Africa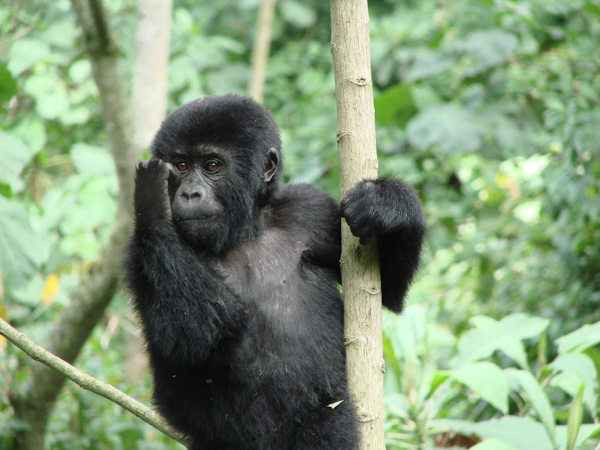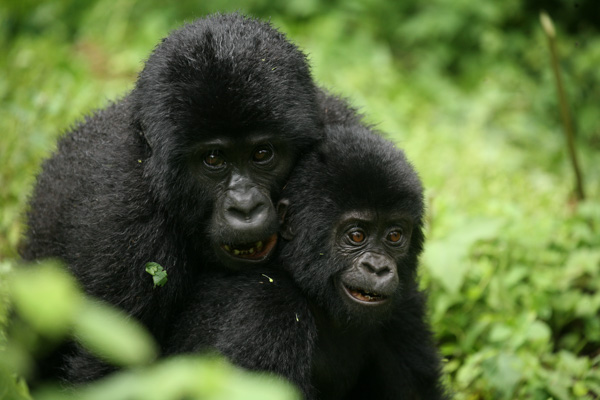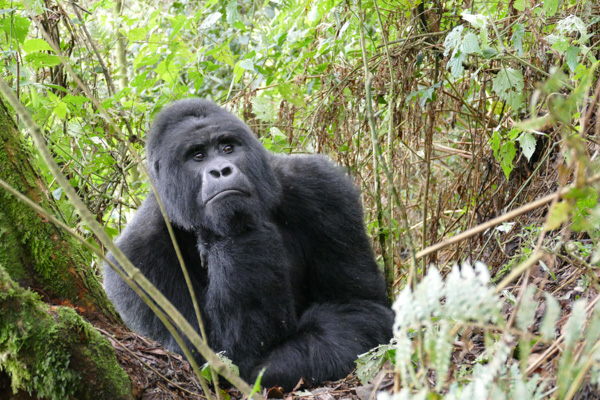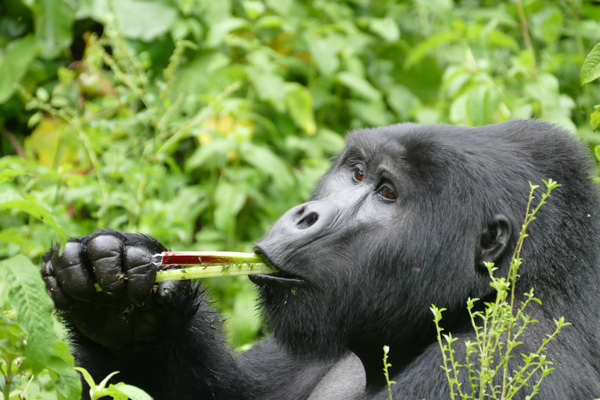 The Bwindi Gorilla Project, located in Bwindi Impenetrable National Park, Uganda, began in 1998. Our research in Bwindi is the second longest running research project on habituated gorillas. Here we focus on the feeding ecology, social behavior, and population dynamics of critically endangered mountain gorillas. Currently we make routine observations on the social behavior, diet, and ranging patterns on four groups of habituated gorillas in the Ruhija area (Kyagurilo-Mukiza, Kyagurilo- Rukara, Bitukura, and Oruzogo groups).
We also work closely with the Uganda Wildlife Authority on the maintenance of a demographic database of all 13 habituated groups in Bwindi. We do this by assisting in training the park staff to identify the gorillas as well as recording all births, deaths, and dispersal events of the gorillas.
Research on the Bwindi gorillas is conducted with close links to the Uganda Wildlife Authority and the Institute for Tropical Forest Conservation with the intent that this research will also assist in management and conservation of the gorillas.
We also have been providing lessons in conservation education to two primary schools neighboring Bwindi since 2008.
Some recent and ongoing research projects conducted at Bwindi include:
Assessment of growth trajectories as well as social and ecological correlates of body size using photogrammetry.
Development of social relationships and acquisition of diet by immature mountain gorillas.
Demographic and life history patterns.
Patterns of Habitat Utilization.
Cognitive complexity of Foraging Behavior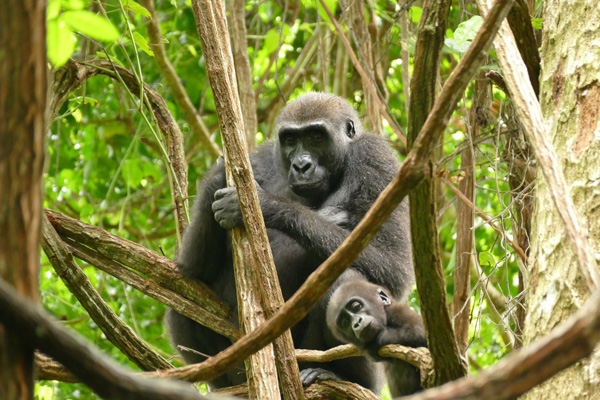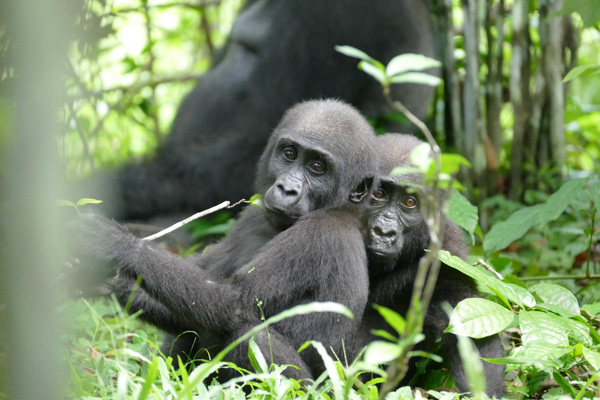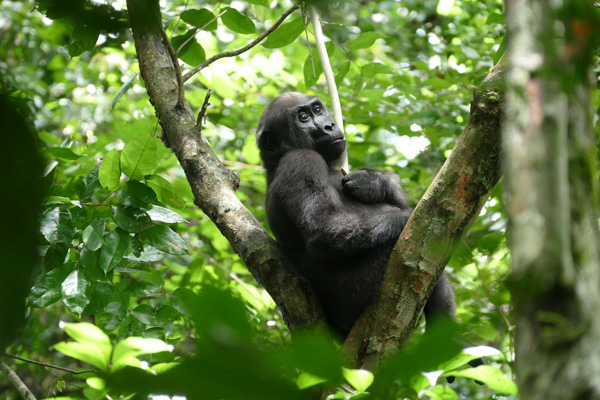 The Max Planck Institute for Evolutionary Anthropology started a project in 2005 to habituate western gorillas for both research and tourism purposes in Loango National Park, Gabon. The main goals of this project have been to better understand the ecology, behavior, and demography of western gorillas as well as to establish gorilla tourism as a conservation strategy in collaboration with the Gabonese National Park Authorities (Agence Nationale des Parcs Nationaux - ANPN). Due to the difficulties of habituating western gorillas, only a few long term studies of them have been done, so we know relatively little about them compared to their better studied cousins in eastern Africa. Since 2014, the Loango Gorilla Project has been collecting data on one habituated group of western gorillas, making more than 1000 hours of behavioral observations annually. In March 2017, the 'Atananga Group' consisted of 16 group members: one silverback, six adult females, and ten immature individuals. The Gabonese park service started gorilla tourism in Loango in June 2016.
Loango is ecologically unique and distinct from other locations where western lowland gorillas have been studied, contains a mosaic of habitat types including seashore, coastal forest, lagoon, savannah, swamps, secondary forest, and primary forest. Our research has revealed that several of the herb and fruit species commonly eaten by western gorillas at other locations (eg. Bai Hokou, Lopé) are absent or found in very low abundance in Loango. We have documented large differences in the ecology of gorillas in Loango compared to other sites. Therefore, this location provides us with an opportunity to better understand the ecological and behavioral flexibility possible in gorillas. We are using similar methods to those used in Bwindi on mountain gorillas so we will be able to make directly comparisons in the social behavior, activity patterns, and movement patterns for the two species of gorillas.
In addition to studying the habituated gorillas, we are also using innovative, non-invasive techniques for strategic monitoring of gorillas and other large mammals. First, we have remote sensor camera traps placed systematically throughout the field site to help us know what other gorilla groups are in the area as well as to monitor changes in the groups over time. We have previously used the camera trap data in a mark-recapture analysis to estimate the densities of gorillas, chimpanzees and elephants in the area. Secondly, we have been collecting ape feces over a 100 km² area since 2005 for genetic analysis. This is an effective way to examine group composition, dispersal patterns, and population size of unhabituated animals. Much more information can be obtained from genetically 'tracking' individuals over time than from conventional methods of following habituated individuals, which typically focuses on only 1-2 groups. Because group compositions and ranging patterns are not static, it is useful to monitor these dynamics in the long term.
Bwindi Ape Conservation Education Partnership (BACEP)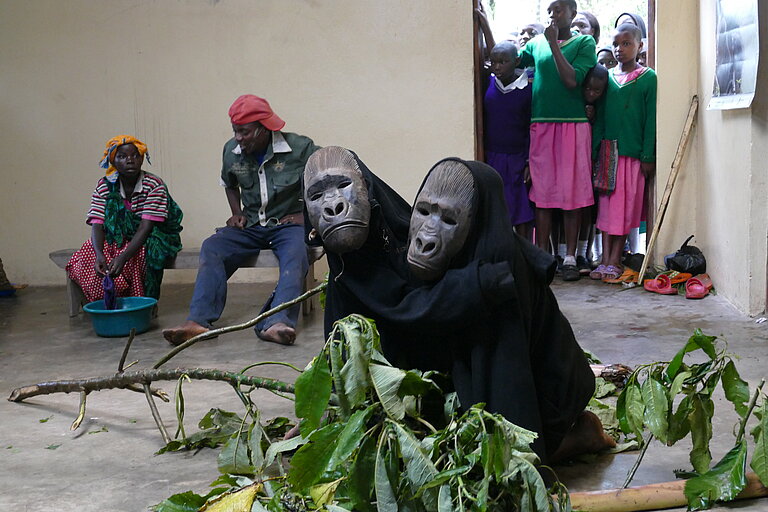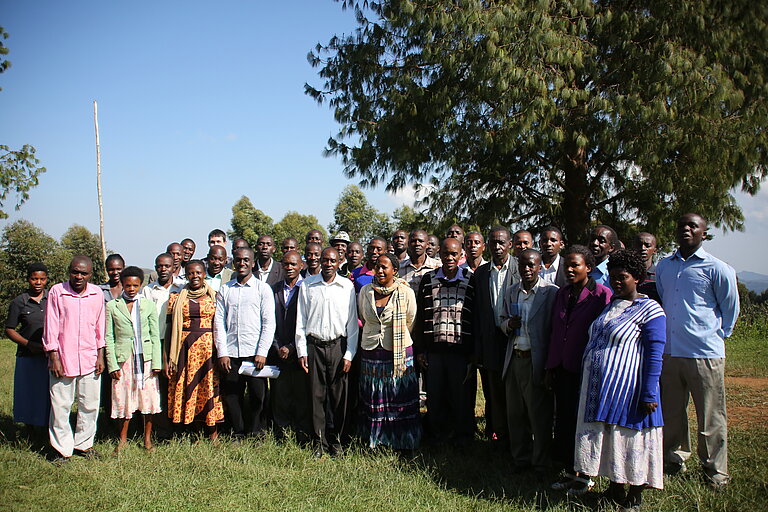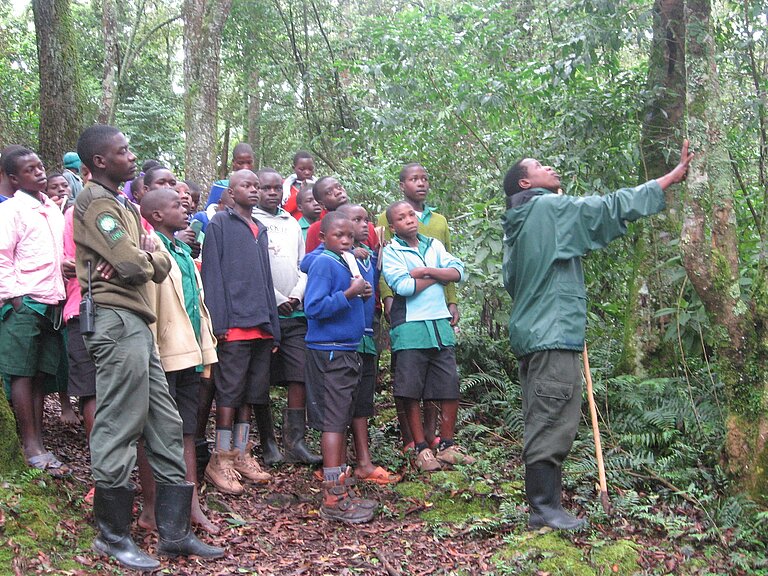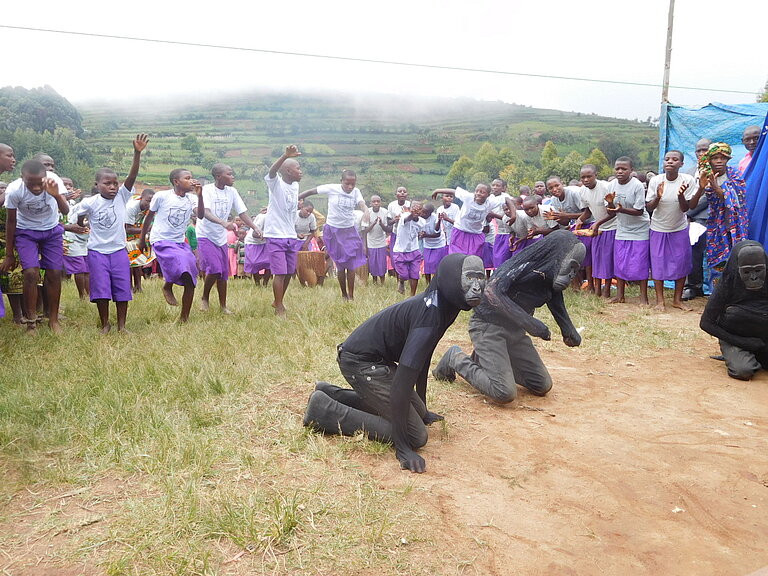 The Bwindi Ape Conservation Education Partnership (BACEP) is a collaboration among Cleveland Metroparks Zoo, North Carolina Zoo, UNITE for the Environment, and the Max Planck Institute for Evolutionary Anthropology. This partnership began in 2014 and builds on previous conservation education activities that were organized since 2008 by Bwindi Gorilla Project of the Max Planck Institute for Evolutionary Anthropology. BACEP's mission is to conserve endangered great ape species of Bwindi Impenetrable National Park through community conservation awareness programs. BACEP is currently working with four primary schools, all near the park boundary of Bwindi. These schools are: Ruhija Primary School, Bitanwa Primary School, Mburameizi Primary School and Kanyashogi Primary School. Our activities benefit the families and communities of more than 400 students.
Local people living in the communities on the edge of Bwindi Impenetrable National Park typically know very little about the environment, conservation issues, or the critically endangered mountain gorillas living nearby. Furthermore, there is a great need to improve the educational standards as well as the infrastructure of the schools. We are grateful to Mondberge for their long-standing support of BACEP.
The main activities of BACAP include:
Provide conservation education lessons on a monthly basis to grades P6, and 7 at the four primary schools. These lessons cover a variety of topics about the behavior and ecology of great apes as well as conservation issues they face such as human-wildlife conflict and tourism.
Teacher training workshops to develop the knowledge of the teachers in areas of conservation and methods of student-centered teaching.
'Hands-on' activities experience for learning and conservation education, such as forest walks, litter pick-up days, and tree nurseries. The schools have distributed more than 20,000 tree seedlings to families and communities since 2013.
Strengthening communities relationships among the schools by conducting competitions every term, in which schools demonstrate their learning of conservation issues in different formats, such as debate, music, dance and drama.
Evaluating the effectiveness of the teacher training workshops and other activities conducted by the program.