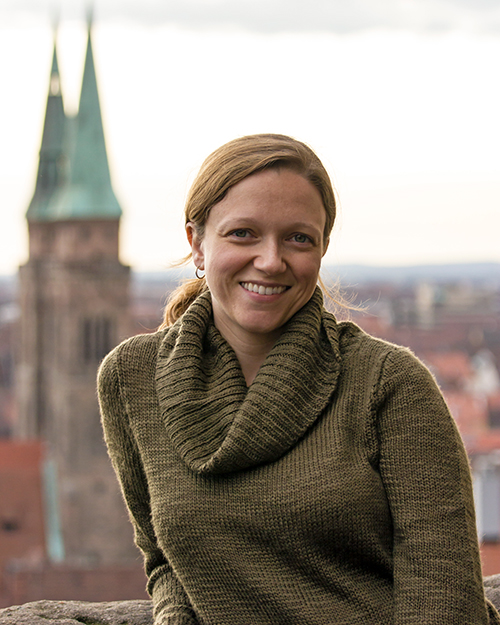 I am working on a postdoc in the Pan African Programme, a large-scale research project examining the drivers of behavioral diversity in chimpanzee populations. My research focuses on examining variation in social and demographic factors across chimpanzee populations, exploring how ecological factors drive this variation, and in turn, studying how demographic variation affects behavioral diversity in chimpanzees. My primary method for examining these issues involves analyzing camera trap videos from over 40 field sites.
Education
| | |
| --- | --- |
| 2016 | University of Southern California, Los Angeles, CA Ph.D., Integrative and Evolutionary Biology Dissertation Title: A Genetic Investigation of Chimpanzee Distribution and Dispersal in the Fragmented Budongo-Bugoma Corridor Landscape, Uganda |
| 2007 | Central Washington University, Ellensburg, WA M.S., Experimental Psychology, Specialization: Primate Behavior Thesis Title: Use of Gesture Sequences in Captive Chimpanzee (Pan troglodytes) Play |
| 2002 | Boston University, Boston, MA B.A., Psychology, Summa Cum Laude with |
Relevant Professional Experience
2013–2015


Guest Researcher
Max Planck Institute for Evolutionary Anthroplogy, Leipzig, Germany
Conducted PhD research in the Molecular Genetics Laboratory under the advisement of Dr. Linda Vigilant and completed PhD thesis research analyses.

2010, 2011, 2012–2013
Research Team Leader
University of Southern California, Los Angeles, CA
Led a PhD research team during data collection in Uganda. Trained field assistants and coordinated data collection.
2005, 2006, 2008

Apprentice Research Team Leader Chimpanzee and Human Communication Institute, Ellensburg, WA Developed and led research from inception through completion. Created syllabi for team learning objectives. Trained apprentices on research, chimpanzee husbandry, and safety. Supervised research teams on data collection and analysis. Led weekly research meetings.
2007

Field Research Assistant
Oxford University, Kasokwa Forest Reserve, Masindi District, Uganda Assisted in a study of the effects of human disturbance on chimpanzees. Collected behavioral data and biological samples on a chimpanzee community. Assisted in surveys of tree and amphibian species.

2006–2007
Animal Technician
Chimpanzee and Human Communication Institute, Ellensburg, WA Operated hydraulic door system to invite chimpanzees between enclosures. Supervised students on husbandry and care. Supervised daily building maintenance and safety. Made daily decisions concerning the chimpanzees' diet and enrichment.
2006–2007
Educational Liaison
Chimpanzee and Human Communication Institute, Ellensburg, WA Supervised docent volunteers. Educated visitors on chimpanzees.
2006
Graduate Student Researcher
Central Washington University, Biodiversity and Conservation Field School, Huangshan, China Led a study on behavioral sequences between Tibetan macaques and humans at an ecotourist site. Assisted in surveys of amphibian species.
2004–2006
Graduate Assistant
Central Washington University, Ellensburg, WA Led research projects. Assisted with instruction on chimpanzee care internship. Trained Earthwatch Institute volunteers on chimpanzee husbandry.
| | |
| --- | --- |
| Adjunct Lecturer | |
| 2009 | Introductory Psychology, Yakima Valley Community College |
| 2008–2009 | Introductory Psychology, Statistics, Laboratory Research in Primatology, and Current Issues in Primatology, Central Washington University |
| Teaching Assistant | |
| 2009–2012 | Origins of Humanity, University of Southern California |
| 2004, 2005 | Intro to Primate Laboratory Procedures, Central Washington |
| 2002 | Psychology of Perception, Boston University |
| Lecturer | |
| 2002, 2004–2009 | Chimposium/Advanced Chimposium education programs, Chimpanzee and Human Communication Institute, Ellensburg, WA |
| Guest Course Lecturer | |
| 2016 | Great Ape Conservation lecture, The Leipzig School of Human Origins, Leipzig, Germany |
| 2015 | PanAfrican Programme and Great Ape Conservation lectures, The Leipzig School of Human Origins, Leipzig, Germany |
| 2014 | Great Ape Conservation lecture, The Leipzig School of Human Origins, Leipzig, Germany |
| 2014 | Bridge Seminar, Behavioral Ecology in Primates, University of Leipzig |
| 2014 | Primatology Department Seminar, Max Planck Institute for Evolutionary Anthropology, Leipzig, Germany |
| 2012 | The Brain: An Introduction to Neuroscience course, University of Southern California |
| 2008 | Pongid Behavior course, Central Washington University |
| 2004 | Introductory Psychology course, Central Washington University |
| 2003 | Primate Behavioral Adaptations course, Boston University |
| Invited Speaker | |
| 2015 | Human Evolution Lunch Lectures Series, Aarhus University, Denmark |
| 2014 | The Chimpanzee-Human Interface, Symposium at the Max Planck Institute for Evolutionary Anthropology, Leipzig, Germany |
| 2011 | Primate Awareness Week, Central Washington University |
| 2010 | The Real Life of a Chimpanzee. TEDxTrousdale, University of Southern California, Los Angeles, CA |
2015


Ralph and Jean Hovel Fellowship, University of Southern California

2013–2014
Research Enhancement Fellowship, University of Southern California
2013–2014
DAAD Research Grant
2013

James F. Nacey Fellowship, Nacey Maggioncalda Foundation

2012
American Society of Primatologists Conservation Small Grant
2012
Primate Conservation, Inc. Grant
2009–2014
Dornsife Doctoral Fellowship, University of Southern California
2006

Graduate Student Summer Research Grant, Central Washington University
Office of Graduate Studies and Research

2006, 2007
Student Travel Grants, Central Washington University Office of Graduate Studies and Research
2004–2006
Graduate Assistantship, Central Washington University
2014– Present

Project Advisor
Bulindi Chimpanzee and Community Project, Bulindi, Uganda

2014
Symposium Co-Organizer and Moderator
The Chimpanzee-Human Interface, Symposium at the Max Planck Institute for Evolutionary Anthropology, Leipzig, Germany
2010
Volunteer Educator
Jane Goodall Institute, Roots and Shoots Passport to Peace, World Peace Day, Santa Monica, CA
2003–2004

Project Volunteer
Great Ape World Heritage Species Project, Cambridge, MA

2002
Summer Apprentice
Chimpanzee and Human Communication Institute, Ellensburg, WA
Articles
McCarthy, M. S., & Lester, J. D. (2022). Consumption of cultivated subterranean plant organs by chimpanzees in a human-dominated landscape. Behaviour, 159(2), 171-186.
DOI BibTeX Endnote

Ordaz-Németh, I., Sop, T., Amarasekaran, B., Bachmann, M., Boesch, C., Brncic, T., Caillaud, D., Campbell, G., Carvalho, J., Chancellor, R., Davenport, T. R. B., Dowd, D., Eno-Nku, M., Ganas-Swaray, J., Granier, N., Greengrass, E., Heinicke, S., Herbinger, I., Inkamba-Nkulu, C., Iyenguet, F., Junker, J., Bobo, K. S., Lushimba, A., Maisels, F., Malanda, G. A. F., McCarthy, M. S., Motsaba, P., Moustgaard, J., Murai, M., Ndokoue, B., Nixon, S., Nseme, R. A., Nzooh, Z., Pintea, L., Plumptre, A. J., Roy, J., Rundus, A., Sanderson, J., Serckx, A., Strindberg, S., Tweh, C., Vanleeuwe, H., Vosper, A., Waltert, M., Williamson, E. A., Wilson, M., Mundry, R., & Kühl, H. S. (2021). Range-wide indicators of African great ape density distribution. American Journal of Primatology, 83(12): e23338.
Open Access DOI BibTeX Endnote Downloads

Barratt, C. D., Lester, J. D., Gratton, P., Onstein, R. E., Kalan, A. K., McCarthy, M., Bocksberger, G., White, L. C., Vigilant, L., Dieguez, P., Abdulai, B., Aebischer, T., Agbor, A., Assumang, A. K., Bailey, E., Bessone, M., Buys, B., Carvalho, J. S., Chancellor, R., Cohen, H., Danquah, E., Deschner, T., Dongmo, Z. N., Doumbé, O. A., Dupain, J., Duvall, C. S., Eno‐Nku, M., Etoga, G., Galat‐Luong, A., Garriga, R., Gatti, S., Ghiurghi, A., Goedmakers, A., Granjon, A.-C., Hakizimana, D., Head, J. S., Hedwig, D., Herbinger, I., Hermans, V., Jones, S., Junker, J., Kadam, P., Kambi, M., Kienast, I., Kouakou, C. Y., N′Goran, K. P., Langergraber, K. E., Lapuente, J., Laudisoit, A., Lee, K., Maisels, F., Mirghani, N., Moore, D., Morgan, B., Morgan, D., Neil, E., Nicholl, S., Nkembi, L., Ntongho, A., Orbell, C., Ormsby, L. J., Pacheco, L., Piel, A. K., Pintea, L., Plumptre, A. J., Rundus, A., Sanz, C., Sommer, V., Sop, T., Stewart, F. A., Sunderland‐Groves, J., Tagg, N., Todd, A., Ton, E., Schijndel, J., VanLeeuwe, H., Vendras, E., Welsh, A., Wenceslau, J. F. C., Wessling, E. G., Willie, J., Wittig, R. M., Yoshihiro, N., Yuh, Y. G., Yurkiw, K., Boesch, C., Arandjelovic, M., & Kühl, H. S. (2021). Quantitative estimates of glacial refugia for chimpanzees (Pan troglodytes) since the Last Interglacial (120,000 BP). American Journal of Primatology, 83(10): e23320.
Open Access DOI BibTeX Endnote Downloads

Carvalho, J. S., Graham, B., Bocksberger, G., Maisels, F., Williamson, E. A., Wich, S., Sop, T., Amarasekaran, B., Bergl, R. A., Boesch, C., Boesch, H., Brncic, T. M., Buys, B., Chancellor, R., Danquah, E., Doumbé, O. A., Galat-Luong, A., Ganas, J., Gatti, S., Ghiurghi, A., Goedmakers, A., Granier, N., Hakizimana, D., Haurez, B., Head, J. S., Herbinger, I., Hillers, A., Jones, S., Manasseh, E.-N., McCarthy, M., Morgan, B. J., Nixon, S., Nkembi, L., Normand, E., Olson, S. H., Payne, L., Petre, C.-A., Piel, A. K., Pintea, L., Plumptre, A. J., Rundus, A., Serckx, A., Stewart, F. A., Sunderland-Groves, J., Tagg, N., Todd, A., Vosper, A., Wenceslau, J. F. C., Wessling, E. G., Willie, J., & Kühl, H. S. (2021). Predicting range shifts of African apes under global change scenarios. Diversity and Distributions, 27(9), 1663-1679.
Open Access DOI BibTeX Endnote Downloads

Bueno de Mesquita, C. P., Nichols, L. M., Gebert, M. J., Vanderburgh, C., Bocksberger, G., Lester, J. D., Kalan, A. K., Dieguez, P., McCarthy, M., Agbor, A., Álvarez Varona, P., Ayimisin, A. E., Bessone, M., Chancellor, R., Cohen, H., Coupland, C., Deschner, T., Egbe, V. E., Goedmakers, A., Granjon, A.-C., Grueter, C. C., Head, J. S., Hernandez-Aguilar, R. A., Jeffery, K. J., Jones, S., Kadam, P., Kaiser, M., Lapuente, J., Larson, B., Marrocoli, S., Morgan, D., Mugerwa, B., Mulindahabi, F., Neil, E., Niyigaba, P., Pacheco, L., Piel, A. K., Robbins, M. M., Rundus, A., Sanz, C. M., Sciaky, L., Sheil, D., Sommer, V., Stewart, F. A., Ton, E., van Schijndel, J., Vergnes, V., Wessling, E. G., Wittig, R. M., Yuh, Y. G., Yurkiw, K., Zuberbühler, K., Gogarten, J. F., Heintz-Buschart, A., Muellner-Riehl, A. N., Boesch, C., Kühl, H. S., Fierer, N., Arandjelovic, M., & Dunn, R. R. (2021). Structure of chimpanzee gut microbiomes across tropical Africa. mSystems, 6(3): e01269-20.
Open Access DOI BibTeX Endnote Downloads

Lester, J. D., Vigilant, L., Gratton, P., McCarthy, M. S., Barratt, C. D., Dieguez, P., Agbor, A., Álvarez-Varona, P., Angedakin, S., Ayimisin, A. E., Bailey, E., Bessone, M., Brazzola, G., Chancellor, R., Cohen, H., Danquah, E., Deschner, T., Egbe, V. E., Eno-Nku, M., Goedmakers, A., Granjon, A.-C., Head, J., Hedwig, D., Hernandez-Aguilar, R. A., Jeffery, K. J., Jones, S., Junker, J., Kadam, P., Kaiser, M., Kalan, A. K., Kehoe, L., Kienast, I., Langergraber, K. E., Lapuente, J., Laudisoit, A., Lee, K., Marrocoli, S., Mihindou, V., Morgan, D., Muhanguzi, G., Neil, E., Nicholl, S., Orbell, C., Ormsby, L. J., Pacheco, L., Piel, A., Robbins, M. M., Rundus, A., Sanz, C., Sciaky, L., Siaka, A. M., Städele, V., Stewart, F., Tagg, N., Ton, E., van Schijndel, J., Vyalengerera, M. K., Wessling, E. G., Willie, J., Wittig, R. M., Yuh, Y. G., Yurkiw, K., Zuberbuehler, K., Boesch, C., Kühl, H. S., & Arandjelovic, M. (2021). Recent genetic connectivity and clinal variation in chimpanzees. Communications Biology, 4: 283.
Open Access DOI BibTeX Endnote Downloads

McCarthy, M. S., Stephens, C. R., Dieguez, P., Samuni, L., Després-Einspenner, M.-L., Harder, B., Landsmann, A., Lynn, L. K., Maldonado, N., Ročkaiová, Z., Widness, J., Wittig, R. M., Boesch, C., Kühl, H. S., & Arandjelovic, M. (2021). Chimpanzee identification and social network construction through an online citizen science platform. Ecology and Evolution.
Open Access DOI BibTeX Endnote Downloads

McCarthy, M., Lester, J. D., Cibot, M., Vigilant, L., & McLennan, M. (2020). Atypically high reproductive skew in a small wild chimpanzee community in a human-dominated landscape. Folia Primatologica, 91(6), 688-696.
Open Access DOI BibTeX Endnote Downloads

McCarthy, M., Despres-Einspenner, M.-L., Farine, D. R., Samuni, L., Angedakin, S., Arandjelovic, M., Boesch, C., Dieguez, P., Havercamp, K., Knight, A., Langergraber, K. E., Wittig, R. M., & Kühl, H. S. (2019). Camera traps provide a robust alternative to direct observations for constructing social networks of wild chimpanzees. Animal Behaviour, 157, 227-238.
DOI BibTeX Endnote

Cibot, M., McCarthy, M. S., Lester, J. D., Vigilant, L., Sabiiti, T., & McLennan, M. R. (2019). Infant carrying by a wild chimpanzee father at Bulindi, Uganda. Primates, 60(4), 333-338.
DOI BibTeX Endnote

Kalan, A. K., Hohmann, G., Arandjelovic, M., Boesch, C., McCarthy, M., Agbor, A., Angedakin, S., Bailey, E., Wilungula Balongelwa, C., Bessone, M., Bocksberger, G., Coxe, S. J., Deschner, T., Despres-Einspenner, M.-L., Dieguez, P., Fruth, B., Herbinger, I., Granjon, A.-C., Head, J. S., Kablan, Y. A., Langergraber, K. E., Lotana Lokasola, A., Maretti, G., Marrocoli, S., Mbende, M., Moustgaard, J., N'Goran, P. K., Robbins, M. M., van Schijndel, J., Sommer, V., Surbeck, M., Tagg, N., Willie, J., Wittig, R. M., & Kühl, H. S. (2019). Novelty response of wild African apes to camera traps. Current Biology, 29(7), 1211-1217.
DOI BibTeX Endnote

Kühl, H. S., Boesch, C., Kulik, L., Haas, F., Arandjelovic, M., Dieguez, P., Bocksberger, G., Agbor, A., Angedakin, S., Ayimisin, A. E., Bessone, M., Brazzola, G., Chancellor, R., Cohen, H., Coupland, C., Danquah, E., Deschner, T., Dowd, D., Goedmakers, A., Granjon, A.-C., Head, J. S., Hedwig, D., Hermans, V., Jones, S., Junker, J., Langergraber, K. E., Lapuente, J., Lee, K., Llana, M., Marrocoli, S., Martin, R., McCarthy, M., Meier, A., Morgan, D., Murai, M., Neil, E., Normand, E., Ormsby, L. J., Pacheco, L., Piel, A., Regnaut, S., Rundus, A., Sanz, C., Stewart, F., Tagg, N., Vergnes, V., Welsh, A., Wessling, E. G., Willie, J., Wittig, R. M., Yuh, Y. G., Yuh, Y. G., Yurkiw, K., & Kalan, A. K. (2019). Inclusive chimpanzee conservation—Response. Science, 364(6445), 1040-1041.
DOI BibTeX Endnote

McCarthy, M., Despres-Einspenner, M.-L., Samuni, L., Mundry, R., Lemoine, S., Preis, A., Wittig, R. M., Boesch, C., & Kühl, H. S. (2018). An assessment of the efficacy of camera traps for studying demographic composition and variation in chimpanzees (Pan troglodytes). American Journal of Primatology, 80(9): e22904.
DOI BibTeX Endnote

McCarthy, M. S., Lester, J. D., Langergraber, K. E., Stanford, C. B., & Vigilant, L. (2018). Genetic analysis suggests dispersal among chimpanzees in a fragmented forest landscape in Uganda. American Journal of Primatology, 80(9): e22902.
DOI BibTeX Endnote

Tagg, N., McCarthy, M., Dieguez, P., Bocksberger, G., Willie, J., Mundry, R., Stewart, F., Arandjelovic, M., Widness, J., Landsmann, A., Agbor, A., Angedakin, S., Ayimisin, A. E., Bessone, M., Brazzola, G., Corogenes, K., Heegde, M. t., Deschner, T., Dilambaka, E., Eno-Nku, M., Eshuis, H., Goedmakers, A., Granjon, A.-C., Head, J. S., Hermans, V., Jones, S., Kadam, P., Kambi, M., Langergraber, K., Lapeyre, V., Lapuente, J., Lee, K., Leinert, V., Maretti, G., Marrocoli, S., Meier, A., Nicholl, S., Normand, E., Ormsby, L. J., Piel, A., Robinson, O., Sommer, V., Tickle, A., Ton, E., van Schijndel, J., Vanleeuwe, H., Vergnes, V., Wessling, E. G., Wittig, R. M., Zuberbuehler, K., Kühl, H. S., & Boesch, C. (2018). Nocturnal activity in wild chimpanzees (Pan troglodytes): Evidence for flexible sleeping patterns and insights into human evolution. American Journal of Physical Anthropology, 166(3), 510-529.
DOI BibTeX Endnote

McCarthy, M. S., Lester, J. D., & Stanford, C. B. (2017). Chimpanzees (Pan troglodytes) flexibly use introduced species for nesting and bark feeding in a human-dominated habitat. International Journal of Primatology, 38(2), 321-337.
Open Access DOI BibTeX Endnote Downloads

McCarthy, M. S., Lester, J. D., Howe, E. J., Arandjelovic, M., Stanford, C. B., & Vigilant, L. (2015). Genetic censusing identifies an unexpectedly sizeable population of an endangered large mammal in a fragmented forest landscape. BMC Ecology, 21: 15.
Open Access DOI BibTeX Endnote Downloads

McCarthy, M. S., Jensvold, M. L. A., & Fouts, D. H. (2013). Use of gesture sequences in captive chimpanzee (Pan troglodytes) play. Animal Cognition, 16(3), 471-481.
DOI BibTeX Endnote

McCarthy, M. S., Matheson, M. D., Lester, J. D., Sheeran, L. K., Li, J.-H., & Wagner, R. S. (2009). Sequences of Tibetan Macaque (Macaca thibetana) and tourist behaviors at Mt. Huangshan, China. Primate Conservation, 24, 145-151.
Open Access BibTeX Endnote Downloads
Conference Papers
Sanakoyeu, A., Khalidov, V., McCarthy, M. S., Vedaldi, A., & Neverova, N. (in press). Transferring Dense Pose to proximal animal classes. In CVPR 2020.
BibTeX Endnote Downloads
Posters
McCarthy, M. S., & Standord, C. B. (2012). Nest choice by chimpanzees in a fragmented habitat, Uganda: Preliminary findings. Poster presented at 35th Meeting of the American Society of Primatologists, Sacramento, CA.
BibTeX Endnote

McCarthy, M. S., Finch, C. E., & Standord, C. B. (2011). Social dominance predicts long life expectancy in male chimpanzees (Pan troglodytes). Poster presented at 34th Meeting of the American Society of Primatologists, Austin, TX.
BibTeX Endnote
Meeting Abstracts
Lester, J. D., Vigilant, L., Gratton, P., McCarthy, M., Barratt, C. D., Boesch, C., Kühl, H. S., Dieguez, P., Aebischer, T., Agbor, A., Varona, P. Á., Angedakin, S., Assumang, A. K., Aubertf, F., Ayimisin, A. E., Bailey, E., Barubiyo, D., Bessone, M., Bonnet, M., Brazzola, G., Chancellor, R., Cipoletta, C., Cohen, H., Corogenes, K., Coupland, C., Curran, B., Danquah, E., Deschner, T., Dierks, K., Dilambaka, E., Dowd, D., Dunn, A., Dupain, J., Egbe, V. E., Goedmakers, A., Granjon, A.-C., Hedwig, D., Hermans, V., Imong, I., Jeffery, K. J., Jones, S., Junker, J., Kadam, P., Kaiser, M., Kalan, A. K., Kambere, M., Kambere, M., Kienast, I., Kujirakwinja, D., Langergraber, K. E., Lapeyre, V., Lapuente, J., Larson, B., Lee, K., Leinert, V., Llana, M., Manasseh, E.-N., Maretti, G., Marrocoli, S., Martín, R., Meier, A., Morgan, D., Mulindahabi, F., Murai, M., Neil, E., Nicholl, S., Nixon, S., Niyigaba, P., Normand, E., Orbell, C., Ormsby, L. J., Pacheco, L., Piel, A., Preece, J., Regnaut, S., Robbins, A. M., Sanz, C., Sciaky, L., Sommer, V., Stewart, F., Tagg, N., Telfer, P., Ton, E., van Schijndel, J., Vanleeuwe, H., Vergnes, V., Vyalengerera, M. K., Wessling, E. G., Willie, J., Wittig, R. M., Yuh, Y. G., Yurkiw, K., Zuberbühler, K., & Arandjelovic, M. (2020). Chimpanzee biogeography inferred from genetic diversity and effective migration. Folia Primatologica, 91(3), 264-265.
DOI BibTeX Endnote

McCarthy, M., Despres-Einspenner, M.-L., Farine, D. R. F., Samuni, L., Angedakin, S., Arandjelovic, M., Boesch, C., Dieguez, P., Havercamp, K., Knight, A., Langegraber, K. E., & Kühl, H. S. (2020). Camera traps offer a robust means for social network analysis in wild chimpanzees. Folia Primatologica, 91(3), 347.
DOI BibTeX Endnote

Pereira, J., Stephens, C. R., McCarthy, M., Dieguez, P., Kalan, A. K., Maldonado, N., Boesch, C., Kühl, H. S., & Arandjelovic, M. (2018). Chimp&See: An online citizen science platform for large-scale, remote video camera trap annotation of chimpanzee behaviour, demography and individual identification. Folia Primatologica, 89, 208.
DOI BibTeX Endnote

McCarthy, M. S., Lester, J. D., & Stanford, C. (2015). Survival in the Fragments: Chimpanzees (Pan troglodytes schweinfurthii) exploit new, non-native cultivars for nesting and feeding in a human-dominated landscape, Western Uganda. Folia primatologica, 86(4), 319-320.
DOI BibTeX Endnote

McCarthy, M. S., Lester, J. D., Langergraber, K. E., Stanford, C. B., & Vigilant, L. (2015). Genetic censusing suggests an unexpectedly large population of chimpanzees in a fragmented forest corridor of western Uganda. In Society for Conservation Biology (Ed.), 27th International Congress for Conservation Biology & 4th European Congress for Conservation Biology: Book of abstracts (pp. 440-441).
BibTeX Endnote

McCarthy, M. S., Finch, C. E., & Stanford, C. B. (2013). Alpha male status predicts long life expectancy in wild chimpanzees. American Journal of Physical Anthropology, 150(S56), 193-193.
DOI BibTeX Endnote
Working Papers
McCarthy, M. S., Leeds, C. A., Bismanovsky, D., Denton, T., Jensvold, M. L., & Fouts, D. H. (2009). Social structure in three captive chimpanzees (Paper presented at Northwest Anthropological Conference, Newport, OR).
BibTeX Endnote

McCarthy, M. S., Jensvold, M. L., Fouts, D. H., & Fouts, R. S. (2007). Chimpanzee use of gesture sequences during play (Paper presented at the Rocky Mountain Psychological Association Meetings, Denver, CO., April, 12-14, 2007).
BibTeX Endnote

McCarthy, M. S., Jensvold, M. L., Fouts, D. H., & Fouts, R. S. (2006). Space use in captive chimpanzees (Paper presented at the Rocky Mountain Psychological Association Meetings, Park City, UT., April 21, 2006).
BibTeX Endnote
Talks
McCarthy, M. S., Lester, J. D., Langergraber, K. E., Stanford, C. B., & Vigilant, L. (2016). Genetic evidence for typical female-biased dispersal in chimpanzees in a human-dominated habitat, western Uganda. Talk presented at Joint meeting of the International Primatological Society and the American Society of Primatologists. Chicago, IL. 2016-08-21 - 2016-08-27.
BibTeX Endnote

McCarthy, M. S., Lester, J. D., Arandjelovic, M., Stanford, C., & Vigilant, L. (2015). Genetic censusing suggests unexpectedly sizable numbers of chimpanzees (Pan troglodytes schweinfurthii) living in forest fragments in western Uganda. Talk presented at 14th Conference of the Gesellschaft für Primatologie. Leipzig, Germany. 2015-02-11 - 2015-02-13.
BibTeX Endnote

McCarthy, M. S., Matheson, M. D., Lester, J. D., Sheeran, L. K., Li, J. H., & Wagner, R. S. (2007). Sequences of Tibetan macaque (Macaca thibetana) behaviors and tourist behaviors at Mt. Huangshan, China. Talk presented at 30th ASP Meeting. Winston-Salem, NC. 2007-06-19 - 2007-06-23.
BibTeX Endnote