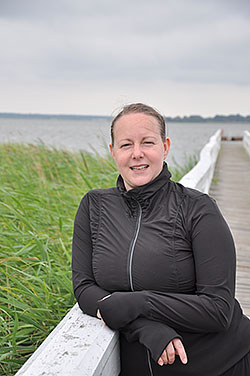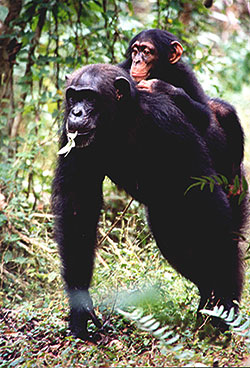 Sociality and ranging in wild West African female chimpanzees
female chimpanzee dominance hierarchies
female chimpanzee social structure and relationships
female chimpanzee feeding competition and behavior
female chimpanzee ranging pattern
female chimpanzee fitness benefits
Born: March 11, 1980 in Zwickau, Germany
1998 – 2003

Study of Biology (Zoology, Behavioral Physiology, Ecology, Psychology), University of Bayreuth and University of Leipzig, Department of Biological Sciences

Diploma thesis: "Object choice experiments with chimpanzees (Pan troglodytes) and bonobos (Pan paniscus)" [in German]

Supervisors:
Prof. M. Tomasello, MPI for Evolutionary Anthropology, Leipzig
Prof. K. Schildberger, University Leipzig

2004 - present

Dissertation: "Sociality and ranging in wild West African female chimpanzees (Pan troglodytes verus)"

Supervisor: Prof. C. Boesch, MPI for Evolutionary Anthropology, Leipzig

2012 - present

Consultant of the Wild Chimpanzee Foundation, Tasks: fundraising, report writing, webpage updates, conservation education projects (Club P.A.N., School-projects Germany/Côte d'Ivoire)
1998

Volunteer for Ecology ("Freiwilliges Ökologisches Jahr") in the Zoo Görlitz, Germany

2001 - 2004

Student assistant, MPI for Evolutionary Anthropology, Leipzig, Germany

2003 - 2004

Volunteer for the Taї Chimpanzee Project Ivory Coast, Habituation of a chimpanzee group

2001 - present

Guided tours for school classes, students or other visitors, Zoo Leipzig, Germany

2004 - present

Member of the Wild Chimpanzee Foundation, Tasks: fundraising, conservation education projects (Club P.A.N., Partnerschoolproject Germany/Côte d'Ivoire)

2006

Instructor for the seminar on Behavioral Ecology:
University of Leipzig Department of Biological Science, Germany

2006

Instructor for the Seminar on Wild Chimpanzees:
Gymnasium Ortenberg, on the occasion of the Max Planck Society annual meeting in 2006, Germany

2006

Research at Tchimpounga Sanctuary, Republic of Congo
Research on cognition in chimpanzees

2006 - present


Co-founded the Conservation Group of the Max Planck Institute for Evolutionary Anthropology. Projects have included a conservation education program with the Wild Chimpanzee Foundation (Club P.A.N.), primate-focused sustainable logging and primate reintroduction literature reviews.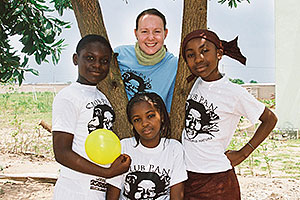 In 2011 Julia Riedel won the Yves Rocher Fondation "Trophée de femmes" award in Germany for the Club P.A.N. environmental education project. The award honours women working with environmental projects with the common goal of creating a future worth living.
Boucher, R. D., Jaouen, K., Riedel, J., Boesch, C., Wittig, R. M., & Oelze, V. M. (2022). Evidence for delta Zn-66 values as indicators of meat consumption in the Tai chimpanzees. American Journal of Biological Anthropology, 177(S73), 19-19.
DOI BibTeX Endnote
Heinicke, S., Ordaz-Németh, I., Junker, J., Bachmann, M. E., Marrocoli, S., Wessling, E. G., Byler, D., Cheyne, S. M., Desmond, J., Dowd, D., Fitzgerald, M., Fourrier, M., Goedmakers, A., Hernandez‐Aguilar, R. A., Hillers, A., Hockings, K. J., Jones, S., Kaiser, M., Koops, K., Lapuente, J. M., Maisels, F., Riedel, J., Terrade, E., Tweh, C. G., Vergnes, V., Vogt, T., Williamson, E. A., & Kühl, H. S. (2021). Open‐access platform to synthesize knowledge of ape conservation across sites. American Journal of Primatology, 83(1): e23213.
Open Access DOI BibTeX Endnote Downloads
Riedel, J. (2020). Dominance, sociality and meat-access in West African female chimpanzees. PhD Thesis, Universität, Leipzig.
BibTeX Endnote

Riedel, J., Polansky, L., Wittig, R. M., & Boesch, C. (2020). Social rank overrides environmental and community fluctuations in determining meat access by female chimpanzees in the Taï National Park, Côte d'Ivoire. PeerJ, 8: e8283.
Open Access DOI BibTeX Endnote Downloads
Riedel, J., Boesch, C., & Franz, M. (2019). Effects of large-scale knockouts on chimpanzee association networks. In C. Boesch, & R. M. Wittig (Eds.), The chimpanzees of the Taï forest: 40 years of research (pp. 301-315). Cambridge University Press.
BibTeX Endnote
Borchers, C., Boesch, C., Riedel, J., Guilahoux, H., Ouattara, D., & Randler, C. (2014). Environmental education in Côte d'Ivoire/West Africa: Extra-curricular primary school teaching shows positive impact on environmental knowledge and attitudes. International Journal of Science Education, Part B, 4(3), 240-259.
DOI BibTeX Endnote

Wilson, M. L., Boesch, C., Fruth, B., Furuichi, T., Gilby, I. C., Hashimoto, C., Hobaiter, C. L., Hohmann, G., Itoh, N., Koops, K., Lloyd, J. N., Matsuzawa, T., Mitani, J. C., Mjungu, D. C., Morgan, D., Muller, M. N., Mundry, R., Nakamura, M., Pruetz, J., Pusey, A. E., Riedel, J., Sanz, C., Schel, A. M., Simmons, N., Waller, M., Watts, D. P., White, F., Wittig, R. M., Zuberbühler, K., & Wrangham, R. W. (2014). Lethal aggression in Pan is better explained by adaptive strategies than human impacts. Nature, 513(7518), 414-417.
DOI BibTeX Endnote
Fahy, G. E., Richards, M. P., Riedel, J., Hublin, J.-J., & Boesch, C. (2013). Stable isotope evidence of meat eating and hunting specialization in adult male chimpanzees. Proceedings of the National Academy of Sciences of the United States of America, 110(15), 5829-5833.
DOI BibTeX Endnote

Fahy, G. E., Richards, M. P., Riedel, J., Hublin, J.-J., & Boesch, C. (2013). The role of the hunter: Stable isotope evidence of hunting in adult male chimpanzees. American Journal of Physical Anthropology, 150(Suppl. 56), 121.
DOI BibTeX Endnote
Kühl, H. S., N'Guessan, A., Riedel, J., Metzger, S., & Deschner, T. (2012). The effect of climate fluctuation on chimpanzee birth sex ratio. PLoS One, 7(4): e35610.
Open Access DOI BibTeX Endnote Downloads
Riedel, J., Franz, M., & Boesch, C. (2011). How feeding competition determines female chimpanzee gregariousness and ranging in the Taï National Park, Côte d'Ivoire. American Journal of Primatology, 73(4), 305-313.
DOI BibTeX Endnote
Leendertz, S. A. J., Metzger, S., Skjerve, E., Deschner, T., Boesch, C., Riedel, J., & Leendertz, F. H. (2010). A longitudinal study of urinary dipstick parameters in wild chimpanzees (Pan troglodytes verus) in Côte d'Ivoire. American Journal of Primatology, 72(8), 689-698.
DOI BibTeX Endnote
Borchers, C., Riedel, J., Boesch, C., & Breuer, T. (2009). Deux programmes d'éducation environnementale pour la conservation des grands singes africains: Club Ebobo et Club P.A.N. La Revue de Primatologie, 1.
DOI BibTeX Endnote
Riedel, J., Schumann, K., Kaminski, J., Call, J., & Tomasello, M. (2008). The early ontogeny of human – dog communication. Animal Behaviour, 75(3), 1003-1014.
DOI BibTeX Endnote
Bräuer, J., Kaminski, J., Riedel, J., Call, J., & Tomasello, M. (2006). Making inferences about the location of hidden food: Social dog - casual ape. Journal of Comparative Psychology, 120(1), 38-47.
DOI BibTeX Endnote

Riedel, J., Buttelmann, D., Call, J., & Tomasello, M. (2006). Domestic dogs (Canis familiaris) use a physical marker to locate hidden food. Animal Cognition, 9(1), 27-35.
DOI BibTeX Endnote
Kaminski, J., Riedel, J., Call, J., & Tomasello, M. (2005). Domestic goats, Capra hircus, follow gaze direction and use social cues in an object choice task. Animal Behaviour, 69(1), 11-18.
DOI BibTeX Endnote