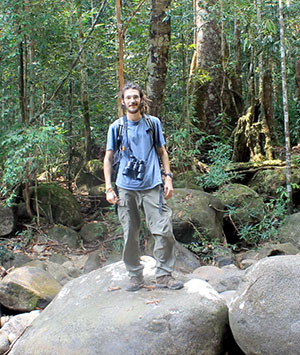 As a behavioral ecologist, I'm interested in the relationships between primates and their social and environmental conditions, and on how primate evolution has been shaped by ecological and social factors. Following this curiosity, I have worked in various field sites on different species of primates, in the conservation and fundamental research domains (see CV).
The heart of my interest is to unravel the proximate mechanisms of territorial behavior in chimpanzees and, ultimately, how much the presence of "others", not belonging to the same community, has counted in the evolution of chimpanzees and human ancestors, especially for social and cognitive adaptations. The reasons why chimpanzee communities are violent with each other have been long debated, although years of observation in various filed sites have demonstrated a ubiquitous pattern of hostility. However, variations in territorial behavior exist between populations, as well as within population; similarly, temporal variations in the adoption of territorial strategies, linked to demographic circumstances, have been reported. So it seems that chimpanzees are not always responding to strangers in a similar way.
My PhD project
I'm currently undertaking a PhD under the supervision of Dr. Roman Wittig and Dr. Cathy Crockford. From October 2013 to September 2016, I have been the manager of the Tai Chimpanzee Project field site in the Tai National Park, Cȏte d'Ivoire, where three neighboring communities (North, South and East) are simultaneously monitored and studied.
I'm studying the relationships between these neighboring communities, by investigating the importance of the neighbor effect on the daily behavior of chimpanzees, in particular the effects on spacing and ranging patterns, vocalization rates and social dynamics. I wish to understand the spatio-temporal variation of territorial behavior and how different territorial strategies are used, in function of neighbors' proximity, relative power of the communities, intra- community social dynamics, and variation in socio-demographic and environmental conditions.
This work aims to add new insights on the evolution of territorial behavior in chimpanzees, with an integrative approach using social, ecological and spatial data, from a population perspective; it tackles the broader question of the evolutionary roots of inter-community violence, and how inter-group competition in social apes can be linked to intra-community sociality, to community survivorship and community fitness.
2006

Master degree in Sciences, Animal Behavior and Ecophysiology – Louis Pasteur University, Strasbourg, France

Dissertation M2: Mating market in vervet monkeys (Chlorocebus aethiops cloetei), in the Loskop Dam Nature Reserve, Mpumalanga Province, South Africa. Advisor: Prof. Ronald Noë

Dissertation M1: Incubation behavior of white stork (Cicogna cicogna); CNRS (Department of Ecology and Energetic Physiology), Strasbourg. Advisor: Prof. Sylvie Massemin

2004
Bachelor degree in Biology and Geology – University of Bourgogne, Dijon, France
Research and Field Experience
Sep 2012- Sep 2013

The effects of spatial and temporal variation in plant productivity on the population ecology of Bornean rainforest primates; supervisor: Dr. Andrew J Marshall, University of California, Davis

Field Manager KKL project (Penelitian Kelempiau dan Kelasi), Cabang Panti Research Station, Gunung Palung National Park, West Kalimantan, Indonesia

Duties: General management of research team and field station; vertebrate surveys across 6 habitats; phenology study; plant identification; behavioural follows of wild white-bearded gibbons (Hylobates albibarbis) and red-leaf monkeys (Presbytis rubicunda rubida)

Jul 2007-Jul 2011

Reintroduction of wild-born captive-raised Mona monkeys (Cercopithecus mona) into a natural preserved habitat in South-East Nigeria; CERCOPAN (Centre for Education, Research and Conservation of Primates and Nature)

Research coordinator and acting manager at the Rhoko field site, Cross River State, Nigeria

Duties: General management of research team and field station; preparation and realisation of the release and monitoring of reintroduced primates; phenology study; plant identification; primate surveys; assessment of land use management

2005

Activity budget of captive gibbons (Hylobates sp.)

Summer internship. Kalaweit Sanctuary (Central Kalimantan, Indonesia) and Mulhouse Zoo (France); Supervisors: Aurélien Brulé, Susan Cheyne PhD (Kalaweit) & Dr.Vet. Pierre Moisson (Zoo de Mulhouse)

2004

Facial expressions in the Tonkean macaque(Macaca tonkeana).

Scholar internship. Zoo de Strasbourg (France); Supervisors: Dr. Odile Petit and Dr. Helene Meunier (Uni. Louis Pasteur, Strasbourg)
Grants
Merit Grant (Education Secretary Grant), 2005-2006, delivered by University of Strasbourg Foundation AAP Sanctuary for exotic animals – travelling grant 2010
Affiliation

Member of CERCOPAN Reintroduction Committee, since March 2012

Association for the Study of Animal Behaviour (ASAB), since 2006
Articles
Fruteau, C., Lemoine, S., Hellard, E., Damme, E. v., & Noë, R. (2011). When females trade grooming for grooming: Testing partner control and partner choice models of cooperation in two primate species. Animal Behaviour, 81(6), 1223-1230.
DOI BibTeX Endnote

McCarthy, M., Despres-Einspenner, M.-L., Samuni, L., Mundry, R., Lemoine, S., Preis, A., Wittig, R. M., Boesch, C., & Kühl, H. S. (2018). An assessment of the efficacy of camera traps for studying demographic composition and variation in chimpanzees (Pan troglodytes). American Journal of Primatology, 80(9): e22904.
DOI BibTeX Endnote

Lemoine, S., Preis, A., Samuni, L., Boesch, C., Crockford, C. ǂ., & Wittig, R. M. (2020). Between-group competition impacts reproductive success in wild chimpanzees. Current Biology, 30(2), 312-318.
Open Access DOI BibTeX Endnote Downloads

Lemoine, S., Boesch, C., Preis, A., Samuni, L., Crockford, C. ǂ., & Wittig, R. M. (2020). Group dominance increases territory size and reduces neighbor pressure in wild chimpanzees. Royal Society Open Science, 7(5): 200577.
Open Access DOI BibTeX Endnote Downloads

Oelze, V. M., Wittig, R. M., Lemoine, S., Kühl, H. S., & Boesch, C. (2020). How isotopic signatures relate to meat consumption in wild chimpanzees: A critical reference study from Taï National Park, Côte d'Ivoire. Journal of Human Evolution, 146: 102817.
DOI BibTeX Endnote

Lemoine, S. R. T., Samuni, L., Crockford, C. ǂ., & Wittig, R. M. (2022). Parochial cooperation in wild chimpanzees: A model to explain the evolution of parochial altruism. Philosophical Transactions of the Royal Society B: Biological Sciences, 377(1851).
Open Access DOI BibTeX Endnote Downloads
Book Chapters
Lemoine, S., Crockford, C., & Wittig, R. M. (2019). Spatial integration of unusually high numbers of immigrant females into the south group further support for the bisexually-bonded model in Tai chimpanzees. In C. Boesch, & R. M. Wittig (Eds.), The chimpanzees of the Taï forest: 40 years of research (pp. 159-177). Cambridge University Press.
BibTeX Endnote
Meeting Abstracts
Lemoine, S., Boesch, C., Crockford, C., & Wittig, R. M. (2018). Effects of between-group competition on fitness in wild chimpanzees. In GFP 2019 Programme (pp. 28).
BibTeX Endnote

Lemoine, S., Boesch, C., Crockford, C., & Wittig, R. M. (2018). Selective potential of between-group competition in wild chimpanzees. In N.N.
BibTeX Endnote

Oelze, V. M., Wittig, R. M., Lemoine, S., Kühl, H. S., & Boesch, C. (2018). Meat eating frequencies in wild chimpanzees - The effect of absolute meat amounts, hunt participation and female reproductive state on the delta N-15 ratios of hair. American Journal of Physical Anthropology, 165(S66), 192-192.
DOI BibTeX Endnote
Thesis
Lemoine, S. R. T. (2020). Inter-community relationships in wild chimpanzees: A selective pressure shaping chimpanzee sociality. PhD Thesis, Universität, Leipzig.
BibTeX Endnote
| | |
| --- | --- |
| | Lemoine S, Tooze Z, Coulson C. 2010. First reintroduction of mona guenons in Southeast Nigeria: lessons learnt, implications and benefits for captive care and conservation of Cercopithecines species. (abstract) Compassionate Conservation Symposium 2010, Oxford, UK. |
| | Tooze Z, Lemoine S. 2008. Restoring primate communities: Reintroduction of mona monkeys (Cercopithecus mona) to a protected community forest in Southeast Nigeria. (abstract) International Primate Society Congress 2008, Edinburgh, UK. |