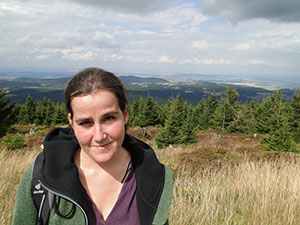 Max Planck Institute for Evolutionary Anthropology
Department of Primatology
Deutscher Platz 6
D-04103 Leipzig, Germany
phone: +49 341 3550 245
e-mail: verena_behringereva.mpgde
I am currently working on the "growing up"- porject. One major goal of the "growing up" project is to compare developmental changes in bonobos and chimpanzees, to identify similarities and differences during their ontogeny, and relate this to corresponding information from modern humans. Choosing physiological markers (steroids like testosterone and DHEA, thyroid homrones, neopterin, klotho and IGFBP-3) and somatic traits (forearm length measures) that are representative for somatic growth, reproduction, and maintenance, supports the second major goal, to construct life history (LH) profiles of the two ape species. Adding published data from modern humans facilitates the third goal, the detection of LH traits of the last common ancestor of hominoid and hominid primates. The "growing up" project contributes to the existing information: Firstly, it is the first comparative study on the development of bonobos and chimpanzees that is based on a large data set from living individuals that can be transposed from cross-sectional into longitudinal analyses. Second, it includes multiple physiological markers, and combines these measures with data on somatic growth. Third, it includes extensive validation of physiological markers that had not yet been explored in nonhuman primates, or that had been measured in matrices that require invasive sampling. With these non-invasive methods, the project paves the way for elaborate studies of development and LH of apes living in natural environments.
Current position
Since August 2010 Max Planck Institute for Evolutionary Anthropology, Department of Primatology, Leipzig, Germany.
Theoretical expertise:
Group living and social stress and coping mechanisms
Ontogeny, aging, and life history
Nutrition and energy balance
Labor expertise:
Measuring and quantifying physiological marker system on stress (glucocorticoids, alpha amylase), reproduction (sex steroids), nutrition (C-peptide), health (Neopterin), development and aging (thyroid hormones, sex steroids, DHEAS, soluble alpha klotho, IGFBP-3)
Assay validation and -modification
Extraction methods e.g., to analyze hormones in serum, saliva, feces, and urine
Since January 2014
Postdoctoral fellow Max Planck Institute for Evolutionary Anthropology, Department of Primatology, Leipzig, Germany.
July – December 2013
Postdoctoral fellow Postdoctoral fellow Royal Zoological Society Antwerp, Belgium (KMDA)
August 2010 – July 2013
Postdoctoral fellow Max Planck Institute for Evolutionary Anthropology, Department of Primatology, Leipzig
January 2007 – March 2011
JUSTUS-LIEBIG-UNIVERSITY GIESSEN
PhD, magna cum laude.
"Influence of different keeping conditions of the behavior and stress hormones in zoo housed gorilla (Gorilla g. gorilla), Sumatran orangutans (Pongo abelii) and pygmy chimpanzees (Pan paniscus)"
Relevant professional experience
June – July 2010
ST. ANDREWS UNIVERSITY
Volunteer involved in observation and experimental studies with chimpanzee, squirrel monkeys and capuchins.
Learning NODLUS observer software.
October – January 2010
UNIVERSITY ZÜRICH and FRANKFURT ZOO
Scientific project in cooperation with Dr. Thomas Geissmann, Anthropological Institute, University Zürich-Irchel, Switzerland.
Title: "Self-cover behavior in Primates"
March 2006 – January 2007
JUSTUS-LIEBIG-UNIVERSITY GIESSEN
Scientific project
Title: "Investigation of the regurgitation and reingestion behavior in three zoo housed great ape species (Gorilla g. gorilla, Pongo abelii, Pan paniscus"
Since January 2008
ZOOLOGICAL SOCIETY FRANKFURT (ZSF)
Graduate assistance

Support for the project "Naturschutz-Botschafter" ("Environment Ambassadors")
Public and press relations
Marketing and Fundraising

May until June 2009
FRANKFURT ZOO
Trainee-Assistant

Animal management
Public and press relations

March 2007 – March 2010
JUSTUS-LIEBIG-UNIVERSITY GIESSEN
Graduate assistance

Support and management of courses: Institute of animal physiology, working group Ethology
Support and management of Diploma and Bachelor theses

2006 – 2010
UNIVERSITY OF VETERINARY MEDICINE VIENNA, Austria
Hormon analyzing in apes saliva with an Enzyme-Immuno-Assay (EIA) as well preparing fecal samples for EIA.

Institute of Biochemistry, University of veterinary medicine, Prof. Dr. Erich Möstl

August 2006
FRANKFURT ZOO
Zoo veterinary trainee

Keeping and nutrition in zoo animals, surgery, endoscopy, parasitology and preparation of animal transport

August 2003
OPEL-ZOO, Georg von Opel-Freigehege für Tierforschung e.V. (Georg von Opel outdoor enclosure for animal research)

Trainee animal keeping, keeping and care of ungulates, monkeys, carnivores, birds and pets
Professional and Public Service
Ad hoc reviewer:
Journal:
Animal Welfare
Behaviour
Clinical Interventions in Aging
General and Comparative Endocrinology
International Journal of Primatology
Journal of Zoo & Aquarium Research
Methods in Ecology and Evolution
PloSOne
Primates
Psychoneuroendocrinology
Scientific reports
Zoo Biology
Vocational training
February 2010
EUPRIM-NET, Network Activity 4, German Primate Center, Göttingen

"Course of essential" (inter alia diversity, social behavior, communication, nutrition, parasites in primates), 1.-4. February 2010

2008
EUPRIM-NET, Network Activity 4, German Primate Center, Göttingen

Course 3: "Primate nutrition", 4.-7. February 2008
Course 4: "Stress and its implication on primate welfare", 13.-16. October 2008

2007
EUPRIM-NET, Network Activity 4, German Primate Center, Göttingen

Course 1: "Primate diversity, morphology and natural history", 16.-19. April 2007
Course 2: "Primate behaviour, environmental enrichment and ethical aspects", 29. October – 1. November 2007

February 2007
DOCTORATE PROGRAMME OF GERMAN ZOOLOGICAL SOCIETY (DZG)-PROFESSIONAL GROUP BEHAVIOR BIOLOGY, Göttingen, German Primate Center and University Göttingen
28. February 2007
BASIC WORKSHOP: ANIMAL-TRAINING, Frankfurt Zoo
24. January 2004
INSITUTE OF ANTHROPOLOGY, Justus-Liebig-University Giessen
Primate ecology course
2003 – 2004
JUSTUS-LIEBIG-UNIVERSITY GIESSEN
"Methods for animal experiments for biologists " to obtain a license for laboratory animal science
Summer 2003
JUSTUS-LIEBIG-UNIVERSITY GIESSEN
Student assistance, Institute for General and Special Zoology

Cell biology and cell culture methods
Analyzing with Immunohistochemistry
Volunteer Work
since 2018
GfP (German Society for Primatology)
Boardmember
2010-2016
RETTET DEN DRILL e.V. (Society for the prevention of drills)
Media officer
2. leader
June 2009
FRANKFURT ZOO and ZOOLOGICAL SOCIETY FRANKFURT
Volunteer, "Gorilla Symposiums"
Year of the Gorilla, 9.-11. June 2009
2007 – 2009
FRANKFURT ZOO "Dreamnight at the zoo"
Volunteer
September 2008
ZOOLOGICAL SOCIETY FRANKFURT
Volunteer, conference: "Making Conservation Count/ One Goal with Different Approaches to Making Parks Work"
2007
ASSOCIATION OF GERMAN ZOOKEEPERS
Member of the "Working group Madagascar", Association of German zookeepers (BDZ) for EAZA- Madagascar- Campagne
This publication list is currently beeing updated. The process will be finished in a few minutes.
2009
Behringer, V.; Clauß, W.; Hachenburger, K.; Kuchar, A.; Möstl, E.; Selzer, D. (2009). Effect of giving birth on the cortisol level in a bonobo groups (Pan paniscus) saliva, Short Communication, Primates, Volume 50, 2009, p. 190-193
DOI
2008
Behringer, V.; Hachenburger, K.; Knott, C.; Selzer; D. (2008). What Is a Gorilla's Most-Loved Toy?. Shape of Enrichment, Volume 17, Issue 1-2, p. 6-11


2015
"Within arm's reach - how and why to measure arm length in bonobos?" Annual CRC Zoo Research Symposium. 20 November 2015. ZOO Antwerpen, Belgium

"Age-related changes in urinary thyroid hormones indicate heterochrony in development in bonobos and chimpanzees" 84th annual meeting, American Association of Physical Anthropologists, 24-28 March 2015, St. Louis, Missouri, USA

"Growing up - Hormonal correlates during postnatal development in bonobos and chimpanzees in comparison to modern humans" Seminar talk, Department of Developmental and Comparative Psychology, Max Planck Institute for Evolutionary Anthropology, Leipzig, Germany
2014
"Hormones Reflect Life History Profiles: Evidence from Comparative Studies on Humans and Apes"
Invited talk, Max-Planck Institute Tübingen, Germany

"Growing up - Hormonal changes during development in bonobos and chimpanzees in comparison to humans"
Invited speaker Max-Planck LeadNet, 26/27 May 2014, Mainz, Germany

"Growing up – Hormonal changes during development in bonobos and chimpanzees"
Invited talk, Anthropology Department, Indiana University Bloomington, USA

"Age-related changes in urinary thyroid hormones indicate heterochrony in development in bonobos and chimpanzees"
83rd Annual Meeting of the American Association of Physical Anthropologists, 8-12 April 2014, Calgary, Alberta, Canada
2013

"Growing up – Hormones and development in humans and apes" Lecture series "Zoo experience, adventure conservation", 2 October 2013, Frankfurt, Germany

"Growing up in the light of endocrinology: Life history features of bonobos and chimpanzees" Conference "European Federation Primatology", 10-13th September 2013, Antwerp, Belgium

"What hormones can tell us about development in bonobos and chimpanzees" Annual CRC Zoo Research Symposium. 29 November 2013. ZOO Antwerpen, Belgium

2012
"Adrenarche in bonobos (Pan paniscus). Ontogenetic development in bonobos and chimpanzees."
Conference "Non-invasive Monitoring of Hormones" (ISWE 2012), 23. – 26. September 2012, Wien, Österreich
2010
"Living together- Zusammen leben?!" V. Behringer
11. Primate Caretaker Meeting Apenheul, Apeldoorn, Netherland, 07.-10. October 2010

"Sumatra Orang-Utans – stressiger Speichel?" (Sumatran Orangutans – stressful saliva?) V. Behringer
Meeting of "Naturschutzbotschafter" (Conservation Ambassadors), Frankfurt, 17. February 2010
2009
"Verhaltens- und Stressuntersuchung bei Großen Menschenaffen" (Analyzing behavior and stress in great apes), V. Behringer
Annual meeting research group for wild biology in Giessen, 18. Mai 2009, Gießen
2008
"Stress of zoo housed apes" and "Moving apes, Ape transfer in Zoo Frankfurt" V. Behringer
EUPRIM-Net course "Stress and its Implication on Primate Welfare"
13.10. – 17.10.2008 at the German Primate Centre in Göttingen
2007
"Evolution of Enrichment at Ape house Zoo Frankfurt, Germany", C. Knott & V. Behringer
8. International "Environmental Enrichment" Conference, 5.-10. August 2007, Vienna, Austria
2006
"Primatenschatzkisten – Ideen zur Beschäftigung von Menschenaffen" (Treasure chests for primates – Ideas to enriching the life of great apes), V. Behringer
9. Primate Caretaker Meeting Schönbrunn, Vienna, Austria, 27.-29. October 2006
2015
"Measuring urinary neopterin level variation as a health status indicator in bonobos and chimpanzees" Behringer, V. & Deschenr, T Conference "Non-invasive Monitoring of Hormones" (ISWE 2015), 12. – 14. October 2015, Berlin, Germany

"Indication of heterochrony in development of bonobos and chimpanzees from age-related changes in one thyroid hormone" Behringer, V.; Deschner, T.; Murtagh, R.; Stevens, J.M.G.; Hohmann, G. 14th Conference of the Gesellschaft fuer Primatologie, Leipzig, Germany
2011
"Stress affects salivary alpha-Amylase activity in bonobos"
Behringer, V.; Deschner, T; Möstl, E.; Selzer, D.; Hohmann, G. 8th Internationale Conference on behaviour, physiology and genetics of wildlife, 14.-17. September 2011, Berlin
2009
"Cortisol and cortisone measurement in Great Apes' (Gorilla gorilla, Pan paniscus and Pongo abelii) saliva – one hydrogen atom makes a big difference!"
Behringer, V; Clauss, W; Hachenburger, K; Kuchar, A; Möstl, E; Selzer, D.
3rd International Congress European Federation of Primatologists, 12.-15. August 2009, Zürich, Switzerland
Financial support: European Federation for Primatology

"Stress research in three great ape species (Gorilla g. gorilla, Pan paniscus and Pongo abelii)"
Behringer, V; Hachenburger, K; Knott, K; Kuchar, A; Möstl, E; Selzer, D.
11th Conference of the Association of Primatology, 24. – 26. February 2009, Hannover

"Eine Geburt ist für die ganze Bonobogruppe ein aufregendes Ereignis" (Giving birth is for the hole Bonobogroup a amazing event)
Behringer, V; Clauß, W; Hachenburger, K; Kuchar, A; Selzer, D; Möstl, E.
New-Year Conference 2009 University of veterinary medicine Vienna, Austria

2007
"A bulimic Bonobo? Observation of an eating disorder of a Bonobo (Pan paniscus) at Frankfurt Zoo" Behringer, V; Selzer, D.
Doctorate programme of German Zoological Society
(DZG)-Professional group Behavior Biology, Göttingen, German Primate Center and University Göttingen, 17.02.-18.02.2007
2006
"Influence of an environmental enrichment feeding devices on the behaviour of Great Apes at Frankfurt Zoo"
Behringer, V; Mühl, T; Zöllmann, M; Brandt, H; Clauß, W; Selzer, D.
99. German Zoological Society (DZG) Conference, Münster, 16.09.- 20.09.2006