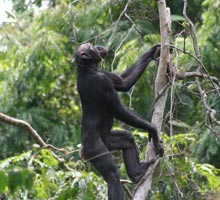 "The greatest difficulty which presents itself, when we are driven to the above conclusion on the origin of man (evolution through natural selection), is the high standard of intellectual power and moral disposition which he has attained."

Charles Darwin, The Descent of Man (1871)
The Hominoid Psychology Research Group investigates the comparative psychology of humans and non-human apes. Specifically, we seek to determine which features of human social problem-solving and decision-making are unique amongst the hominoids. If bonobos and chimpanzees lack psychological systems that humans possess, we know these systems evolved since humans and apes diverged from our last common ancestor. Identifying those psychological systems which are responsible for the unique features of human behavior is the first step to solving Darwin's greatest difficulty.