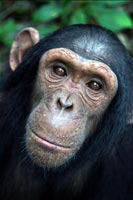 1. Why should sanctuaries and researchers collaborate?
Sanctuary and researcher collaboration benefits everyone.
SANCTUARY APES

benefit from improved care as managers and researchers gain more knowledge of their behavior and health
WILD APES

benefit from strong sanctuaries that are aided in fullfilling their conservation role while researchers gain knowledge with applications for protecting wild populations.
SANCTUARIES

benefit from additional attention, credibility and resources that researchers bring
AFRICANS

benefit from additional educational and employment opportunities.
RESEARCHERS

benefit from the unique and affordable opportunities for innovative non-invasive research on semi-free ranging ape behavior, intelligence, genetics, disease / health, morphology and physiology.