2. Why are there African sanctuaries for bonobos and chimpanzees?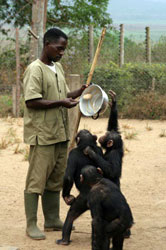 The Wild Infant Problem
Wild bonobos and chimpanzees are critically threatened. While Africa struggles to develop economically, the remaining unprotected bonobo and chimpanzee habitats are being destroyed and the apes living within are killed.
The only surviving bonobos and chimpanzees from such populations are infants who are taken off dead mothers to be sold as "pets" within Africa or on the international black market. The trade of these infants then fuels the demise of other wild ape populations as some try to profit by obtaining and selling more infants.
Most infants die within days of capture, but those that survive face a difficult life. "Cute" babies of both species are wild animals and can never be tamed – inevitably leading to extreme psychological and physical abuse when owners can no longer manage them (i.e. apes quickly learn to bite people).