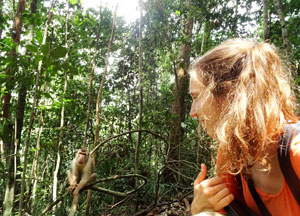 Position: Post-doctoral researcher
University of Leipzig
Faculty of Life Sciences
Institute of Biology
Behavioral Ecology Research Group
Talstraße 33
D-04103 Leipzig
Germany
and
German Centre for Integrative Biodiversity Research (iDiv) Halle-Jena-Leipzig
Puschstraße 4
D-04103 Leipzig
Germany
and
Max Planck Institute for Evolutionary Anthropology
Department of Human Behavior, Ecology and Culture
Deutscher Platz 6
D-04103 Leipzig
Germany
e-mail: anna_holzner@[>>> Please remove the text! <<<]eva.mpg.de
Worldwide, wildlife is critically affected by the conversion of natural habitats into agricultural land. The southern pig-tailed macaque (Macaca nemestrina, IUCN: endangered), a threatened yet largely understudied primate species inhabiting the rainforests of Southeast Asia, has lost large parts of its natural forest habitat to oil palm plantations. When entering these monocultures in search of food, the macaques face threats through an increased predation risk and conflicts with humans. My work focuses on providing detailed insights into the ability of this species to permanently adapt to these human-altered environments. The project is conducted in collaboration with Dr. Nadine Ruppert from Universiti Sains Malaysia.
During my PhD, I investigated the ability of M. nemestrina to flexibly adjust its diet and social behaviour to the forest-oil palm matrix. Partially diverting their foraging activities from forest into oil palm plantations, the macaques may benefit farmers as they actively hunt for plantation rats that cause substantial yield loss. Significantly reducing rat numbers, this primate can act as a biological pest control. However, M. nemestrina's ability to adapt comes at cost of its social behaviour, the reduction of which is critical given that sociality significantly affects fitness, indicating the macaques' strong dependency on the presence of nearby forest.
My current work focuses on further assessing the risks and benefits of macaques foraging in oil palm plantations from two different perspectives – the wildlife and the farmers. Based on chemical samples of macaques and the plantation environment, we aim at unravelling potential links between the intake of pesticide-contaminated plantation foods and the pesticide load of macaques, as we expect direct implications of the extensive use of pesticides on plantations for the health and fitness of M. nemestrina. Further, we aim at assessing how economic returns of primate friendly managed plantations compare to conventional managed plantations, taking into account the economic value of a sustainable plantation management, including biocontrol by macaques.
Present Position
since 03/2021

Scientific Assistant at the Institute of Biology, University of Leipzig, in the Research Group of Behavioural Ecology of Prof. Dr. Anja Widdig

Topic: Towards greener oil palm plantations – a cost-benefit approach for wildlife and farmers (funded within the Flexpool Program of the German Centre for Integrative Biodiversity Research (iDiv) Halle-Jena-Leipzig)
04/2017 – 06/2021

PhD student at the University of Leipzig
Dissertation title: "The role and behaviour of southern pig-tailed macaques (Macaca nemestrina) in oil palm plantations"
Supervisor: Prof. Dr. Anja Widdig (University of Leipzig)

08/2012-10/2014
Master of Science in Biology (with focus on Applied Ethology and Animal Biology) at Linköping University, Sweden
Thesis title: "A breed comparison of behavioural responses of dogs in test situations"
Supervisor: Prof. Per Jensen (Linköping University)
10/2009-08/2012
Bachelor of Science in Biology at Ludwig-Maximilian University Munich
Thesis title: "Fledermausvorkommen im Landkreis Eichstätt"
Supervisor: Dr. Andreas Zahn (LMU Munich)
10/2015-04/2016
Field Research Assistant
in the project "Cultural behaviour and social network in Balinese long-tailed macaques (Macaca fascicularis)" of the University of Lethbridge, Canada; Behavioural data collection in Uluwatu, Bali, Indonesia
under the supervision of Dr. Jean-Baptiste Leca
06/2014-06/2015 and
04/2016-06/2016
Field Assistant
in "Macaca Nemestrina Project";
Habituation and behavioural data collection on wild Southern pig-tail macaques (Macaca nemestrina) in Peninsular Malaysia
under the supervision of Dr. Nadine Ruppert
10/2011-01/2012
Student Assistant at LMU Munich;
Tutor in the course "Genetics I"
| | |
| --- | --- |
| 2022 | Flexpool Support Fund for iDiv associate members (10 000€) |
| 2021 | Doctoral Award of the University of Leipzig |
| 2019 | Travel Grant by the Society for Conservation Biology (~ 250 €) |
| 2019 | 3rd Poster prize at the 16th Conference of the German Society of Primatology, Leipzig, Germany |
| 2017 | Christian-Vogel-Fond for Field Research by the German Society of Primatology (GfP, 800 €) |
| 2017 | Graduate funding (Doktorandenförderplatz) by the University of Leipzig (~ 71 200 €) |
| 2017 | Annual Fellowship by the German Academic Exchange Service (DAAD, 8 400 €) |
| 2009 | Bio Zukunftspreis der Stiftung "natur mensch und kultur" |
In press
| | |
| --- | --- |
| | Leca, J. B., Brotcorne, F., Gunst, N., Holzner, A., Pelletier, A. N., Nahallage, C. A. D., Huffman, M. A., Rompis, A., & Wandia, I. N. (in press). Two forms of material culture in Balinese long-tailed macaques: The stone handling and token exchange traditions. American Journal of Primatology. |
2021
Holzner, A. (2021). The role and behaviour of southern pig-tailed macaques (Macaca nemestrina) in oil palm plantations. PhD Thesis, Universität Leipzig, Leipzig.
BibTeX Endnote

Holzner, A., Balasubramaniam, K. N., Weiß, B. M., Ruppert, N., & Widdig, A. (2021). Oil palm cultivation critically affects sociality in a threatened Malaysian primate. Scientific Reports, 11: 10353.
Open Access DOI BibTeX Endnote Downloads

Holzner, A., Rayan, D. M., Moore, J., Tan, C. K. W., Kulik, L., Clart, L., Kühl, H., Ruppert, N., & Widdig, A. (2021). Occupancy of wild southern pig-tailed macaques in intact and degraded forests in Peninsular Malaysia. PeerJ, 9: e12462.
Open Access DOI BibTeX Endnote Downloads
2020
Ruppert, N., Holzner, A., & Widdig, A. (2020). Of pig-tails and palm oil: How rat-eating macaques increase oil palm sustainability. The Science Breaker, 6(2).
Open Access DOI BibTeX Endnote Downloads
2019
Holzner, A., Ruppert, N., Swat, F., Schmidt, M., Weiß, B. M., Villa, G., Mansor, A., Sah, S. A. M., Engelhardt, A., Kühl, H. S., & Widdig, A. (2019). Macaques can contribute to greener practices in oil palm plantations when used as biological pest control. Current Biology, 29(20), R1066-R1067.
DOI BibTeX Endnote
2018
Ruppert, N., Holzner, A., See, K. W., Gisbrecht, A., Beck, A., & Engelhardt, A. (2018). Activity budget of Southern pigtailed macaques (Macaca nemestrina) in rainforest and oil palm plantations. International Journal of Primatology, 39, 237-251.
DOI BibTeX Endnote