Human Population History (Mark Stoneking)
The group was a member of the Genetics Department from 1999 to 2022.
We were using the methods of modern molecular genetics to investigate questions that anthropologists are interested in concerning the origin, relationships, history, structure and migration patterns of human populations. Depending on the question, we analyzed variation in mitochondrial DNA, Y-chromosome DNA and/or autosomal DNA in either contemporary populations or ancient specimens.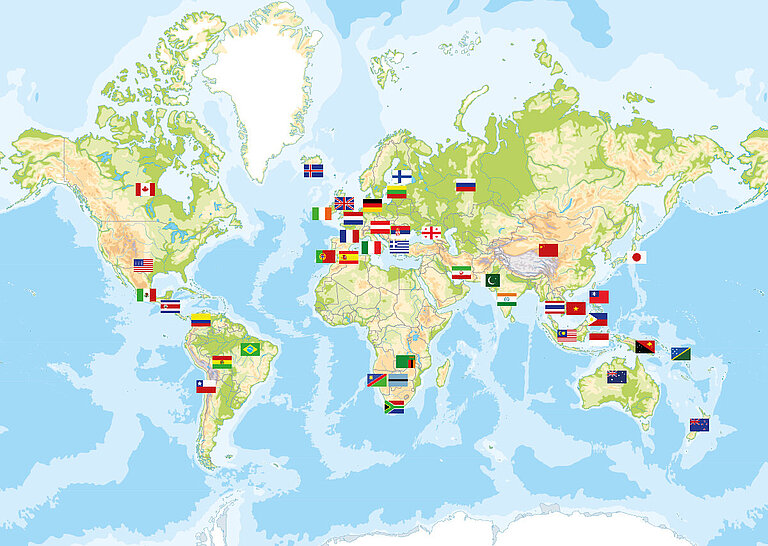 As the group ended with my retirement in June 2022, now seems like an opportune time to acknowledge the diversity of our members, visitors, and assistants, and how much they have contributed to the achievements and success of the Human Population History group:
Former Members of the Group
Alvis, Leonardo Arias
Barbieri, Chiara
Bajić, Vladimir
Bauchet, Marc
Brauer, Silke
Cordaux, Richard
Delfin, Frederick
Duggan, Ana
Gunnarsdóttir, Ellen Dröfn
Hughes, David
Hübner, Alexander
Kayser, Manfred
Ko, Albert
Li, Jing
Li, Mingkun
Lippold, Sebastian
López Herráez, David
Macholdt, Enrico
Myles, Sean
Nasidze, Vano
Ni, Shengyu
Oliveira, Sandra
Oota, Hiroki
Pakendorf, Brigitte
Pugach, Irina
Quinque, Dominique
Rodriguez, Jae Joseph Russell B.
Ryan, Tony
Tang, Kun
Theunert, Christoph
Wachsmuth, Manja
2023
Liu, D., Min-Shan Ko, A., & Stoneking, M. (2023). The genomic diversity of Taiwanese Austronesian groups: Implications for the "Into- and Out-of-Taiwan" models. PNAS Nexus, 2(5): pgad122.
Open Access DOI BibTeX Endnote Downloads

Oliveira, S., Fehn, A.-M., Amorim, B., Stoneking, M., & Rocha, J. (2023). Genome-wide variation in the Angolan Namib Desert reveals unique pre-Bantu ancestry. Science Advances, 9(38): eadh3822.
Open Access DOI BibTeX Endnote Downloads

Stoneking, M., Arias, L., Liu, D., Oliveira, S., Pugach, I., & Rodriguez, J. (2023). Genomic perspectives on human dispersals during the Holocene. Proceedings of the National Academy of Sciences, 120(4): e22094751.
Open Access DOI BibTeX Endnote Downloads
2022
Alva, O., Leroy, A., Heiske, M., Pereda-Loth, V., Tisseyre, L., Boland, A., Deleuze, J.-F., Rocha, J., Schlebusch, C., Fortes-Lima, C., Stoneking, M., Radimilahy, C., Rakotoarisoa, J.-A., Letellier, T., & Pierron, D. (2022). The loss of biodiversity in Madagascar is contemporaneous with major demographic events. Current Biology, 32, 4997-5007, e1-e5.
DOI BibTeX Endnote

Liu, D., Peter, B. M., Schiefenhövel, W., Kayser, M., & Stoneking, M. (2022). Assessing human genome-wide variation in the Massim region of Papua New Guinea and implications for the Kula trading tradition. Molecular Biology and Evolution, 39(8): msac165.
Open Access DOI BibTeX Endnote Downloads

Liu, Q., Iqbal, M. F., Yaqub, T., Firyal, S., Zhao, Y., Stoneking, M., & Li, M. (2022). The transmission of human mitochondrial DNA in four-generation pedigrees. Human Mutation, 43(9), 1259-1267.
Open Access DOI BibTeX Endnote Downloads

Oliveira, S., Nägele, K., Carlhoff, S., Pugach, I., Koesbardiati, T., Hübner, A., Meyer, M., Oktaviana, A. A., Takenaka, M., Katagiri, C., Murti, D. B., Putri, R. S., Mahirta, Petchey, F., Higham, T., Higham, C., O'Connor, S., Hawkins, S., Kinaston, R., Bellwood, P., Ono, R., Powell, A., Krause, J., Posth, C., & Stoneking, M. (2022). Ancient genomes from the last three millennia support multiple human dispersals into Wallacea. Nature Ecology & Evolution, 6, 1024-1034.
Open Access DOI BibTeX Endnote Downloads

Rodriguez, J., Cuales, J. M. D., Herrera, M. J. B., Zubiri, L. A. M., Muallil, R. N., Ishmael, A. I., Jimenez, E. B., Stoneking, M., & De Ungria, M. C. A. (2022). Ethical challenges in genetic research among Philippine Indigenous Peoples: Insights from fieldwork in Zamboanga and the Sulu Archipelago. Frontiers in Genetics, 13: 901515.
Open Access DOI BibTeX Endnote Downloads
2021
Choin, J., Mendoza-Revilla, J., Arauna, L. R., Cuadros-Espinoza, S., Cassar, O., Larena, M., Ko, A.-M.-S., Harmant, C., Laurent, R., Verdu, P., Laval, G., Boland, A., Olaso, R., Deleuze, J.-F., Valentin, F., Ko, Y.-C., Jakobsson, M., Gessain, A., Excoffier, L., Stoneking, M., Patin, E., & Quintana-Murci, L. (2021). Genomic insights into population history and biological adaptation in Oceania. Nature, 592(7855), 583-589.
DOI BibTeX Endnote

Fellows Yates, J. A., Andrades Valtueña, A., Vågene, A. J., Cribdon, B., Velsko, I. M., Borry, M., Bravo-López, M. J., Fernandez-Guerra, A., Green, E. J., Ramachandran, S. L., Heintzman, P. D., Spyrou, M. A., Hübner, A., Gancz, A. S., Hider, J., Allshouse, A. F., & Warinner, C. G. (2021). Community-curated and standardised metadata of published ancient metagenomic samples with AncientMetagenomeDir. Scientific Data, 8: 31.
Open Access DOI BibTeX Endnote Downloads

Guo, S., Huang, S., Jiang, X., Hu, H., Han, D., Moreno, C. S., Fairbrother, G. L., hughes, D. A., Stoneking, M., & Khaitovich, P. (2021). Variation of microRNA expression in the human placenta driven by population identity and sex of the newborn. BMC Genomics, 22: 286.
Open Access DOI BibTeX Endnote Downloads

Kutanan, W., Liu, D., Kampuansai, J., Srikummool, M., Srithawong, S., Shoocongdej, R., Sangkhano, S., Ruangchai, S., Pittayaporn, P., Arias, L., & Stoneking, M. (2021). Reconstructing the human genetic history of mainland Southeast Asia: Insights from genome-wide data from Thailand and Laos. Molecular Biology and Evolution, 38(8), 3459-3477.
Open Access DOI BibTeX Endnote Downloads

Matsumae, H., Ranacher, P., Savage, P. E., Blasi, D. E., Currie, T. E., Koganebuchi, K., Nishida, N., Sato, T., Tanabe, H., Tajima, A., Brown, S., Stoneking, M., Shimizu, K. K., Oota, H., & Bickel, B. (2021). Exploring correlations in genetic and cultural variation across language families in northeast Asia. Science Advances, 7(34): eabd9223.
Open Access DOI BibTeX Endnote Downloads

Pakendorf, B., & Stoneking, M. (2021). The genomic prehistory of peoples speaking Khoisan languages. Human Molecular Genetics, 30(2), R49-R55.
Open Access DOI BibTeX Endnote Downloads

Pugach, I., Hübner, A., Hung, H.-c., Meyer, M., Carson, M. T., & Stoneking, M. (2021). Ancient DNA from Guam and the peopling of the Pacific. Proceedings of the National Academy of Sciences, 118(1): e202211211.
Open Access DOI BibTeX Endnote Downloads

Vernot, B., Zavala, E. I., Gómez-Olivencia, A., Jacobs, Z., Slon, V., Mafessoni, F., Romagné, F., Pearson, A., Petr, M., Sala, N., Pablos, A., Aranburu, A., de Castro, J. M. B., Carbonell, E., Li, B., Krajcarz, M. T., Krivoshapkin, A. I., Kolobova, K. A., Kozlikin, M. B., Shunkov, M. V., Derevianko, A. P., Viola, B., Grote, S., Essel, E., López Herráez, D., Nagel, S., Nickel, B., Richter, J., Schmidt, A., Peter, B., Kelso, J., Roberts, R. G., Arsuaga, J.-L., & Meyer, M. (2021). Unearthing Neanderthal population history using nuclear and mitochondrial DNA from cave sediments. Science, eabf1667.
DOI BibTeX Endnote
2020
Gunnarsdottir, E. D., & Stoneking, M. (2020). Genetic Landscape of Present-Day Hunter-Gatherer Groups. In T. Güldemann (Ed.), Language of Hunter-Gatherers (pp. 49-75). Cambridge: Cambridge University Press.
BibTeX Endnote

Hübner, A. (2020). Exploring aspects of tissue specificity of human mtDNA heteroplasmy. PhD Thesis, Universität, Leipzig.
BibTeX Endnote

Kutanan, W., Shoocongdej, R., Srikummool, M., Hübner, A., Suttipai, T., Srithawong, S., Kampuansai, J., & Stoneking, M. (2020). Cultural variation impacts paternal and maternal genetic lineages of the Hmong-Mien and Sino-Tibetan groups from Thailand. European Journal of Human Genetics, 28, 1563-1579.
Open Access DOI BibTeX Endnote Downloads

Liu, D., Duong, N. T., Ton, N. D., Van Phong, N., Pakendorf, B., Van Hai, N., & Stoneking, M. (2020). Extensive ethnolinguistic diversity in Vietnam reflects multiple sources of genetic diversity. Molecular Biology and Evolution, 37(9): msaa099, pp. 2503-2519.
Open Access DOI BibTeX Endnote Downloads

Pedro, N., Brucato, N., Fernandes, V., André, M., Saag, L., Pomat, W., Besse, C., Boland, A., Deleuze, J.-F., Clarkson, C., Sudoyo, H., Metspalu, M., Stoneking, M., Cox, M. P., Leavesley, M., Pereira, L., & Ricaut, F.-X. (2020). Papuan mitochondrial genomes and the settlement of Sahul. Journal of Human Genetics, 65(875), 887.
Open Access DOI BibTeX Endnote Downloads

Semo, A., Gayà-Vidal, M., Fortes-Lima, C., Alard, B., Oliveira, S., Almeida, J., Prista, A., Damasceno, A., Fehn, A., Schlebusch, C., & Rocha, J. (2020). Along the Indian Ocean coast: Genomic variation in Mozambique provides new insights into the Bantu expansion. Molecular Biology and Evolution, 37(2), 406-416.
Open Access DOI BibTeX Endnote Downloads

Telford, M., Hughes, D. A., Juan, D., Stoneking, M., Navarro, A., & Santpere, G. (2020). Expanding the Geographic Characterisation of Epstein–Barr Virus Variation through Gene-Based Approaches. Microorganisms, 8: 1686.
Open Access DOI BibTeX Endnote Downloads

Yang, M. A., Fan, X., Sun, B., Chen, C., Lang, J., Ko, Y.-C., Tsang, C.-h., Chiu, H., Wang, T., Bao, Q., Wu, X., Hajdinjak, M., Ko, A.-M.-S., Ding, M., Cao, P., Yang, R., Liu, F., Nickel, B., Dai, Q., Feng, X., Zhang, L., Sun, C., Ning, C., Zeng, W., Zhao, Y., Zhang, M., Gao, X., Cui, Y., Reich, D., Stoneking, M., & Fu, Q. (2020). Ancient DNA indicates human population shifts and admixture in northern and southern China. Science, 369(6501), 282-288.
DOI BibTeX Endnote
2019
Barbieri, C., Barquera, R., Arias, L., Sandoval, J. R., Acosta, O., Zurita, C., Aguilar-Campos, A., Tito-Álvarez, A. M., Serrano-Osuna, R., Gray, R. D., Mafessoni, F., Heggarty, P., Shimizu, K. K., Fujita, R., Stoneking, M., Pugach, I., & Fehren-Schmitz, L. (2019). The current genomic landscape of Western South America: Andes, Amazonia, and Pacific Coast. Molecular Biology and Evolution, 36(12), 2698-2713.
Open Access DOI BibTeX Endnote Downloads

Brucato, N., Fernandes, V., Kusuma, P., Černý, V., Mulligan, C. J., Soares, P., Rito, T., Besse, C., Boland, A., Deleuze, J.-F., Cox, M. P., Sudoyo, H., Stoneking, M., Pereira, L., & Ricaut, F.-X. (2019). Evidence of Austronesian genetic lineages in East Africa and South Arabia: Complex dispersal from Madagascar and Southeast Asia. Genome Biology and Evolution, 11(3), 748-758.
Open Access DOI BibTeX Endnote Downloads

Bücking, R., Cox, M. P., Hudjashov, G., Saag, L., Sudoyo, H., & Stoneking, M. (2019). Archaic mitochondrial DNA inserts in modern day nuclear genomes. BMC Genomics, 20: 1017.
Open Access DOI BibTeX Endnote Downloads

Hübner, A., Wachsmuth, M., Schröder, R., Li, M., Eis-Hübinger, A. M., Madea, B., & Stoneking, M. (2019). Sharing of heteroplasmies between human liver lobes varies across the mtDNA genome. Scientific Reports, 9: 11219.
Open Access DOI BibTeX Endnote Downloads

Jacobs, G. S., Hudjashov, G., Saag, L., Kusuma, P., Darusallam, C. C., Lawson, D. J., Mondal, M., Pagani, L., Ricaut, F.-X., Stoneking, M., Metspalu, M., Sudoyo, H., Lansing, J. S., & Cox, M. P. (2019). Multiple deeply divergent Denisovan ancestries in Papuans. Cell, 117(4), 1010-1021.
DOI BibTeX Endnote

Kutanan, W., Kampuansai, J., Srikummool, M., Brunelli, A., Ghirotto, S., Arias, L., Macholdt, E., Hübner, A., Schröder, R., & Stoneking, M. (2019). Contrasting paternal and maternal genetic histories of Thai and Lao populations. Molecular Biology and Evolution, 36(7): msz083, pp. 1490-1506.
Open Access DOI BibTeX Endnote Downloads

Macholdt, E., Arias, L., Duong, N. T., Ton, N. D., Van Phong, N., Schröder, R., Pakendorf, B., Van Hai, N., & Stoneking, M. (2019). The paternal and maternal genetic history of Vietnamese populations. European Journal of Human Genetics, 28(5), 636-645.
Open Access DOI BibTeX Endnote Downloads

Nersisyan, L., Nikoghosyan, M., Arakelyan, A., Genome of the Netherlands Consortium, including authors, Stoneking, M., Li, M., & others (2019). WGS-based telomere length analysis in Dutch family trios implicates stronger maternal inheritance and a role for RRM1 gene. Scientific Reports, 9: 18758.
Open Access DOI BibTeX Endnote Downloads

Oliveira, S., Hübner, A., Fehn, A.-M., Aço, T., Lages, F., Pakendorf, B., Stoneking, M., & Rocha, J. (2019). The role of matrilineality in shaping patterns of Y chromosome and mtDNA sequence variation in southwestern Angola. European Journal of Human Genetics, 27, 475-483.
DOI BibTeX Endnote

Shvetsova, E., Sofronova, A., Monajemi, R., Gagalova, K., Draisma, H. H. M., White, S. J., Santen, G. W. E., Chuva de Sousa Lopes, S. M., Heijmans, B. T., van Meurs, J., Jansen, R., Franke, L., Kielbasa, S. M., den Dunnen, J. T., ´t Hoen, P. A. C., BIOS consortium, GoNL consortium, including authors, Li, M., Stoneking, M., & & others (2019). Skewed X-inactivation is common in the general female population. European Journal of Human Genetics, 27, 455-465.
Open Access DOI BibTeX Endnote Downloads

Vai, S., Sarno, S., Lari, M., Luiselli, D., Manzi, G., Gallinaro, M., Mataich, S., Hübner, A., Modi, A., Pilli, E., Tafuri, M. A., Caramelli, D., & di Lernia, S. (2019). Ancestral mitochondrial N lineage from the Neolithic 'green' Sahara. Scientific Reports, 9(1): 3530.
Open Access DOI BibTeX Endnote Downloads
2018
Arias Alvis, L. (2018). Human population history of Northwestern Amazonia, Colombia. PhD Thesis, Univ., Leipzig.
BibTeX Endnote

Arias, L., Barbieri, C., Barreto, G., Stoneking, M., & Pakendorf, B. (2018). High-resolution mitochondrial DNA analysis sheds light on human diversity, cultural interactions, and population mobility in Northwestern Amazonia. American Journal of Physical Anthropology, 165(2), 238-255.
DOI BibTeX Endnote

Arias, L., Schröder, R., Hübner, A., Barreto, G., Stoneking, M., & Pakendorf, B. (2018). Cultural innovations influence patterns of genetic diversity in Northwestern Amazonia. Molecular Biology and Evolution, 35(11), 2719-2735.
Open Access DOI BibTeX Endnote Downloads

Bajic, V., Barbieri, C., Hübner, A., Güldemann, T., Naumann, C., Gerlach, L., Berthold, F., Nakagawa, H., Mpoloka, S. W., Roewer, L., Purps, J., Stoneking, M., & Pakendorf, B. (2018). Genetic structure and sex-biased gene flow in the history of southern African populations. American Journal of Physical Anthropology, 167(3): 23694, pp. 656-671.
Open Access DOI BibTeX Endnote Downloads

Brucato, N., Fernandes, V., Mazières, S., Kusuma, P., Cox, M. P., Ng'ang'a, J. W., Omar, M., Simeone-Senelle, M.-C., Frassati, C., Alshamali, F., Fin, B., Boland, A., Deleuze, J.-F., Stoneking, M., Adelaar, A., Crowther, A., Boivin, N., Pereira, L., Bailly, P., Chiaroni, J., & Ricaut, F.-X. (2018). The Comoros show the earliest Austronesian gene flow into the Swahili corridor. The American Journal of Human Genetics, 102(1), 58-68.
DOI BibTeX Endnote

Duong, N. T., Macholdt, E., Ton, N. D., Arias, L., Schröder, R., Phong, N. V., Thuy, V. T. B., Ha, N. H., Hue, H. T. T., Xuan, N. T., Oanh, K. T. P., Hien, L. T. T., Hoang, N. H., Pakendorf, B., Stoneking, M., & Hai, N. V. (2018). Complete human mtDNA genome sequences from Vietnam and the phylogeography of Mainland Southeast Asia. Scientific Reports, 8: 11651.
Open Access DOI BibTeX Endnote Downloads

Henne, K., Schilling, H., Stoneking, M., Conrads, G., & Horz, H.-P. (2018). Sex-specific differences in the occurrence of Fusobacterium nucleatum subspecies and Fusobacterium periodonticum in the oral cavity. Oncotarget, 9(29), 20631-20639.
DOI BibTeX Endnote

Kutanan, W., Kampuansai, J., Brunelli, A., Ghirotto, S., Pittayaporn, P., Ruangchai, S., Schröder, R., Macholdt, E., Srikummool, M., Kangwanpong, D., Hübner, A., Arias, L., & Stoneking, M. (2018). New insights from Thailand into the maternal genetic history of Mainland Southeast Asia. European Journal of Human Genetics, 26, 898-911.
Open Access DOI BibTeX Endnote Downloads

Kutanan, W., Kampuansai, J., Changmai, P., Flegontov, P., Schröder, R., Macholdt, E., Hübner, A., Kangwanpong, D., & Stoneking, M. (2018). Contrasting maternal and paternal genetic variation of hunter-gatherer groups in Thailand. Scientific Reports, 8: 1536.
Open Access DOI BibTeX Endnote Downloads

Oliveira, S., Fehn, A.-M., Aço, T., Lages, F., Gayà-Vidal, M., Pakendorf, B., Stoneking, M., & Rocha, J. (2018). Matriclans shape populations: Insights from the Angolan Namib Desert into the maternal genetic history of southern Africa. American Journal of Physical Anthropology, 165(3), 518-535.
DOI BibTeX Endnote

Pierron, D., Heiske, M., Razafindrazaka, H., Pereda-loth, V., Sanchez, J., Alva, O., Arachiche, A., Boland, A., Olaso, R., Deleuze, J.-F., Ricaut, F.-X., Rakotoarisoa, J.-A., Radimilahy, C., Stoneking, M., & Letellier, T. (2018). Strong selection during the last millennium for African ancestry in the admixed population of Madagascar. Nature Communications, 9: 932.
Open Access DOI BibTeX Endnote Downloads

Pugach, I., Duggan, A. T., Merriwether, D. A., Friedlaender, F. R., Friedlaender, J. S., & Stoneking, M. (2018). The gateway from near into remote Oceania: New insights from genome-wide data. Molecular Biology and Evolution, 35(4), 871-886.
Open Access DOI BibTeX Endnote Downloads

Stoneking, M. (2018). Mitochondrial DNA. In W. Trevathan (Ed.), The International Encyclopedia of Biological Anthropology (pp. 1020-1023). Hoboken, New Jersey: Wiley.
DOI BibTeX Endnote
2017
Barbieri, C., Sandoval, J. R., Valqui, J., Shimelman, A., Ziemendorff, S., Schröder, R., Geppert, M., Roewer, L., Gray, R., Stoneking, M., Fujita, R., & Heggarty, P. (2017). Enclaves of genetic diversity resisted Inca impacts on population history. Scientific Reports, 7: 17411.
Open Access DOI BibTeX Endnote Downloads

Douka, K., Slon, V., Stringer, C., Potts, R., Hübner, A., Meyer, M., Spoor, F., Pääbo, S., & Higham, T. (2017). Direct radiocarbon dating and DNA analysis of the Darra-i-Kur (Afghanistan) human temporal bone. Journal of Human Evolution, 107, 86-93.
DOI BibTeX Endnote

Francioli, L. C., Cretu-Stancu, M., Garimella, K. V., Fromer, M., Kloosterman, W. P., Genome of the Netherlands consortium, including, Li, M., Stoneking, M., Samocha, K. E., Neale, B. M., Daly, M. J., Banks, E., DePristo, M. A.., & de Bakker, P. I. (2017). A framework for the detection of de novo mutations in family-based sequencing data. European Journal of Human Genetics, 25, 227-223.
Open Access DOI BibTeX Endnote Downloads

Jinam, T. A., Phipps, M. E., Aghakhanian, F., Majumder, P. P., Datar, F., Stoneking, M., Sawai, H., Nishida, N., Tokunaga, K., Kawamura, S., Omoto, K., & Saitou, N. (2017). Discerning the origins of the Negritos, first Sundaland people: Deep divergence and archaic admixture. Genome Biology and Evolution, 9(8), 2013-2022.
Open Access DOI BibTeX Endnote Downloads

Kutanan, W., Kampuansai, J., Srikummool, M., Kangwanpong, D., Ghirotto, S., Brunelli, A., & Stoneking, M. (2017). Complete mitochondrial genomes of Thai and Lao populations indicate an ancient origin of Austroasiatic groups and demic diffusion in the spread of Tai–Kadai languages. Human Genetics, 136(1), 85-98.
Open Access DOI BibTeX Endnote Downloads

Kutanan, W., Kampuansai, J., Srikummool, M., Kangwanpong, D., Ghirotto, S., Brunelli, A., & Stoneking, M. (2017). Erratum to: Complete mitochondrial genomes of Thai and Lao populations indicate an ancient origin of Austroasiatic groups and demic diffusion in the spread of Tai–Kadai languages. Human Genetics, 136(6), 803-803.
DOI BibTeX Endnote

Pierron, D., Heiske, M., Razafindrazaka, H., Rakoto, I., Rabetokotany, N., Ravololomanga, B., Rakotozafy, L.-M.-A., Rakotomalala, M. M., Razafiarivony, M., Rasoarifetra, B., Raharijesy, M. A., Razafindralambo, L., Ramilisonina,.-., Fanony, F., Lejamble, S., Thomas, O., Abdallah, A. M., Rocher, C., Arachiche, A., Tonaso, L., Pereda-loth, V., Schiavinato, S., Brucato, N., Ricaut, F.-X., Kusuma, P., Sudoyo, H., Ni, S., Boland, A., Deleuze, J.-F., Beaujard, P., Grange, P., Adelaar, S., Stoneking, M., Rakotoarisoa, J.-A., Radimilahy, C., & Letellier, T. (2017). Genomic landscape of human diversity across Madagascar. Proceedings of the National Academy of Sciences of the United States of America, 114(32), E6498-E6506.
Open Access DOI BibTeX Endnote Downloads

Sarkar, A., Stoneking, M., & Nandineni, M. R. (2017). Unraveling the human salivary microbiome diversity in Indian populations. PLoS One, 12(9): e0184515.
Open Access DOI BibTeX Endnote Downloads

Sohail, M., Vakhrusheva, O. A., Sul, J. H., Pulit, S. L., Francioli, L. C., Genome of the Netherlands Consortium, including, Li, M., Stoneking, M., Alzheimer's Disease Neuroimaging Initiative, van den Berg, L. H., Veldink, J. H., de Bakker, P. I. W., Bazykin, G. A., Kondrashov, A. S., & Sunyaev, S. R. (2017). Negative selection in humans and fruit flies involves synergistic epistasis. Science, 356(6337), 539-542.
DOI BibTeX Endnote

Stoneking, M. (2017). An introduction to molecular anthropology. New York [u.a.]: Wiley.
BibTeX Endnote

Stoneking, M. (2017). Genes, culture, and human evolution. OBM Genetics, 1(2).
Open Access DOI BibTeX Endnote Downloads
2016
Barbieri, C., Hübner, A., Macholdt, E., Ni, S., Lippold, S., Schröder, R., Mpoloka, S. W., Purps, J., Roewer, L., Stoneking, M., & Pakendorf, B. (2016). Refining the Y chromosome phylogeny with southern African sequences. Human Genetics, 135(5), 541-553.
Open Access DOI BibTeX Endnote Downloads

Engelken, J., Espadas, G., Mancuso, F. M., Bonet, N., Scherr, A.-L., Jímenez-Álvarez, V., Codina-Solà, M., Medina-Stacey, D., Spataro, N., Stoneking, M., Calafell, F., Sabidó, E., & Bosch, E. (2016). Signatures of evolutionary adaptation in quantitative trait loci influencing trace element homeostasis in liver. Molecular Biology and Evolution, 33(3), 738-754.
Open Access DOI BibTeX Endnote Downloads

Ko, A.-M.-S. (2016). Early Austronesians and genetic prehistory of Taiwan. PhD Thesis, Universität Leipzig, Leipzig.
BibTeX Endnote

Li, M., Rothwell, R., Vermaat, M., Wachsmuth, M., Schröder, R., Laros, J. F., Oven, M. v., Bakker, P. I. d., Bovenberg, J. A., Duijn, C. M. v., Ommen, G.-J.-B.-v., Slagboom, P. E., Swertz, M. A., Wijmenga, C., Genome of the Netherlands Consortium, Kayser, M., Boomsma, D. I., Zöllner, S., Knijff, P. d., & Stoneking, M. (2016). Transmission of human mtDNA heteroplasmy in the Genome of the Netherlands families: Support for a variable-size bottleneck. Genome Research, 26(4), 417-426.
DOI BibTeX Endnote

Liu, Y.-F., Chiang, S.-L., Lin, C.-Y., Chang, J.-G., Chung, C.-M., Ko, A.-M.-S., Lin, Y.-Z., Lee, C.-H., Lee, K.-W., Chen, M.-K., Hua, C.-H., Tsai, M.-H., Chen, Y.-C., & Ko, Y.-C. (2016). Somatic mutations and genetic variants of NOTCH1 in head and neck squamous cell carcinoma occurrence and development. Scientific Reports, 6: 24014.
Open Access DOI BibTeX Endnote Downloads

Malaspinas, A.-S., Westaway, M. C., Muller, C., Sousa, V. C., Lao, O., Alves, I., Bergström, A., Athanasiadis, G., Cheng, J. Y., Crawford, J. E., Heupink, T. H., Macholdt, E., Peischl, S., Rasmussen, S., Schiffels, S., Subramanian, S., Wright, J. L., Albrechtsen, A., Barbieri, C., Dupanloup, I., Eriksson, A., Margaryan, A., Moltke, I., Pugach, I., Korneliussen, T. S., Levkivskyi, I. P., Moreno-Mayar, J. V., Ni, S., Racimo, F., Sikora, M., Xue, Y., Aghakhanian, F. A., Brucato, N., Brunak, S., Campos, P. F., Clark, W., Ellingvåg, S., Fourmile, G., Gerbault, P., Injie, D., Koki, G., Leavesley, M., Logan, B., Lynch, A., Matisoo-Smith, E. A., McAllister, P. J., Mentzer, A. J., Metspalu, M., Migliano, A. B., Murgha, L., Phipps, M. E., Pomat, W., Reynolds, D., Ricaut, F.-X., Siba, P., Thomas, M. G., Wales, T., Wall, C. M., Oppenheimer, S. J., Tyler-Smith, C., Durbin, R., Dortch, J., Manica, A., Schierup, M. H., Foley, R. A., Lahr, M. M., Bowern, C., Wall, J. D., Mailund, T., Stoneking, M., Nielsen, R., Sandhu, M. S., Excoffier, L., Lambert, D. M., & Willerslev, E. (2016). A genomic history of Aboriginal Australia. Nature, 538(7624), 207-214.
DOI BibTeX Endnote

Ni, S., & Stoneking, M. (2016). Improvement in detection of minor alleles in next generation sequencing by base quality recalibration. BMC Genomics, 17: 139.
Open Access DOI BibTeX Endnote Downloads

Pugach, I., Matveev, R., Spitsyn, V., Makarov, S., Novgorodov, I., Osakovsky, V., Stoneking, M., & Pakendorf, B. (2016). The complex admixture history and recent southern origins of Siberian populations. Molecular Biology and Evolution, 33(7), 1777-1795.
Open Access DOI BibTeX Endnote Downloads

Stoneking, M. (2016). Archaic genomes and the peopling of South Asia. In G. R. Schug, & S. R. Walimbe (Eds.), A companion to South Asia in the past (pp. 51-59). Malden, MA: Wiley Blackwell.
DOI BibTeX Endnote

Stoneking, M. (2016). The contribution of genetic ancestry from archaic humans to modern humans. In M. Tibayrenc, & F. J. Ayala (Eds.), On human nature: Biology, psychology, ethics, politics, and religion (pp. 55-61). San Diego [u.a.]: Elsevier.
BibTeX Endnote

Wachsmuth, M., Hübner, A., Li, M., Madea, B., & Stoneking, M. (2016). Age-Related and Heteroplasmy-Related Variation in Human mtDNA Copy Number. PLoS Genetics, 12(3): e1005939.
Open Access DOI BibTeX Endnote Downloads
2015
de Boer, M., Tzur, S., van Leeuwen, K., Dencher, P. C., Skorecki, K., Wolach, B., Gavrieli, R., Nasidze, I., Stoneking, M., Tanck, M. W., & Roos, D. (2015). A founder effect for p47phoxTrp193Ter chronic granulomatous disease in Kavkazi Jews. Blood Cells, Molecules, and Diseases, 55(4), 320-327.
DOI BibTeX Endnote

Fanti, S. D., Barbieri, C., Sarno, S., Sevini, F., Vianello, D., Tamm, E., Metspalu, E., van Oven, M., Hübner, A., Sazzini, M., Franceschi, C., Pettener, D., & Luiselli, D. (2015). Fine dissection of human mitochondrial DNA haplogroup HV lineages reveals paleolithic signatures from European glacial refugia. PLoS One, 10(12): e0144391.
Open Access DOI BibTeX Endnote Downloads

Hughes, D. A., Kircher, M., He, Z., Guo, S., Fairbrother, G. L., Moreno, C. S., Khaitovich, P., & Stoneking, M. (2015). Evaluating intra- and inter-individual variation in the human placental transcriptome. Genome Biology, 16: 54.
Open Access DOI BibTeX Endnote Downloads

Li, M., Schröder, R., Ni, S., Madea, B., & Stoneking, M. (2015). Extensive tissue-related and allele-related mtDNA heteroplasmy suggests positive selection for somatic mutations. Proceedings of the National Academy of Sciences of the United States of America, 112(8), 2491-2496.
DOI BibTeX Endnote

Macholdt, E., Slatkin, M., Pakendorf, B., & Stoneking, M. (2015). New insights into the history of the C-14010 lactase persistence variant in Eastern and Southern Africa. American Journal of Physical Anthropology, 156(4), 661-664.
DOI BibTeX Endnote

Palamara, P. F., Francioli, L. C., Wilton, P. R., Genovese, G., Gusev, A., Finucane, H. K., Sankararaman, S., Genome of the Netherlands Consortium, including authors, Stoneking, M., Li, M., & others, Sunyaev, S. R., de Bakker, P. I., Wakeley, J., Pe'er, I., & Price, A. L. (2015). Leveraging distant relatedness to quantify human mutation and gene-conversion rates. The American Journal of Human Genetics, 97(6), 775-789.
DOI BibTeX Endnote

Pugach, I., & Stoneking, M. (2015). Genome-wide insights into the genetic history of human populations. Investigative Genetics, 6: 6.
Open Access DOI BibTeX Endnote Downloads

Qin, P., & Stoneking, M. (2015). Denisovan Ancestry in East Eurasian and Native American Populations. Molecular Biology and Evolution, 32(10), 2665-2674.
DOI BibTeX Endnote

Savage, P. E., Matsumae, H., Oota, H., Stoneking, M., Currie, T. E., Tajima, A., Gillan, M., & Brown, S. (2015). How 'circumpolar' is Ainu music? Musical and genetic perspectives on the history of the Japanese archipelago. Ethnomusicology Forum, 24(3), 443-467.
DOI BibTeX Endnote

Valverde, G., Zhou, H., Lippold, S., de Filippo, C., Tang, K., Herráez, D. L., Li, J., & Stoneking, M. (2015). A novel candidate region for genetic adaptation to high altitude in Andean populations. PLoS One, 10(5): e0125444.
Open Access DOI BibTeX Endnote Downloads

van Leeuwen, E. M., Kanterakis, A., Deelen, P., Kattenberg, M. V., The Genome the Netherlands Consortium, including authors, Stoneking, M., Li, M., & others, Slagboom, P. E., de Bakker, P. I., Wijmenga, C., Swertz, M. A., Boomsma, D. I., van Duijn, C. M., Karrsen, L. C., & Hottenga, J. J. (2015). Population-specific genotype imputations using minimac or IMPUTE2. Nature Protocols, 10(9), 1285-1296.
DOI BibTeX Endnote

van Leeuwen, E. M., Karssen, L. C., Deelen, J., Isaacs, A., Medina-Gomez, C., Mbarek, H., Kanterakis, A., Trompet, S., Postmus, I., Verweij, N., van Enckevort, D. J., Huffman, J. E., White, C. C., Feitosa, M. F., Bartz, T. M., Manichaikul, A., Joshi, P. K., Peloso, G. M., Deelen, P., van Dijk, F., Willemsen, G., de Geus, E. J., Milaneschi, Y., Penninx, B. W., Francioli, L. C., Menelaou, A., Pulit, S. L., Rivadeneira, F., Hofman, A., Oostra, B. A., Franco, O. H., Leach, I. M., Beekman, M., de Craen, A. J., Uh, H.-W., Trochet, H., Hocking, L. J., Porteous, D. J., Sattar, N., Packard, C. J., Buckley, B. M., Brody, J. A., Bis, J. C., Rotter, J. I., Mychaleckyj, J. C., Campbell, H., Duan, Q., Lange, L. A., Wilson, J. F., Hayward, C., Polasek, O., Vitart, V., Rudan, I., Wright, A. F., Rich, S. S., Psaty, B. M., Borecki, I. B., Kearney, P. M., Stott, D. J., Cupples, L. A., The Genome of the Netherlands Consortium, including authors, Stoneking, M., Li, M., & others, Jukema, J. W., van der Harst, P., Sijbrands, E. J., Hottenga, J.-J., Uitterlinden, A. G., Swertz, M. A., van Ommen, G.-J.-B., de Bakker, P. I., Slagboom, P. E., Boomsma, D. I., Wijmenga, C., & van Duijn, C. M. (2015). Genome of the Netherlands population - specific imputations identify an ABCA6 variant associated with cholesterol levels. Nature Communications, 6: 6065.
Open Access DOI BibTeX Endnote Downloads
2014
Barbieri, C., Güldemann, T., Naumann, C., Gerlach, L., Berthold, F., Nakagawa, H., Mpoloka, S. W., Stoneking, M., & Pakendorf, B. (2014). Unraveling the complex maternal history of Southern African Khoisan populations. American Journal of Physical Anthropology, 153(3), 435-448.
DOI BibTeX Endnote

Barbieri, C., Vicente, M., Oliveira, S., Bostoen, K., Rocha, J., Stoneking, M., & Pakendorf, B. (2014). Migration and interaction in a contact zone: mtDNA variation among Bantu-speakers in southern Africa. PLoS One, 9(6): e9911.
Open Access DOI BibTeX Endnote Downloads

Brown, S., Savage, P. E., Ko, A.-M.-S., Stoneking, M., Ko, Y.-C., Loo, J.-H., & Trejaut, J. A. (2014). Correlations in the population structure of music, genes and language. Proceedings of the Royal Society of London. Series B: Biological Sciences, 281(1774): 20132072.
DOI BibTeX Endnote

Deelen, P., Menelaou, A., van Leeuwen, E. M., Kanterakis, A., van Dijk, F., Medina-Gomez, C., Francioli, L. C., Hottenga, J. J., Karssen, L. C., Estrada, K., Kreiner-Møller, E., Rivadeneira, F., van Setten, J., Gutierrez-Achury, J., Westra, H.-J., Franke, L., van Enckevort, D., Dijkstra, M., Byelas, H., van Duijn, C. M., Genome of the Netherlands Consortium, including authors, Stoneking, M., Li, M., & others, de Bakker, P. I. W., Wijmenga, C., & Swertz, M. A. (2014). Improved imputation quality of low-frequency and rare variants in European samples using the 'Genome of The Netherlands'. European Journal of Human Genetics, 22(11), 1321-1326.
Open Access DOI BibTeX Endnote Downloads

Delfin, F. S., Ko, A.-M.-S., Li, M., Gunnarsdóttir, E. D., Tabbada, K. A., Salvador, J. M., Calacal, G. C., Sagum, M. S., Datar, F. A., Padilla, S. G., Ungria, M. C. A. D., & Stoneking, M. (2014). Complete mtDNA genomes of Filipino ethnolinguistic groups: A melting pot of recent and ancient lineages in the Asia-Pacific region. European journal of human genetics, 22(2), 228-237.
DOI BibTeX Endnote

Duggan, A. T., & Stoneking, M. (2014). Recent developments in the genetic history of East Asia and Oceania. Current Opinion in Genetics & Development, 29, 9-14.
DOI BibTeX Endnote

Duggan, A. T., Evans, B., Friedlaender, F. R., Friedlaender, J. S., Koki, G., Merriwether, D. A., Kayser, M., & Stoneking, M. (2014). Maternal history of Oceania from complete mtDNA genomes: Contrasting ancient diversity with recent homogenization due to the Austronesian expansion. The American Journal of Human Genetics, 94(5), 721-733.
DOI BibTeX Endnote

Engelken, J., Carnero-Montoro, E., Pybus, M., Andrews, G. K., Lalueza-Fox, C., Comas, D., Sekler, I., de la Rasilla, M., Rosas, A., Stoneking, M., Valverde, M. A., Vicente, R., & Bosch, E. (2014). Extreme population differences in the human zinc transporter ZIP4 (SLC39A4) are explained by positive selection in Sub-Saharan Africa. PLoS Genetics, 10(2): e1004128.
Open Access DOI BibTeX Endnote Downloads

Francioli, L. C., Menelaou, A., Pulit, S. L., van Dijk, F., Palamara, P. F., Elbers, C. C., Neerincx, P. B. T., Ye, K., Guryev, V., Kloosterman, W. P., Deelen, P., Abdellaoui, A., van Leeuwen, E. M., van Oven, M., Vermaat, M., Li, M., Laros, J. F. J., Karssen, L. C., Kanterakis, A., Amin, N., Hottenga, J. J., Lameijer, E.-W., Kattenberg, M., Dijkstra, M., Byelas, H., van Setten, J., van Schaik, B. D. C., Bot, J., Nijman, I. J., Renkens, I., Marschall, T., Schönhuth, A., Hehir-Kwa, J. Y., Handsaker, R. E., Polak, P., Sohail, M., Vuzman, D., Hormozdiari, F., van Enckevort, D., Mei, H., Koval, V., Moed, M. H., van der Velde, K. J., Rivadeneira, F., Estrada, K., Medina-Gomez, C., Isaacs, A., McCarroll, S. A., Beekman, M., de Craen, A. J. M., Suchiman, H. E. D., Hofman, A., Oostra, B., Uitterlinden, A. G., Willemsen, G., Study, L. C., Platteel, M., Veldink, J. H., van den Berg, L. H., Pitts, S. J., Potluri, S., Sundar, P., Cox, D. R., Sunyaev, S. R., den Dunnen, J. T., Stoneking, M., de Knijff, P., Kayser, M., Li, Q., Li, Y., Du, Y., Chen, R., Cao, H., Li, N., Cao, S., Wang, J., Bovenberg, J. A., Pe'er, I., Slagboom, P. E., van Duijn, C. M., Boomsma, D. I., van Ommen, G.-J.-B., de Bakker, P. I. W., Swertz, M. A., Wijmenga, C., & Genome of the Netherlands Consortium, The (2014). Whole-genome sequence variation, population structure and demographic history of the Dutch population. Nature Genetics, 46(8), 818-825.
DOI BibTeX Endnote

Giuliani, C., Barbieri, C., Li, M., Bucci, L., Monti, D., Passarino, G., Luiselli, D., Franceschi, C., Stoneking, M., & Garagnani, P. (2014). Transmission from centenarians to their offspring of mtDNA heteroplasmy revealed by ultra-deep sequencing. Aging, 6(6), 454-467.
Open Access DOI BibTeX Endnote Downloads

Guo, J., Tan, J., Yang, Y., Zhou, H., Hu, S., Hashan, A., Bahaxar, N., Xu, S., Weaver, T. D., Jin, L., Stoneking, M., & Tang, K. (2014). Variation and signatures of selection on the human face. Journal of Human Evolution, 75, 143-152.
Open Access DOI BibTeX Endnote Downloads

Henne, K., Li, J., Stoneking, M., Kessler, O., Schilling, H., Sonanini, A., Conrads, G., & Horz, H.-P. (2014). Global analysis of saliva as a source of bacterial genes for insights into human population structure and migration studies. BMC Evolutionary Biology, 14: 190.
Open Access DOI BibTeX Endnote Downloads

Ko, A.-M.-S., Chen, C.-Y., Fu, Q., Delfin, F. S., Li, M., Chiu, H.-L., Stoneking, M., & Ko, Y.-C. (2014). Early Austronesians: Into and out of Taiwan. The American Journal of Human Genetics, 94(3), 426-436.
DOI BibTeX Endnote

Li, J., Quinque, D., Horz, H.-P., Li, M., Rzhetskaya, M., Raff, J. A., Hayes, M. G., & Stoneking, M. (2014). Comparative analysis of the human saliva microbiome from different climate zones: Alaska, Germany, and Africa. BMC Microbiology, 14: 316.
Open Access DOI BibTeX Endnote Downloads

Lippold, S., Xu, H., Ko, A., Li, M., Renaud, G., Butthoff, A., Schröder, R., & Stoneking, M. (2014). Human paternal and maternal demographic histories: Insights from high-resolution Y chromosome and mtDNA sequences. Investigative Genetics, 5: 13.
Open Access DOI BibTeX Endnote Downloads

Lipson, M., Loh, P.-R., Patterson, N., Moorjani, P., Ko, Y.-C., Stoneking, M., Berger, B., & Reich, D. (2014). Reconstructing Austronesian population history in Island Southeast Asia. Nature Communications, 5: 4689.
Open Access DOI BibTeX Endnote Downloads

Macholdt, E., Lede, V., Barbieri, C., Mpoloka, S. W., Chen, H., Slatkin, M., Pakendorf, B., & Stoneking, M. (2014). Tracing pastoralist migrations to Southern Africa with lactase persistence alleles. Current Biology, 24(8), 875-879.
DOI BibTeX Endnote

Malaspinas, A.-S., Lao, O., Schroeder, H., Rasmussen, M., Raghavan, M., Moltke, I., Campos, P. F., Sagredo, F. S., Rasmussen, S., Gonçalves, V. F., Albrechtsen, A., Allentoft, M. E., Johnson, P. L., Li, M., Reis, S., Bernardo, D. V., DeGiorgio, M., Duggan, A. T., Bastos, M., Wang, Y., Stenderup, J., Moreno-Mayar, J. V., Brunak, S., Sicheritz-Ponten, T., Hodges, E., Hannon, G. J., Orlando, L., Price, T. D., Jensen, J. D., Nielsen, R., Heinemeier, J., Olsen, J., Rodrigues-Carvalho, C., Lahr, M. M., Neves, W. A., Kayser, M., Higham, T., Stoneking, M., Pena, S. D., & Willerslev, E. (2014). Two ancient human genomes reveal Polynesian ancestry among the indigenous Botocudos of Brazil. Current Biology, 24(21), R1035-R1037.
DOI BibTeX Endnote

Oven, M. v., Brauer, S., Choi, Y., Ensing, J., Schiefenhövel, W., Stoneking, M., & Kayser, M. (2014). Human genetics of the Kula Ring: Y-chromosome and mitochondrial DNA variation in the Massim of Papua New Guinea. European journal of human genetics, 22, 1393-1403.
DOI BibTeX Endnote

Pickrell, J. K., Patterson, N., Loh, P.-R., Lipson, M., Berger, B., Stoneking, M., Pakendorf, B., & Reich, D. (2014). Ancient west Eurasian ancestry in southern and eastern Africa. Proceedings of the National Academy of Sciences of the United States of America, 111(7), 2632 -2637.
DOI BibTeX Endnote Downloads

Theunert, C. (2014). Approaches for inferring past population size changes from genome-wide genetic data. PhD Thesis, Univ., Leipzig.
BibTeX Endnote Downloads
2013
Barbieri, C., Vicente, M., Rocha, J., Mpoloka, S. W., Stoneking, M., & Pakendorf, B. (2013). Ancient substructure in early mtDNA lineages of southern Africa. American Journal of Human Genetics, 92, 285-292.
DOI BibTeX Endnote

Duggan, A. T., & Stoneking, M. (2013). A highly unstable recent mutation in human mtDNA. American Journal of Human Genetics, 92(2), 279-284.
DOI BibTeX Endnote

Grossmann, T., Vaish, A., Franz, J., Schroeder, R., Stoneking, M., & Friederici, A. D. (2013). Emotional voice processing: Investigating the role of genetic variation in the serotonin transporter across development. PLoS One, 8(7): e68377.
Open Access DOI BibTeX Endnote Downloads

Li, J., Nasidze, I., Quinque, D., Li, M., Horz, H.-P., Andre, C., Garriga, R. M., Halbwax, M., Fischer, A., & Stoneking, M. (2013). The saliva microbiome of Pan and Homo. BMC Microbiology, 13: 204.
Open Access DOI BibTeX Endnote Downloads

Pugach, I., Delfin, F., Gunnarsdóttir, E., Kayser, M., & Stoneking, M. (2013). Genome-wide data substantiate Holocene gene flow from India to Australia. Proceedings of the National Academy of Sciences of the United States of America, 110(5), 1803-1808.
DOI BibTeX Endnote

Stoneking, M. (2013). Mitochondrial genome: Evolution. In Encyclopedia of the Life Sciences. Chichester [u.a.]: Wiley.
DOI BibTeX Endnote

Stoneking, M., & Harvati, K. (2013). Early Old World migrations of Homo sapiens: human biology. In The Encyclopedia of Global Human Migration, P. I. Hoboken, NJ: Wiley-Backwell.
DOI BibTeX Endnote
2012
Ballantyne, K. N., van Oven, M., Ralf, A., Stoneking, M., Mitchell, R. J., van Oorschot, R. A., & Kayser, M. (2012). MtDNA SNP multiplexes for efficient inference of matrilineal genetic ancestry within Oceania. Forensic Science International: Genetics, 6(4), 425-436.
DOI BibTeX Endnote

de Filippo, C., Bostoen, K., Stoneking, M., & Pakendorf, B. (2012). Bringing together linguistic and genetic evidence to test the Bantu expansion. Proceedings of the Royal Society B: Biological Sciences, 279(1741), 3256-3263.
DOI BibTeX Endnote

Delfin, F., Myles, S., Choi, Y., Hughes, D., Illek, R., van Oven, M., Pakendorf, B., Kayser, M., & Stoneking, M. (2012). Bridging Near and Remote Oceania: mtDNA and NRY Variation in the Solomon Islands. Molecular Biology and Evolution, 29(2), 545-564.
DOI BibTeX Endnote

Jinam, T. A., Hong, L.-C., Phipps, M. E., Stoneking, M., Ameen, M., Edo, J., HUGO Pan-Asian SNP Consortium, & Saitou, N. (2012). Evolutionary history of continental South East Asians: "Early Train" hypothesis based on genetic analysis of mitochondrial and autosomal DNA data. Molecular Biology and Evolution, 29(11), 3513-3527.
DOI BibTeX Endnote

Kenny, E. E., Timpson, N. J., Sikora, M., Yee, M.-C., Moreno-Estrada, A., Eng, C., Huntsman, S., Burchard, E. G., Stoneking, M., Bustamante, C. D., & Myles, S. (2012). Melanesian blond hair is caused by an amino acid change in TYRP1. Science, 336(6081), 554-554.
DOI BibTeX Endnote

Li, J., Menard, V., Benish, R. L., Jurevic, R. J., Guillemette, C., Stoneking, M., Zimmerman, P. A., & Mehlotra, R. K. (2012). Worldwide variation in human drug-metabolism enzyme genes CYP2B6 and UGT2B7: implications for HIV/AIDS treatment. Pharmacogenomics, 13(5), 555-570.
DOI BibTeX Endnote

Li, M., & Stoneking, M. (2012). A new approach for detecting low-level mutations in next-generation sequence data. Genome Biology, 13(5): R34.
Open Access DOI BibTeX Endnote Downloads

Li, M., Schröder, R., Ko, A.-M.-S., & Stoneking, M. (2012). Fidelity of capture-enrichment for mtDNA genome sequencing: influence of NUMTs. Nucleic Acids Research, 40(18): e137.
Open Access DOI BibTeX Endnote Downloads

Pickrell, J. K., Patterson, N., Berthold, F., Barbieri, C., Gerlach, L., Gueldemann, T., Kure, B., Mpoloka, S. W., Nakagawa, H., Naumann, C., Lipson, M., Loh, P.-R., Lachance, J., Mountain, J., Bustamante, C. D., Berger, B., Tishkoff, S. A., Henn, B. M., Stoneking, M., Reich, D., & Pakendorf, B. (2012). The genetic prehistory of southern Africa. Nature Communications, 3: 1143.
Open Access DOI BibTeX Endnote Downloads

Quillen, E. E., Bauchet, M., Bigham, A. W., Delgado-Burbano, M. E., Faust, F. X., Klimentidis, Y. C., Mao, X., Stoneking, M., & Shriver, M. D. (2012). OPRM1 and EGFR contribute to skin pigmentation differences between Indigenous Americans and Europeans. Human Genetics, 131(7), 1073-1080.
DOI BibTeX Endnote

Theunert, C., Tang, K., Lachmann, M., Hu, S., & Stoneking, M. (2012). Inferring the history of population size change from genome-wide SNP data. Molecular Biology and Evolution, 29(2), 3653-3667.
DOI BibTeX Endnote

Xu, S., Pugach, I., Stoneking, M., Kayser, M., Jina, L., & The HUGO Pan-Asian SNP Consortium (2012). Genetic dating indicates that the Asian–Papuan admixture through Eastern Indonesia corresponds to the Austronesian expansion. Proceedings of the National Academy of Sciences of the United States of America, 109(12), 4574-4579.
DOI BibTeX Endnote
2011
de Filippo, C., Barbieri, C., Whitten, M., Mpoloka, S. W., Gunnarsdóttir, E. D., Bostoen, K., Nyambe, T., Beyer, K., Schreiber, H., Knijff, P. d., Luiselli, D., Stoneking, M., & Pakendorf, B. (2011). Y-chromosomal variation in sub-saharan Africa: Insights into the history of Niger-Congo groups. Molecular Biology and Evolution, 28(3): msq312v1, pp. 1255-1269.
DOI BibTeX Endnote

Delfin, F., Salvador, J. M., Calacal, G. C., Perdigon, H. B., Tabbada, K. A., Villamor, L. P., Halos, S. C., Gunnarsdóttir, E., Myles, S., Hughes, D. A., Xu, S., Jin, L., Lao, O., Kayser, M., Hurles, M. E., Stoneking, M., & Ungria, M. C. A. d. (2011). The Y-chromosome landscape of the Philippines: extensive heterogeneity and varying genetic affinities of Negrito and non-Negrito groups. European Journal of Human Genetics, 19(2), 224-230.
DOI BibTeX Endnote

Gross, A., Tönjes, A., Kovacs, P., Veeramah, K. R., Ahnert, P., Roshyara, N. R., Gieger, C., Rueckert, I.-M., Loeffler, M., Stoneking, M., Wichmann, H.-E., Novembre, J., Stumvoll, M., & Scholz, M. (2011). Population-genetic comparison of the Sorbian isolate population in Germany with the German KORA population using genome-wide SNP arrays. BMC Genetics, 12: 67.
Open Access DOI BibTeX Endnote Downloads

Grossmann, T., Johnson, M. H., Vaish, A., Hughes, D. A., Quinque, D., Stoneking, M., & Friederici, A. D. (2011). Genetic and neural dissociation of individual responses to emotional expressions in human infants. Developmental Cognitive Neuroscience, 1(1), 57-66.
DOI BibTeX Endnote

Gunnarsdóttir, E. D., Li, M., Bauchet, M., Finstermeier, K., & Stoneking, M. (2011). High-throughput sequencing of complete human mtDNA genomes from the Philippines. Genome Research, 21(1), 1-11.
DOI BibTeX Endnote

Gunnarsdóttir, E. D., Nandineni, M. R., Li, M., Myles, S., Gil, D., Pakendorf, B., & Stoneking, M. (2011). Larger mitochondrial DNA than Y-chromosome differences between matrilocal and patrilocal groups from Sumatra. Nature Communications, 2: 228.
DOI BibTeX Endnote

Li, J., Zhang, L., Zhou, H., Stoneking, M., & Tang, K. (2011). Global patterns of genetic diversity and signals of natural selection for human ADME genes. Human Molecular Genetics, 20(3), 528-540.
DOI BibTeX Endnote

Myles, S., Lea, R. A., Ohashi, J., Chambers, G. K., Weiss, J. G., Hardouin, E., Engelken, J., Macartney-Coxson, D. P., Eccles, D. A., Naka, I., Kimura, R., Inaoka, T., Matsumura, Y., & Stoneking, M. (2011). Testing the thrifty gene hypothesis: the Gly482Ser variant in PPARGC1A is associated with BMI in Tongans. BMC Medical Genetics, 12(1): 10, pp. 1-7.
Open Access DOI BibTeX Endnote Downloads

Nasidze, I., & Stoneking, M. (2011). Microbiome diversity in human saliva. In F. J. d. Bruijn (Ed.), Handbook of Molecular Microbial Ecology II: Metagenomics in Different Habitats (pp. 335-339). New York: Wiley.
BibTeX Endnote

Nasidze, I., Li, J., Schroeder, R., Creasey, J. L., Li, M., & Stoneking, M. (2011). High diversity of the saliva microbiome in Batwa pygmies. PLoS ONE, 6(8): e23352.
Open Access DOI BibTeX Endnote Downloads

Pugach, I., Matveyev, R., Wollstein, A., Kayser, M., & Stoneking, M. (2011). Dating the age of admixture via wavelet transform analysis of genome-wide data. Genome Biology, 12(2): R19, pp. 1-18.
DOI BibTeX Endnote

Reich, D., Patterson, N., Kircher, M., Delfin, F., Nandineni, M. R., Pugach, I., Ko, A.-M.-S., Ko, Y.-C., Jinam, T. A., Phipps, M. E., Saitou, N., Wollstein, A., Kayser, M., Pääbo, S., & Stoneking, M. (2011). Denisova admixture and the first modern human dispersals into southeast Asia and Oceania. The American Journal of Human Genetics, 89(4), 516-528.
Open Access DOI BibTeX Endnote Downloads

Schönberg, A., Theunert, C., Li, M., Stoneking, M., & Nasidze, I. (2011). High-throughput sequencing of complete human mtDNA genomes from the Caucasus and West Asia: High diversity and demographic inferences. European Journal of Human Genetics, 19(9), 988-994.
DOI BibTeX Endnote

Stoneking, M., & Krause, J. (2011). Learning about human population history from ancient and modern genomes. Nature Reviews Genetics, 12(9), 603-614.
DOI BibTeX Endnote

Stoneking, M.(2011). Was wir von Spucke lernen können: Diversität im Mikrobiom des menschlichen Speichels. Retrieved from https://www.mpg.de/1262166/Mikrobiom_Speichel?c=1070738.
Open Access BibTeX Endnote Downloads
2010
Athanasiadis, G., Esteban, E., Gayà-Vidal, M., Dugoujon, J.-M., Moschonas, N., Chaabani, H., Bissar-Tadmouri, N., Harich, N., Stoneking, M., & Moral, P. (2010). Different evolutionary histories of the coagulation factor VII gene in human populations? Annals of Human Genetics, 74(1), 34-45.
DOI BibTeX Endnote

Athanasiadis, G., González-Pérez, E., Esteban, E., Dugoujon, J.-M., Stoneking, M., & Moral, P. (2010). The Mediterranean Sea as a barrier to gene flow: Evidence from variation in and around the F7 and F12 genomic regions. BMC Evolutionary Biology, 10: 84.
Open Access DOI BibTeX Endnote Downloads

de Filippo, C., Heyn, P., Barham, L., Stoneking, M., & Pakendorf, B. (2010). Genetic perspectives on forager-farmer interaction in the Luangwa Valley of Zambia. American Journal of Physical Anthropology, 141(3), 382-394.
DOI BibTeX Endnote

Li, M., Schönberg, A., Schaefer, M., Schroeder, R., Nasidze, I., & Stoneking, M. (2010). Detecting heteroplasmy from high-throughput sequencing of complete human mitochondrial DNA genomes. The American Journal of Human Genetics, 87(2), 237-249.
DOI BibTeX Endnote

Reich, D., Green, R. E., Kircher, M., Krause, J., Patterson, N., Durand, E. Y., Viola, B., Briggs, A. W., Stenzel, U., Johnson, P. L. F., Maricic, T., Good, J. M., Marques-Bonet, T., Alkan, C., Fu, Q., Mallick, S., Li, H., Meyer, M., Eichler, E. E., Stoneking, M., Richards, M., Talamo, S., Shunkov, M. V., Derevianko, A. P., Hublin, J.-J., Kelso, J., Slatkin, M., & Pääbo, S. (2010). Genetic history of an archaic hominin group from Denisova Cave in Siberia. Nature, 468(7327), 1053-1060.
Open Access DOI BibTeX Endnote Downloads

Stoneking, M., & Delfin, F. S. (2010). The human genetic history of East Asia: Weaving a complex tapestry. Current Biology, 20(4), R188-R193.
DOI BibTeX Endnote

Wollstein, A., Lao, O., Becker, C., Brauer, S., Trent, R. J., Nürnberg, P., Stoneking, M., & Kayser, M. (2010). Demographic history of Oceania inferred from genome-wide data. Current Biology, 20, 1983-1992.
DOI BibTeX Endnote
2009
Balaresque, P., Parkin, E. J., Roewer, L., Carvalho-Silva, D. R., Mitchell, R. J., Oorschot, R. A. H. v., Henke, J., Stoneking, M., Nasidze, I., Wetton, J., Knijff, P. d., Tyler-Smith, C., & Jobling, M. A. (2009). Genomic complexity of the Y-STR DYS19: inversions, deletions and founder lineages carrying duplications. International Journal of Legal Medicine, 123(1), 15-23.
DOI BibTeX Endnote

Hillmer, A. M., Freudenberg, J., Myles, S., Herms, S., Tang, K., Hughes, D. A., Brockschmidt, F. F., Ruan, Y., Stoneking, M., & Nöthen, M. M. (2009). Recent positive selection of a human androgen receptor/ectodysplasin A2 receptor haplotype and its relationship to male pattern baldness. Human Genetics, 126(2), 223-232.
DOI BibTeX Endnote

Hughes, D. A., Hinney, A., Brumm, H., Wermter, A.-K., Biebermann, H., Hebebrand, J., & Stoneking, M. (2009). Increased constraints on MC4R during primate and human evolution. Human Genetics, 124(6), 633-647.
DOI BibTeX Endnote

Hughes, D. A., Jastroch, M., Stoneking, M., & Klingenspor, M. (2009). Molecular evolution of UCP1 and the evolutionary history of mammalian non-shivering thermogenesis. BMC Evolutionary Biology, 9: 4.
Open Access DOI BibTeX Endnote Downloads

López Herráez, D., Bauchet, M., Tang, K., Theunert, C., Pugach, I., Li, J., Nandineni, M. R., Gross, A., Scholz, M., & Stoneking, M. (2009). Genetic variation and recent positive selection in worldwide human populations: Evidence from nearly 1 million SNPs. PLoS ONE, 4(11): e7888.
Open Access DOI BibTeX Endnote Downloads

Mona, S., Grunz, K. E., Brauer, S., Pakendorf, B., Castrì, L., Sudoyo, H., Marzuki, S., Barnes, R. H., Schmidtke, J., Stoneking, M., & Kayser, M. (2009). Genetic admixture history of Eastern Indonesia as revealed by Y-chromosome and mitochondrial DNA analysis. Molecular Biology and Evolution, 26(8), 1865-1877.
DOI BibTeX Endnote

Moreno-Estrada, A., Tang, K., Sikora, M., Marquès-Bonet, T., Casals, F., Navarro, A., Calafell, F., Bertranpetit, J., Stoneking, M., & Bosch, E. (2009). Interrogating 11 fast-evolving genes for signatures of recent positive selection in worldwide human populations. Molecular Biology and Evolution, 26(10), 2285-2297.
DOI BibTeX Endnote

Myles, S., Stoneking, M., & Timpson, N. (2009). An assessment of the portability of ancestry informative markers between human populations. BMC Medical Genomics, 2: 45.
Open Access DOI BibTeX Endnote Downloads

Nasidze, I., Li, J., Quinque, D., Tang, K., & Stoneking, M. (2009). Global diversity in the human salivary microbiome. Genome Research, 19(4), 636-643.
DOI BibTeX Endnote

Nasidze, I., Quinque, D., Li, J., Li, M., Tang, K., & Stoneking, M. (2009). Comparative analysis of human saliva microbiome diversity by barcoded pyrosequencing and cloning approaches. Analytical Biochemistry, 391(1), 64-68.
DOI BibTeX Endnote

Nasidze, I., Quinque, D., Rahmani, M., Alemohamad, S. A., Asadova, P., Zhukova, O., & Stoneking, M. (2009). MtDNA and Y-chromosome variation in the Talysh of Iran and Azerbaijan. American Journal of Physical Anthropology, 138(1), 82-89.
DOI BibTeX Endnote

Roewer, L., Willuweit, S., Stoneking, M., & Nasidze, I. (2009). A Y-STR database of Iranian and Azerbaijanian minority populations. Forensic Science International: Genetics, 4(1), e53-e55.
DOI BibTeX Endnote

Ryan, A. W., Hughes, D. A., Tang, K., Kelleher, D. P., Ryan, T., McManus, R., & Stoneking, M. (2009). Natural selection and the molecular basis of electrophoretic variation at the coagulation F13B locus. European Journal of Human Genetics, 17(2), 219-227.
DOI BibTeX Endnote

Stoneking, M. (2009). Humans as second orangutans: sense or nonsense? BioEssays, 31(10), 1010-1012.
DOI BibTeX Endnote
2008
Balaresque, P., Bowden, G. R., Parkin, E. J., Omran, G. A., Heyer, E., Quintana-Murci, L., Roewer, L., Stoneking, M., Nasidze, I., Carvalho-Silva, D. R., Tyler-Smith, C., de Knijff, P., & Jobling, M. A. (2008). Dynamic nature of the proximal AZFc region of the human Y chromosome: Multiple independent deletion and duplication events revealed by microsatellite analysis. Human Mutation, 29(10), 1171-1180.
DOI BibTeX Endnote

Bryk, J., Hardouin, E., Pugach, I., Hughes, D. A., Strotmann, R., Stoneking, M., & Myles, S. (2008). Positive selection in East Asians for an EDAR allele that enhances NF-kappaB activation. PLoS ONE, 3(5): e2209.
Open Access DOI BibTeX Endnote Downloads

Fechner, A., Quinque, D., Rychkov, S., Morozowa, I., Naumova, O., Schneider, Y., Willuweit, S., Zhukova, O., Roewer, L., Stoneking, M., & Nasidze, I. (2008). Boundaries and clines in the West Eurasian Y-chromosome landscape: Insights from the European part of Russia. American Journal of Physical Anthropology, 137(1), 41-47.
DOI BibTeX Endnote

Güldemann, T., & Stoneking, M. (2008). A historical appraisal of clicks: A linguistic and genetic population perspective. Annual Review of Anthropology, 37, 93-109.
DOI BibTeX Endnote

Herráez, D. L., & Stoneking, M. (2008). High fractions of exogenous DNA in human buccal samples reduce the quality of large-scale genotyping. Analytical Biochemistry, 383(2), 329-331.
DOI BibTeX Endnote

Hughes, D. A., Tang, K., Strotmann, R., Schöneberg, T., Prenen, J., Nilius, B., & Stoneking, M. (2008). Parallel selection on TRPV6 in human populations. PLoS One, 3(3): e1686.
Open Access DOI BibTeX Endnote Downloads

Kayser, M., Choi, Y., Oven, M. v., Mona, S., Brauer, S., Trent, R. J., Suarkia, D., Schiefenhövel, W., & Stoneking, M. (2008). The impact of the Austronesian expansion: Evidence from mtDNA and Y chromosome diversity in the Admiralty Islands of Melanesia. Molecular Biology and Evolution, 25(7), 1362-1374.
DOI BibTeX Endnote

Kayser, M., Lao, O., & Stoneking, M. (2008). Reply to Hedrick: East Asian and Melanesian ancestry in Polynesians. American Journal of Human Genetics, 83(1), 140-142.
DOI BibTeX Endnote

Kayser, M., Lao, O., Saar, K., Brauer, S., Wang, X., Nürnberg, P., Trent, R. J., & Stoneking, M. (2008). Genome-wide analysis indicates more Asian than Melanesian ancestry of Polynesians. American Journal of Human Genetics, 82(1), 194-198.
DOI BibTeX Endnote

Klingenspor, M., Fromme, T., Hughes, D. A., Manzke, L., Polymeropoulos, E., Riemann, T., Trzcionka, M., Hirschberg, V., & Jastroch, M. (2008). An ancient look at UCP1. Biochimica et Biophysica Acta (BBA) - Bioenergetics, 1777(7-8), 637-641.
DOI BibTeX Endnote

Mehlotra, R. K., Mattera, G., Bockarie, M. J., Maguire, J. D., Baird, J. K., Sharma, Y. D., Alifrangis, M., Dorsey, G., Rosenthal, P. J., Fryauff, D. J., Kazura, J. W., Stoneking, M., & Zimmerman, P. A. (2008). Discordant patterns of genetic variation at two chloroquine resistance loci in worldwide populations of the malaria parasite Plasmodium falciparum. Antimicrobial Agents and Chemotherapy, 52(6), 2212-2222.
DOI BibTeX Endnote

Myles, S., Davison, D., Barrett, J., Stoneking, M., & Timpson, N. (2008). Worldwide population differentiation at disease-associated SNPs. BMC Medical Genomics, 1: 22.
Open Access DOI BibTeX Endnote Downloads

Myles, S., Tang, K., Somel, M., Green, R. E., Kelso, J., & Stoneking, M. (2008). Identification and analysis of genomic regions with large between-population differentiation in humans. Annals of Human Genetics, 72(1), 99-110.
DOI BibTeX Endnote

Nasidze, I., Quinque, D., Rahmani, M., Alemohamad, S. A., & Stoneking, M. (2008). Close genetic relationship between Semitic-speaking and Indo-European-speaking groups in Iran. Annals of Human Genetics, 72(2), 241-252.
DOI BibTeX Endnote

Roewer, L., Willuweit, S., Krüger, C., Nagy, M., Rychkov, S., Morozowa, I., Naumova, O., Schneider, Y., Zhukova, O., Stoneking, M., & Nasidze, I. (2008). Analysis of Y chromosome STR haplotypes in the European part of Russia reveals high diversities but non-significant genetic distances between populations. International Journal of Legal Medicine, 122(3), 219-223.
DOI BibTeX Endnote

Stoneking, M. (2008). Human origins - the molecular perspective. EMBO Reports, 9(Supplement 1), S46-S50.
DOI BibTeX Endnote

Stoneking, M. (2008). Mitochondrial genome: Evolution. In Encyclopedia of Life Sciences (ELS). Chichester: Wiley.
DOI BibTeX Endnote
2007
Cordaux, R., Srikanta, D., Lee, J., Stoneking, M., & Batzer, M. A. (2007). In search of polymorphic alu insertions with restricted geographic distributions. Genomics, 90(1), 154-158.
DOI BibTeX Endnote

DaRe, J. T., Mehlotra, R. K., Michon, P., Mueller, I., Reeder, J. C., Sharma, Y. D., Stoneking, M., & Zimmerman, P. A. (2007). Microsatellite polymorphism within pfcrt provides evidence of continuing evolution of chloroquine-resistant alleles in Papua New Guinea. Malaria Journal, 6: 34.
DOI BibTeX Endnote

Kuch, M., Gröcke, D. R., Knyf, M. C., Gilbert, M. T. P., Younghusband, B., Young, T., Marshall, I., Willerslev, E., Stoneking, M., & Poinar, H. N. (2007). A preliminary analysis of the DNA and diet of the extinct Beothuk: A systematic approach to ancient human DNA. American Journal of Physical Anthropology, 132(4), 594-604.
DOI BibTeX Endnote

Lalueza-Fox, C., Römpler, H., Caramelli, D., Stäubert, C., Catalano, G., Hughes, D. A., Rohland, N., Pilli, E., Longo, L., Condemi, S., de la Rasilla, M., Fortea, J., Rosas, A., Stoneking, M., Schöneberg, T., Bertranpetit, J., & Hofreiter, M. (2007). A melanocortin 1 receptor allele suggests varying pigmentation among Neanderthals. Science, 318(5855), 1453-1455.
DOI BibTeX Endnote

Myles, S., Hradetzky, E., Engelken, J., Lao, O., Nürnberg, P., Trent, R. J., Wang, X., Kayser, M., & Stoneking, M. (2007). Identification of a candidate genetic variant for the high prevalence of type II diabetes in Polynesians. European Journal of Human Genetics, 15, 584-589.
DOI BibTeX Endnote

Myles, S., Somel, M., Tang, K., Kelso, J., & Stoneking, M. (2007). Identifying genes underlying skin pigmentation differences among human populations. Human Genetics, 120(5), 613-621.
DOI BibTeX Endnote

Nasidze, I., Quinque, D., Udina, I., Kunizheva, S., & Stoneking, M. (2007). The Gagauz, a linguistic enclave, are not a genetic isolate. Annals of Human Genetics, 71(3), 379-389.
DOI BibTeX Endnote

Pakendorf, B., Novgorodov, I. N., Osakovskij, V. L., & Stoneking, M. (2007). Mating patterns amongst Siberian reindeer herders: Inferences from mtDNA and Y-chromosomal analyses. American Journal of Physical Anthropology, 133(3), 1013-1027.
DOI BibTeX Endnote Downloads

Roewer, L., Krüger, C., Willuweit, S., Nagy, M., Rodig, H., Kokshunova, L., Rothämel, T., Kravchenko, S. A., Jobling, M. A., Stoneking, M., & Nasidze, I. (2007). Y-chromosomal STR haplotypes in Kalmyk population samples. Forensic Science International, 173(2-3), 204-209.
DOI BibTeX Endnote

Rootsi, S., Zhivotovsky, L. A., Baldovic, M., Kayser, M., Kutuev, I. A., Khusainova, R., Bermisheva, M. A., Gubina, M., Fedorova, S. A., Ilumäe, A.-M., Khusnutdinova, E., Voevoda, M. I., Osipova, L. P., Stoneking, M., Lin, A. A., Ferak, V., Parik, J., Kivisild, T., Underhill, P. A., & Villems, R. (2007). A counter-clockwise northern route of the Y-chromosome haplogroup N from Southeast Asia towards Europe. European Journal of Human Genetics, 15(2), 204-211.
DOI BibTeX Endnote

Stoneking, M., & Kayser, M. (2007). Genealogical markers: mtDNA and the Y-chromosome. In Michael P. Weiner, Stacey B. Gabriel, J. Claiborne Stephens (Ed.), Genetic Variation: A Laboratory Manual (pp. 421-436). New York: Cold Spring Harbor Laborarory Press.
BibTeX Endnote

Stoneking, M., & Nasidze, I. (2007). Reply to Parson: The art of reading sequence electropherograms. Annals of Human Genetics, 71(2), 279-280.
DOI BibTeX Endnote
2006
Hammer, M. F., Karafet, H., Park, H.-S., Omoto, K., Harihara, S., Stoneking, M., & Horai, S. (2006). Dual origins of the Japanese: common ground for hunter-gatherer and farmer Y chromosomes. Journal of Human Genetics, 51, 47-58.
DOI BibTeX Endnote

Kayser, M., Brauer, S., Cordaux, R., Casto, A., Lao, O., Zhivotovsky, L. A., Moyse-Faurie, C., Rutledge, R., Schiefenhövel, W., Gil, D., Lin, A. A., Underhill, P. A., Oefner, P. J., Trent, R. J., & Stoneking, M. (2006). Melanesian and Asian origins of Polynesians: mtDNA and Y-chromosome gradients across the Pacific. Molecular Biology and Evolution, 23(11), 2234-2244.
Open Access DOI BibTeX Endnote Downloads

Nasidze, I., & Stoneking, M. (2006). Mother tongue: Concomitant replacement of language and mtDNA in South Caspian populations of Iran. In Cangelosi, A.; Smith, A.; (Ed.), Evolution of Language: Proceedings of the 6th international conference EVOLANG6, Rome, Italy, 12-15 April 2006 (pp. 432-433). New Jersey: World Scientific.
BibTeX Endnote

Nasidze, I., Quinque, D., Rahmani, M., Alemohamad, S. A., & Stoneking, M. (2006). Concomitant replacement of language and mtDNA in South Caspian populations of Iran. Current Biology, 16(7), 668-673.
DOI BibTeX Endnote

Pakendorf, B., Novgorodov, I. N., Osakovskij, V. L., Danilova, A. P., Protod´jakonov, A., & Stoneking, M. (2006). Investigating the effects of prehistoric migrations in Siberia: genetic variation and the origins of Yakuts. Human Genetics, 120(3), 334-353.
DOI BibTeX Endnote Downloads

Quinque, D., Kittler, R., Kayser, M., Stoneking, M., & Nasidze, I. (2006). Evaluation of saliva as a source of human DNA for population and association studies. Analytical Biochemistry, 353(2), 272-277.
DOI BibTeX Endnote

Stoneking, M. (2006). Genetic evidence for our recent African ancestry. In Soodyall, Himla (Ed.), Prehistory of Africa (pp. 24-36). Johannesburg: Ball.
BibTeX Endnote

Stoneking, M. (2006). Investigating the health of our ancestors: Insights from the evolutionary genetic consequences of prehistoric diseases. In Bromage, Timothy (Ed.), Integrative Approaches to Human Health and Evolution: proceedings.. (pp. 106-114). Amsterdam [u.a.]: Elsevier.
BibTeX Endnote

Stoneking, M., & Nasidze, I. (2006). The patient is not dead yet: Premature autopsy of an mtDNA data set. Annals Human Genetics, 70(3), 327-331.
DOI BibTeX Endnote
2005
Hamilton, G., Stoneking, M., & Excoffier, L. (2005). Molecular analysis reveals tighter social regulation of immigration in patrilocal populations than in matrilocal populations. Proceedings of the National Academy of Sciences of the United States of America, 102(21), 7476-7480.
DOI BibTeX Endnote

Mehlotra, R. K., Mattera, G., Bhatia, K., Reeder, J. C., Stoneking, M., & Zimmerman, P. A. (2005). Insight into the early spread of chloroquine resistant Plasmodium falciparum infections in Papua New Guinea. Journal of Infectious Diseases, 192(12), 2174-2179.
DOI BibTeX Endnote

Nasidze, I., Quinque, D., Dupanloup, I., Cordaux, R., Kokshunova, L., & Stoneking, M. (2005). Genetic evidence for the Mongolian ancestry of Kalmyks. American Journal of Physical Anthropology, 128(4), 846-854.
DOI BibTeX Endnote

Nasidze, I., Quinque, D., Ozturk, M., Bendukidze, N., & Stoneking, M. (2005). MtDNA and Y-chromosome variation in Kurdish groups. Annals of Human Genetics, 69(4), 401-412.
DOI BibTeX Endnote

Oota, H., Pakendorf, B., Weiss, G., von Haeseler, A., Pookajorn, S., Settheetham-Ishida, W., Tiwawech, D., Ishida, T., & Stoneking, M. (2005). Recent origin and cultural reversion of a hunter–gatherer group. PLoS Biology, 3(3): e71.
Open Access DOI BibTeX Endnote Downloads

Pakendorf, B., & Stoneking, M. (2005). Mitochondrial DNA and human evolution. Annual Review of Genomics and Human Genetics, 6, 165-183.
DOI BibTeX Endnote

Stoneking, M. (2005). Gene, Geographie und Sprache. In Günter Hauska (Ed.), Gene, Sprachen und ihre Evolution: wie verwandt sind die Menschen - wie verwandt sind ihre Sprachen? (pp. 133-140). Regensburg: Universitätsverlag Regensburg.
BibTeX Endnote
2004
Cordaux, R., Aunger, R., Bentley, G. R., Nasidze, I., Sirajuddin, S. M., & Stoneking, M. (2004). Independent origins of Indian caste and tribal paternal lineages. Current Biology, 14(3), 231-235.
DOI BibTeX Endnote

Cordaux, R., Bentley, G. R., Aunger, R., Sirajuddin, S. M., & Stoneking, M. (2004). Y-STR haplotypes from eight south Indian groups based on five loci. Journal of Forensic Sciences, 49(4), 847-848.
DOI BibTeX Endnote

Cordaux, R., Edwin, D., Vishwanathan, H., & Stoneking, M. (2004). Genetic evidence for the demic diffusion of agriculture to India. Science, 304(5674), 1125-1125.
DOI BibTeX Endnote

Cordaux, R., Weiss, G., Saha, N., & Stoneking, M. (2004). The northeast Indian passageway: A barrier or corridor for human migrations? Molecular Biology and Evolution, 21(8), 1525-1533.
DOI BibTeX Endnote

Erler, A., Stoneking, M., & Kayser, M. (2004). Development of Y-chromosomal microsatellite markers for non-human primates. Molecular Ecology, 13(10), 2921-2930.
DOI BibTeX Endnote

Hughes, D. A., Cordaux, R., & Stoneking, M. (2004). Humans. Current Biology, 14, R367-R369.
DOI BibTeX Endnote

Kasperaviciute, D., Kucinskas, V., & Stoneking, M. (2004). Y chromosome and mitochondrial DNA variation in Lithuanians. Annals of Human Genetics, 68(5), 438-452.
DOI BibTeX Endnote

Kayser, M., Kittler, R., Erler, A., Hedman, M., Lee, A. C., Mohyuddin, A., Mehdi, S. Q., Rosser, Z. H., Stoneking, M., Jobling, M. A., Sajantila, A., & Tyler-Smith, C. (2004). A comprehensive survey of human Y-chromosomal microsatellites. American Journal of Human Genetics, 74(6), 1183-1197.
DOI BibTeX Endnote

Nasidze, I., Ling, E. Y., Quinque, D., Dupanloup, I., Cordaux, R., Rychkov, S., Naumova, O., Zhukova, O., Sarraf-Zadegan, N., Naderi, G. A., Asgary, S., Sardas, S., Farhud, D. D., Sarkisian, T., Asadov, C., Kerimov, A., & Stoneking, M. (2004). Mitochondrial DNA and Y-chromosome variation in the Caucasus. Annals of Human Genetics, 68(3), 205-221.
DOI BibTeX Endnote

Nasidze, I., Quinque, D., Dupanloup, I., Rychkov, S., Naumova, O., Zhukova, O., & Stoneking, M. (2004). Genetic evidence concerning the origins of South and North Ossetians. Annals of Human Genetics, 68(6), 588-599.
DOI BibTeX Endnote

Vishwanathan, H., Deepa, E., Cordaux, R., Stoneking, M., Usha Rani, M. V., & Majumder, P. P. (2004). Genetic structure and affinities among tribal populations of southern India: a study of 24 autosomal DNA markers. Annals Human Genetics, 68(2), 128-138.
DOI BibTeX Endnote
2003
Cordaux, R., & Stoneking, M. (2003). South Asia: the Andamanese and the genetic evidence for an "early" human dispersal out of Africa. American Journal of Human Genetics, 72(6), 1586-1590.
DOI BibTeX Endnote

Cordaux, R., Saha, N., Bentley, G. R., Aunger, A., Sirajuddin, S. M., & Stoneking, M. (2003). Mitochondrial DNA analysis reveals diverse histories of tribal populations of India. European Journal of Human Genetics, 11(3), 253-264.
DOI BibTeX Endnote

Kayser, M., Brauer, S., & Stoneking, M. (2003). A genome scan to detect candidate regions influenced by local natural selection in human populations. Molecular Biology and Evolution, 20(6), 893-900.
DOI BibTeX Endnote

Kayser, M., Brauer, S., Schädlich, H., Prinz, M., Batzer, M. A., Zimmerman, P. A., Boatin, B. A., & Stoneking, M. (2003). Y chromosome STR haplotypes and the genetic structure of U.S. populations of African, European, and Hispanic ancestry. Genome Research, 13, 624-634.
DOI BibTeX Endnote

Kayser, M., Brauer, S., Weiss, G., Schiefenhövel, W., Underhill, P. A., Shen, P. D., Oefner, P. J., Tommaseo-Ponzetta, M., & Stoneking, M. (2003). Reduced Y-chromosome, but not mitochondrial DNA, diversity in human populations from West New Guinea. American Journal of Human Genetics, 72(2), 281-302.
DOI BibTeX Endnote

Kittler, R., Erler, A., Brauer, S., Stoneking, M., & Kayser, M. (2003). Apparent intra-chromosomal exchange on the human Y chromosome explained by population history. European Journal of Human Genetics, 11, 304-314.
DOI BibTeX Endnote

Kittler, R., Kayser, M., & Stoneking, M. (2003). Molecular evolution of Pediculus humanus and the origin of clothing. Current Biology, 13(16), 1414-1417.
DOI BibTeX Endnote

Nasidze, I., Sarkisian, T., Kerimov, A., & Stoneking, M. (2003). Testing hypotheses of language replacement in the Caucasus: Evidence from the Y-chromosome. Human Genetics, 112(3), 255-261.
DOI BibTeX Endnote

Nasidze, I., Schädlich, H., & Stoneking, M. (2003). Haplotypes from the Caucasus, Turkey and Iran for nine Y-STR loci. Forensic Science International, 137(1), 85-93.
DOI BibTeX Endnote

Pakendorf, B., Wiebe, V., Tarskaia, L. A., Spitsyn, V. A., Soodyall, H., Rodewald, A., & Stoneking, M. (2003). Mitochondrial DNA evidence for admixed origins of central Siberian populations. American Journal of Physical Anthropology, 120(3), 211-224.
DOI BibTeX Endnote

Stoneking, M. (2003). Mitochondrial genome: Evolution. In David N. Cooper (Ed.), Nature encyclopedia of the human genome: vol. 3 (GEN - MIT) (pp. 1019-1023). London [et al]: Nature Publishing Group.
BibTeX Endnote

Stoneking, M. (2003). Widespread prehistoric human cannibalism: Easier to swallow? Trends in Ecology & Evolution, 18(10), 489-490.
DOI BibTeX Endnote
2002
Kayser, M., Brauer, S., Willuweit, S., Schädlich, H., Batzer, M. A., Zawacki, J., Prinz, M., Roewer, L., & Stoneking, M. (2002). Online Y-chromosomal short tandem repeat haplotype reference database (YHRD) for US populations. Journal of Forensic Sciences, 47(3), 513-519.
DOI BibTeX Endnote

Kittler, R., Stoneking, M., & Kayser, M. (2002). A whole genome amplification method to generate long fragments from low quantities of genomic DNA. Analytical Biochemistry, 300(2), 237-244.
DOI BibTeX Endnote

Nasidze, I., & Stoneking, M. (2002). Genetic variation among human populations from the Caucasus. In Shumny, V. K.; Kolchanov, N. A.; Fedotov, A. M. (Ed.), The First Workshop on Information Techologies Application to Problems of Biodiversity and Dynamics (pp. 272-278). Novosibirsk, Russia: Russian Academy od Sciences.
BibTeX Endnote

Oota, H., Kitano, T., Jin, F., Yuasa, I., Wang, L., Ueda, S., Saitou, N., & Stoneking, M. (2002). Extreme mtDNA homogeneity in continental Asian populations. American Journal of Physical Anthropology, 118(2), 146-153.
DOI BibTeX Endnote

Pakendorf, B., Morar, B., Tarskaia, L. A., Kayser, M., Soodyall, H., Rodewald, A., & Stoneking, M. (2002). Y-chromosomal evidence for a strong reduction in male population size of Yakuts. Human Genetics, 110(2), 198-200.
DOI BibTeX Endnote

Presser, J., Deverell, A., Redd, A., & Stoneking, M. (2002). Tasmanian aborigines and DNA. Papers and Proceedings of the the Royal Society of Tasmania, 136, 35-38.
BibTeX Endnote

Romualdi, C., Balding, D., Nasidze, I., Risch, G. M., Robichaux, M., Sherry, S. T., Stoneking, M., Batzer, M. A., & Barbujani, G. (2002). Patterns of human diversity, within and among continents, inferred from biallelic DNA polymorphisms. Genome Research, 12(4), 602-612.
DOI BibTeX Endnote
2001
Begovich, A. B., Moonsamy, P. V., Mack, S. J., Barcellos, L. F., Steiner, L. L., Grams, S., Suraj-Baker, V., Hollenbach, J., Trachtenberg, E., Louie, L., Zimmerman, P. A., Hill, A. V. S., Stoneking, M., Sasazuki, T., Konenkov, V. I., Sartakova, M. L., Titanji, V. P. K., Rickards, O., & Klitz, W. (2001). Genetic variability and linkage disequilibrium within the DP region: Analysis of 15 different populations. Tissue Antigens, 57(5), 424-439.
DOI BibTeX Endnote

Donnelly, P., Foley, R., Stoneking, M., Deininger, P. L., & Batzer, M. A. (2001). Alu insertion polymorphisms in humans: A review. In Genes, Fossils and Behaviour (pp. 111-121). Amsterdam: IOS Press.
BibTeX Endnote

Justice, C. M., Den, Z., Nguyen, S. V., Stoneking, M., Deininger, P. L., Batzer, M. A., & Keats, B. J. B. (2001). Phylogenetic analysis of the Friedreich ataxia GAA trinucleotide repeat. Journal of Molecular Evolution, 52(3), 232-238.
DOI BibTeX Endnote

Kayser, M., Brauer, S., Weiss, G., Schiefenhövel, W., Underhill, P. A., & Stoneking, M. (2001). Independent histories of human Y chromosomes from Melanesia and Australia. American Journal of Human Genetics, 68(1), 173-190.
DOI BibTeX Endnote

Melton, T., Clifford, S., Kayser, M., Nasidze, I., Batzer, M. A., & Stoneking, M. (2001). Diversity and heterogeneity in mitochondrial DNA of North American populations. Journal of Forensic Sciences, 46(1), 46-52.
DOI BibTeX Endnote

Nasidze, I., & Stoneking, M. (2001). Mitochondrial DNA variation and language replacements in the Caucasus. Proceedings of the Royal Society of London B, 268(1472), 1197-1206.
DOI BibTeX Endnote

Nasidze, I., Risch, G. M., Robichaux, M., Sherry, S. T., Batzer, M. A., & Stoneking, M. (2001). Alu insertion polymorphisms and the genetic structure of human populations from the Caucasus. European Journal of Human Genetics, 9, 267-272.
DOI BibTeX Endnote

Oota, H., Settheetham-Ishida, W., Tiwawech, D., Ishida, T., & Stoneking, M. (2001). Human mtDNA and Y-chromosome variation is correlated with matrilocal vs. patrilocal residence. Nature Genetics, 29, 20-21.
DOI BibTeX Endnote

Stone, A. C., Starrs, J. E., & Stoneking, M. (2001). Mitochondrial DNA analysis of the presumptive remains of Jesse James. Journal of Forensic Sciences, 46(1), 173-176.
DOI BibTeX Endnote

Stoneking, M. (2001). Single nucleotide polymorphisms: From the evolutionary past.. Nature, 409, 821-822.
DOI BibTeX Endnote

Tishkoff, S. A., Varkonyi, R., Cahinhinan, N., Abbes, S., Argyropoulos, G., Destro-Bisol, G., Drousiotou, A., Dangerfield, B., Lefranc, G., Loiselet, J., Piro, A., Stoneking, M., Tagarelli, A., Tagarelli, G., Touma, E. H., Williams, S. M., & Clark, A. G. (2001). Haplotype diversity and linkage disequilibrium at human G6PD recent origin of alleles that confer malarial resistance. Science, 293(5529), 455-462.
DOI BibTeX Endnote
2000
Begovich, A. B., Klitz, W., Steiner, L. L., Grams, S., Suraj-Baker, V., Hollenbach, J., Trachtenberg, E., Louie, L., Zimmerman, P. A., Hill, A. V. S., Stoneking, M., Sasazuki, T., Rickards, O., Titanji, V. P. K., Konenkov, V. I., & Sartakova, M. L. (2000). HLA-DQ haplotypes in 15 different populations. In M. Kasahara (Ed.), The Major Histocompatibility Complex: Evolution, Structure and Function (pp. 412-426). Tokyo: Springer.
BibTeX Endnote

Clark, V. J., Sivendren, S., Saha, N., Bentley, G. R., Aunger, R., Sirajuddin, S. M., & Stoneking, M. (2000). The 9-bp deletion between the mitochondrial lysine tRNA and COII genes in tribal populations of India. Human Biology, 72(2), 273-285.
BibTeX Endnote

Comas, D., Calafell, F., Benchemsi, N., Helal, A., Lefranc, G., Stoneking, M., Batzer, M. A., Bertranpetit, J., & Sajantila, A. (2000). Alu insertion polymorphisms in Northwest Africa and the Iberian Peninsula: Evidence for a strong genetic boundary through the Gibraltar Straits. Human Genetics, 107(4), 312-319.
DOI BibTeX Endnote

Di Benedetto, G., Nasidze, I., Stenico, M., Nigro, L., Krings, M., Lanzinger, M., Vigilant, L., Stoneking, M., Pääbo, S., & Barbujani, G. (2000). Mitochondrial DNA sequences in prehistoric human remains from the Alps. European Journal of Human Genetics, 8(9), 669-677.
BibTeX Endnote Downloads

Kayser, M., Roewer, L., Hedman, M., Henke, L., Henke, J., Brauer, S., Kruger, C., Krawczak, M., Nagy, M., Dobosz, T., Szibor, R., de Knijff, P., Stoneking, M., & Sajantila, A. (2000). Characteristics and frequency of germline mutations at microsatellite loci from the human Y chromosome revealed by direct observation in father/son pairs. American Journal of Human Genetics, 66(5), 1580-1588.
DOI BibTeX Endnote

Kumar, S., Hedrick, P. W., Dowling, T., & Stoneking, M. (2000). Questioning evidence for recombination in human mitochondrial DNA. Science, 288(5473), 1931.
DOI BibTeX Endnote

Kumar, S., Nasidze, I., Walimbe, S. R., & Stoneking, M. (2000). Brief communication: Discouraging prospects for ancient DNA from India. American Journal of Physical Anthropology, 113(1), 129-133.
DOI BibTeX Endnote

Mack, S. J., Bugawan, T. L., Moonsamy, P. V., Erlich, J. A., Trachtenberg, E., Paik, Y. K., Begovich, A. B., Saha, N., Beck, H. P., Stoneking, M., & Erlich, H. A. (2000). Evolution of Pacific/Asian populations inferred from HLA class II allele frequency distributions. Tissue Antigens, 55(5), 383-400.
DOI BibTeX Endnote

Sheen, F., Sherry, S. T., Risch, G. M., Robichaux, M., Nasidze, I., Stoneking, M., Batzer, M. A., & Swergold, G. D. (2000). Reading between the LINEs: Human genomic variation induced by LINE-1 retrotransposition. Genome Research, 10(10), 1496-1508.
DOI BibTeX Endnote

Stoneking, M. (2000). Hypervariable sites in the mtDNA control region are mutational hotspots. American Journal of Human Genetics, 67(4), 1029-1032.
DOI BibTeX Endnote

Tishkoff, S. A., Pakstis, A. J., Stoneking, M., Kidd, J. R., Destro-Bisol, G., Sajantila, A., Deinard, A. S., Sirugo, G., Jenkins, T., Kidd, K. K., & Clark, A. G. (2000). Short tandem-repeat polymorphism/Alu haplotype variation at the PLAT locus: Implications for modern human origins. American Journal of Human Genetics, 67(4), 901-925.
DOI BibTeX Endnote