Internet access for guests and visitors
For guests and visitors we provide two ways to get connected to the internet. First is eduroam and the second way is a voucher based network.
You may access the internet, e-mail and special printers (voucher only) for guests. For more information contact your department's IT staff.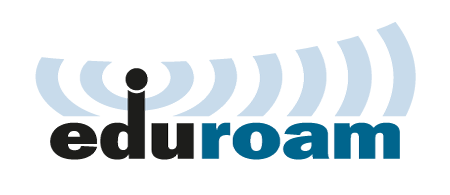 We provide eduroam Wi-Fi Internet access to visitors from other institutions that are eduroam-enabled. For a complete list of participating institutions and more information, please visit http://www.eduroam.org.
For more information and how to setup, ask your department's IT staff or follow instructions below.
Howto get access and configure your client for eduroam
Server for authentication:
CN=edurad.eva.mpg.de, C=DE, ST=Bayern, O=Max-Planck-Gesellschaft zur Förderung der Wissenschaften e.V.,
Fingerprints (edurad.eva.mpg.de):
SHA1: 7a:22:ef:bf:49:ff:d9:a5:d2:fc:ae:c6:a2:81:2f:bc:e4:74:66:43
SHA256: 28:D8:C4:D6:D2:3D:CC:29:85:29:66:99:AA:A9:62:09:F0:72:C2:C4:2E:26:82:AD:C8:BC:56:75:56:26:8E:F3
MD5: 30:a0:9c:71:27:67:f2:19:32:06:ad:c9:1c:16:74:38
root certificate: USERTrust RSA CA
Information on access to the voucher network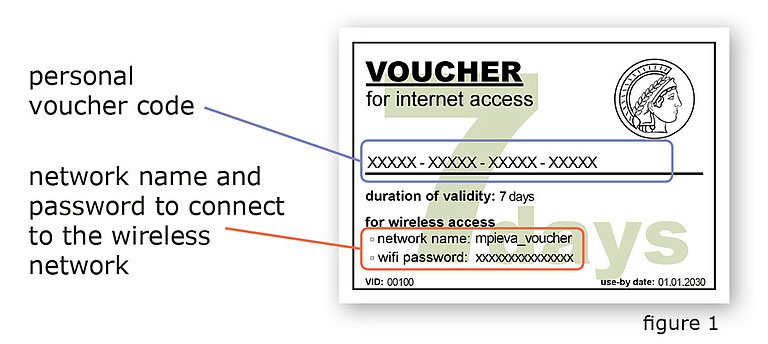 You will need a voucher to connect to the network. The voucher can be optained at the reception desk in the entrance hall. You can activate 3 devices with one voucher.
Connecting to the network
wireless:Connect to the wireless network mpieva_voucher. Enter the wifi password from your voucher (see figure 1).
wired:Connect your device to a network socket at the instituten, using a network cable. Network sockets are available in almost every room, for example, at the library workstations.
For connecting a device to the guest network both wireless and wired, you need to connect twice.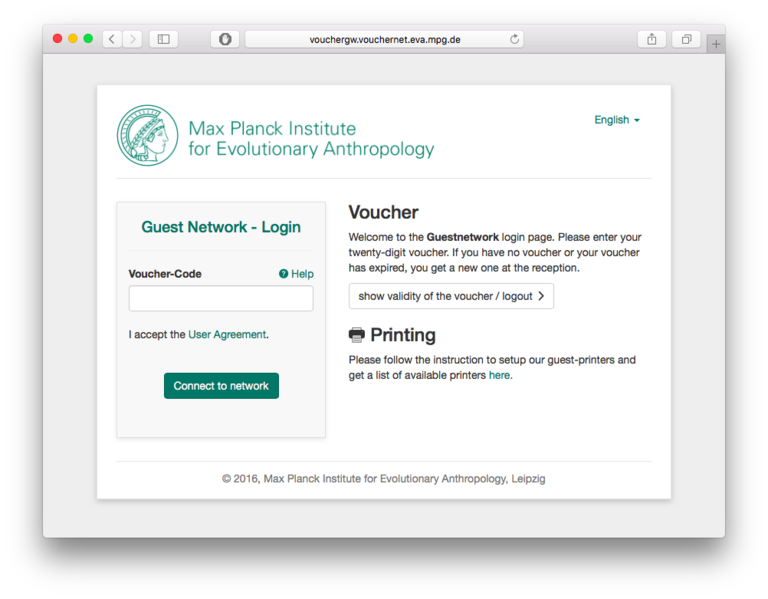 Open your favorite web browser and you will be automatically directed to the login-website (see figure 2). Ifthis doesn't happen, please enter the following address manually: vouchergw.vouchernet.eva.mpg.de
Finally enter the voucher code (see figure 1) and click"submit". If the voucher code was entered correctly,you have access to the internet as long as the voucheris valid.
Quick reference: EVA Vouchernet Howto.pdf