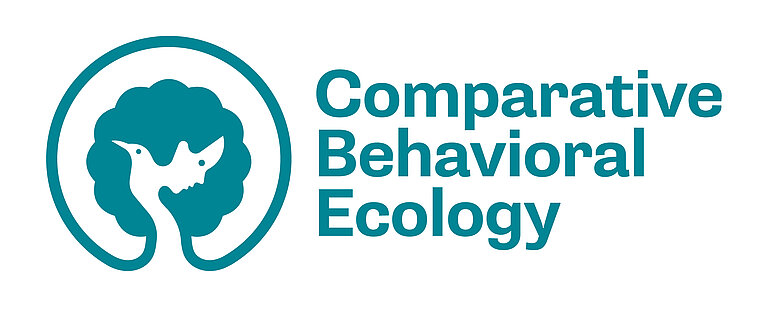 Comparative Behavioral Ecology
Our group endeavors to understand to what extent humans are just like any other species in how we react to our environment. Some people argue that culture has allowed us to modify our environment so much that we are fundamentally different from other species. Others argue that other species have culture as well, and that the biological rules that shape the behavior of other species are still acting on humans. Our aim is to identify these rules in other species and determine whether they also apply to humans.
Why do individuals differ in behavior?
To answer this question, we investigate variation in the...
...development and fitness of individuals
...experienced environment across populations
...life history and ecology across societies
Projects:
Behavior is one way individuals can respond to challenges in their environment. The objective of our research group is to investigate the microevolution of behavior and culture in an ecological context.
We are interested in the cognitive mechanisms and environmental features that underly behavioral adaptations, which can lead to evolutionarily novel forms of behavior and societies.
As behavioral ecologists, we investigate all aspects of explaining animal behavior including: how internal factors such as immunity and hormones interact with behavior, how development shapes the range of behaviors expressed, whether differences in behavior are linked with reproductive success, and how previous adaptations constrain the evolution of behavior.
Senior Researchers
Research Staff
Doctoral Students
Technical Staff
Christa Rolls, Grackle Fieldwork Technician
Student Assistants
Josie Hubbard, UC Davis Grackle Fieldwork Intern
Lea Gihlein, University Leipzig Grackle Bachelor Thesis
Vincent Kiepsch, University Leipzig, Grackle HiWi
Interested in joining our group?
We are interested in growing a diverse group of researchers working in Comparative Behavioral Ecology. We realize that opportunities and career progression are not equally available to all. Therefore, we aim to assess people based on what they have done with the opportunities they have been given. We signed DORA, which means that we will not use metrics to select researchers, but rather assess research quality directly and consider all types of research outputs. Please contact either Dieter or Corina to discuss research interest overlap. If it seems like a mutually good fit, and if you are contributing to changing academia to make it more inclusive for groups that are traditionally underrepresented in the sciences, then…
Potential undergraduate research assistants: we are limited in the opportunities we can offer, but it might be possible if your participation in our research could count toward your degree requirements in Leipzig, Germany or at your local university if the project can be completed remotely. Alternatively, if you are not local and you would like to be a visiting researcher, you would need to acquire external funding to support your work on a specific project.
Potential PhD students who have a Masters Degree can apply through the International Max Planck Research School (IMPRS): the Leipzig School of Human Origins. Opportunities are limited, so please contact us before applying.
Potential postdocs can apply for funding - here is a useful list of funding opportunities.
We aim to make all of our research processes and products freely available to everyone as much as possible (noting that in some instances information might be protected or not ours to share). We are actively working to change academic culture to improve research quality through our participation in #BulliedIntoBadScience and in collaboration with the Max Planck Digital Library in creating workflows for verifiable research (blog post).
Vea una versión en Español
Siehe eine Version auf Deutsch
All members of the lab, along with visitors, are expected to agree with and abide by the following code of conduct. We will enforce this code as needed. We expect cooperation from all members to help ensure a safe and welcoming environment for everybody. Your health and safety, and that of everyone around you and our research subjects, is more important than our research.
The Quick Version
The lab is dedicated to providing a harassment-free and welcoming experience for everyone, regardless of gender, gender identity and expression, age, sexual orientation, disability, physical appearance, body size, race, religion (or lack thereof), or species. We do not tolerate harassment of lab members in any form. Sexual language and imagery is generally not appropriate for any lab venue, including lab meetings, presentations, or discussions. (However, do note that we work on biological matters so work-related discussions of e.g., animal reproduction are appropriate.) We value individual differences and strive to create a welcoming environment for lab members.
The Less Quick Version
We expect all members of the lab to behave according to these rules and all relevant protocols and guidelines.
Harassment includes offensive verbal comments related to gender, gender identity and expression, age, sexual orientation, disability, physical appearance, body size, race, religion, sexual images in public spaces, deliberate intimidation, stalking, following, harassing photography or recording, sustained disruption of talks or other events, inappropriate physical contact, and unwelcome sexual attention.
Members asked to stop any harassing behavior are expected to comply immediately.
If you are being harassed, notice that someone else is being harassed, or have any other concerns, please contact Corina Logan (corina_logan@~@eva.mpg.de) or Dieter Lukas (dieter_lukas@~@eva.mpg.de) immediately. If Corina or Dieter are the cause of your concern, Margaret Tarampi (margaret@~@tarampi.com) is a good informal point of contact; she does not work for Corina or Dieter or the Max Planck Institute for Evolutionary Anthropology, and she has agreed to mediate. For official concerns, please contact the Max Planck Institute for Evolutionary Anthropology's Ombudsperson or Equal Opportunity Commissioner.
We realize that people come from all over the world to work on research projects in our lab, and we strive to make everyone feel welcome. For example, English may not be the native language of many lab members; therefore, we will take the time to go slowly and prioritize understanding over speed or convenience. As well, many lab members are multi-lingual, which can help facilitate communication.
We expect members to follow these guidelines at any lab-related event.
These Lab Interpersonal Interactions are based on Titus Brown's who cites the original source and credit: http://2012.jsconf.us/#/about & The Ada Initiative. Please help by translating or improving: http://github.com/leftlogic/confcodeofconduct.com. This work is licensed under a Creative Commons Attribution 3.0 Unported License
@ HBEC…
Anne Kandler: social learning, innovation, experimental design
Jeremy Koster: kinship and publishing ethics
Riana Minocher: reproducibility and social learning
Bret Beheim: reproducibility
Cody Ross: modeling grackle space use
Adam Powell: experimental design
Heidi Colleran: reproductive conflict
@ EVA…
Linda Vigilant & Lauren White: bonobo and chimpanzee kinship
@ University of Leipzig…
Anja Widdig: bridge seminar with EVA PhD students and primatologists
@ MPI…
Hannah Rowland: field site management problem solving
Lucy Aplin: field site management problem solving
Martin Wikelski: satellite trackers for grackles
Max Planck Digital Library: changing scholarly communication culture
@ Around the world…
US:

Aaron Blackwell, University of California Santa Barbara and Washington State University - grackle immunity
Aaron Blaisdell, University of California Los Angeles - grackle causal cognition
Ben Trumble, Arizona State University - grackle hormones
Maria Pacheco and Ananias Escalante, Temple University - grackle haemosporidian parasites and microbiome

UK:

Claudia Wascher, Anglia Ruskin University - grackle intestinal parasites and sociality
Tim Clutton-Brock, University of Cambridge - mammalian social evolution
Toman Barsbai, University of St Andrews - human variation and ecology

Germany:

Andreas Pondorfer, University of Bonn - human variation and ecology

France:

Alecia Carter, CNRS (Montpellier) - academic visibility of minorities
Alice Baniel, Institute for Advanced Study in Toulouse - harassment in mammals
Elise Huchard, CNRS (Montpellier) - infanticide and female dominance in mammals

India:

Shivani, University of Kolkata - female dominance in social mammals
Selected Recent Publications
Logan, C. J., Rowney, C., Bergeron, L., Seitz, B., Blaisdell, A., Johnson-Ulrich, Z., & McCune, K. (in press). Is behavioral flexibility manipulatable and, if so, does it improve flexibility and problem solving in a new context? In principle acceptance by PCI Ecology of the version on 26 Mar 2019 (https://github.com/corinalogan/grackles/blob/master/Files/Preregistrations/g_flexmanip.Rmd).
McCune, K., McElreath, R., & Logan, C. J. (in press). Investigating the use of learning mechanisms in a species that is rapidly expanding its geographic range. In principle acceptance by PCI Ecology of the version on 11 Oct 2019 (https://github.com/corinalogan/grackles/blob/master/Files/Preregistrations/g_sociallearning.Rmd).
Logan, C. J., Johnson-Ulrich, Z., Bergeron, L., Rowney, C., Seitz, B., Blaisdell, A., McCune, K., & Wascher, C. A. F. (2021). Are the more flexible individuals also better at inhibition? In principle acceptance by PCI Ecology of the version on 6 Mar 2019, Final acceptance 04 May 2021 (https://github.com/corinalogan/
grackles/blob/master/Files/Preregistrations/g_inhibition.Rmd).
Logan, C. J., Avin, S., Boogert, N., Buskell, A., Cross, F. R., Currie, A., Jelbert, S., Lukas, D., Mares, R., Navarrete, A. F., Shigeno, S., & Montgomery, S. H. (2018). Beyond brain size: Uncovering the neural correlates of behavioral and cognitive specialization. Comparative Cognition & Behavior Reviews,13, 55-89.
Lukas, D., & Huchard, E. (2019). The evolution of infanticide by females in mammals. Philosophical Transactions of the Royal Society of London, Series B: Biological Sciences,374(1780): 20180075.
Koster, J., Lukas, D., Nolin, D., Power, E., Alvergne, A., Mace, R., Ross, C. T., Kramer, K., Greaves, R., Caudell, M., Macfarlan, S., Schniter, E., Quinlan, R., Mattison, S., Reynolds, A., Yi-Sum, C., & Massengill, E. (2019). Kinship ties across the lifespan in human communities. Philosophical Transactions of the Royal Society of London, Series B: Biological Sciences,374(1780): 20180069.
Kappeler, P. M., Clutton-Brock, T., Shultz, S., & Lukas, D. (2019). Social complexity: Patterns, processes, and evolution. Behavioral Ecology and Sociobiology,73(1): 5.