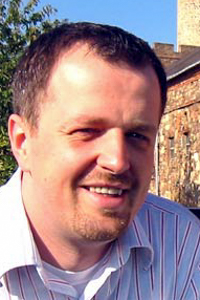 Software Engineer
Max Planck Institute for Evolutionary Anthropology
Department of Human Evolution
Deutscher Platz 6
04103 Leipzig
Germany

phone: 0049 (0) 341 3550 359
fax: 0049 (0) 341 3550 399
e-mail: temming@~@eva.mpg.de
Heiko Temming is within the department of Human Evolution mainly in charge of the technical and organizational aspects of acquisition, reconstruction, visualization, manipulation and replication of 3-dimensional imaging data:
Supervising, operating and maintaining of

Scanning Equipment (CT Scanners, Surface scanners)
Virtual reality laboratory
3D-Printer

Organizing internal and external CT scan projects
Organizing 3D imaging data (database, user access, etc.)
Generating 3D-replicas
Software Development (e.g., Avizo, Matlab, C/C++)
He studied Electrical Engineering at Leipzig University of Applied Sciences (HTWK Leipzig) and was employed at Siemens Medical Imaging Solutions and the Max Planck Institute for Human Cognitive and Brain Sciences.
present
Software Engineer,
Max Planck Institute for Evolutionary Anthropology,
Dept. of Human Evolution,
Leipzig
2001-2004
Doctoral Student
Max Planck Institute of Human Cognition and Brain Sciences,
Dept. of Neurology, Leipzig
Thesis still in progress
1999-2001
Costumer Service Engineer
for Imaging Systems Siemens AG,
Medical Solutions, Leipzig
1997-1999
Student Trainee,
Siemens AG,
Building Automation,
Leipzig
1995-1999
Electrical engineering studies,
Leipzig University of Applied Sciences
1992-1993
Physics studies,
University Leipzig
1989-1992
Communication Engineer with German Abitur,
Deutsche Telekom AG Leipzig
1979-1989
General Polytechnical School, POS "Hans Beimler", Eilenburg
This publication list is currently beeing updated. The process will be finished in a few minutes.