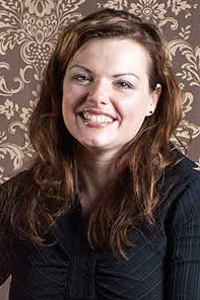 Silke Streiber is the secretary to Prof. Jean-Jacques HUBLIN and administrator for the Dept. of Human Evolution at the Max Planck Institute for Evolutionary Anthropology in Leipzig (Germany).
Initially, Silke worked in industry. While still studying in Leipzig in 1997, she worked as an interpreter and translator for the French Oil Company: "ELF AQUITAINE" during the opening of a newly built refinery at Leuna.
After graduating from Leipzig University with a diploma in Interpreting (French and English), she started her professional career in the steel company "USINOR" (now: "ArcelorMittal") in Eisenhüttenstadt and Paris, where she worked as an interpreter and translator for both French and English. In late 2001, Silke moved back to Leipzig where her daughter Emily was born on January, 1st, 2002. Since December, 1st, 2002 she has been working at the Max Planck Institute for Evolutionary Anthropology in Leipzig. From Dec, 1st, 2002 to Dec, 31st, 2003 she worked as secretary to Prof. Christophe BOESCH / Department of Primatology and she started her current position as secretary to Prof. Jean-Jacques HUBLIN and the new Department of Human Evolution on January, 1st, 2004.
Silke speaks both French and English fluently, and she also is an officially approved simultaneous and court-appointed interpreter for both of these languages. In the Department of Human Evolution, Silke is both secretary to Prof. HUBLIN as well as administrator for the Department itself. She coordinates the Director's personal assistance (taking care of efficient daily office operations and correspondence, managing the Director's calendar, filing department and archiving etc.).
In her function as administrator to the department, she provides administrative support for all members of the department with an emphasis on contract management. Within the framework of department-related resource management, Silke is in charge of planning and controlling both the departmental budget and scientific projects, such as fieldwork and excavations, handling of invoices etc., in close cooperation with the institute's administration. Furthermore, Silke is responsible for any press/media inquiry and contact to the department and is assisting in administration work, translates correspondence and documents and gives support to new staff members to help them become familiar with life in Leipzig and Germany. She also provides personal administrative support for the doctoral/Ph.D. students in the department, provides information and gives assistance regarding child care, child and parental benefits in Germany, and takes care of administering student helpers as well as student interns/practical training in the department.
Silke wants everybody to feel welcome here and contributes with her work so that scientists in our Department may be able to concentrate on their scientific work in an international and unique working atmosphere.